NFL Adding Music to Its Playbook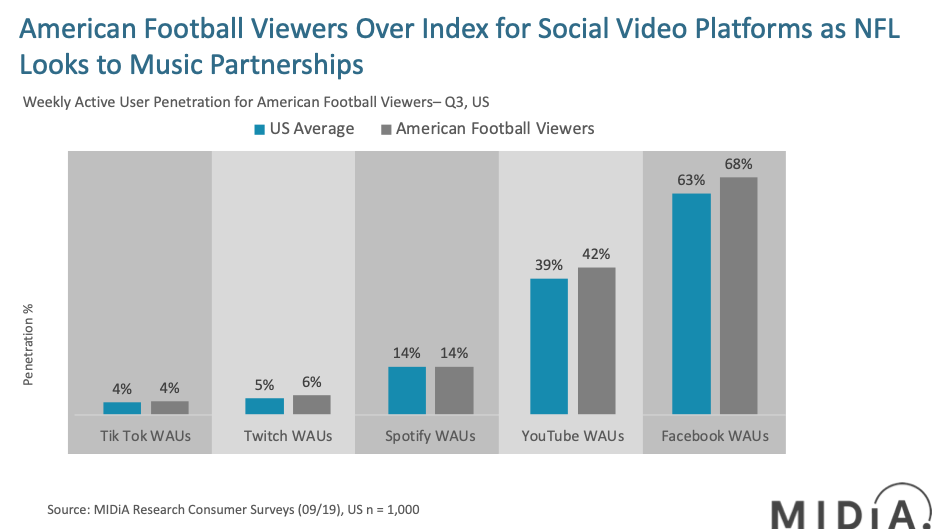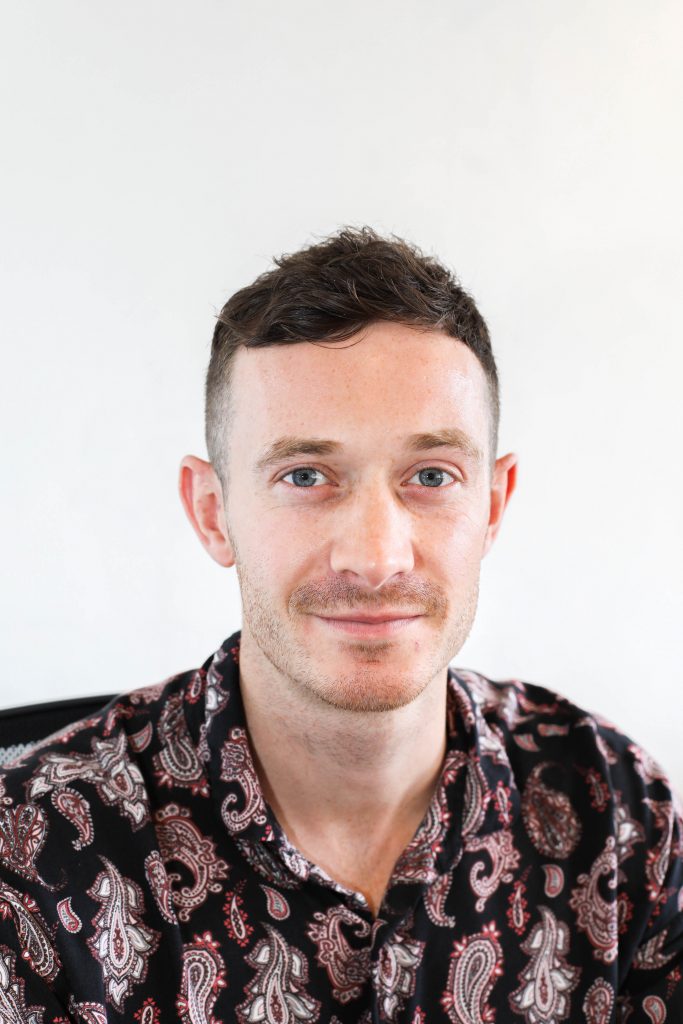 The NFL continues expanding its reach with the news that it is providing both video and audio content to global streaming services Spotify and Tidal.
This follows the NFL's recently-announced partnerships with social platforms TikTok, Reddit, Facebook and YouTube. This year marks the 100th season for the world's most valuable league. In Q3 2019, only 11% of 16-24 year olds in the US subscribe to pay-TV (source: MIDiA Research), meaning the NFL has closed off a large portion of its content from this target audience through its long-term distribution deals. The NFL needs to, and is, doubling down on addressing this demographic as it looks to future-proof its fanbase and unlock new digital revenue streams.
Following the announcement, sports and music fans will have access to some of the greatest moments from the history of the game, as well as highlights from this season, podcasts, curated playlists and more. NFL content can now be found on digital streaming platforms including Pandora, TuneIn, TIDAL, Spotify and Soundcloud, at no cost to existing subscribers of these services.
Will it be a hit?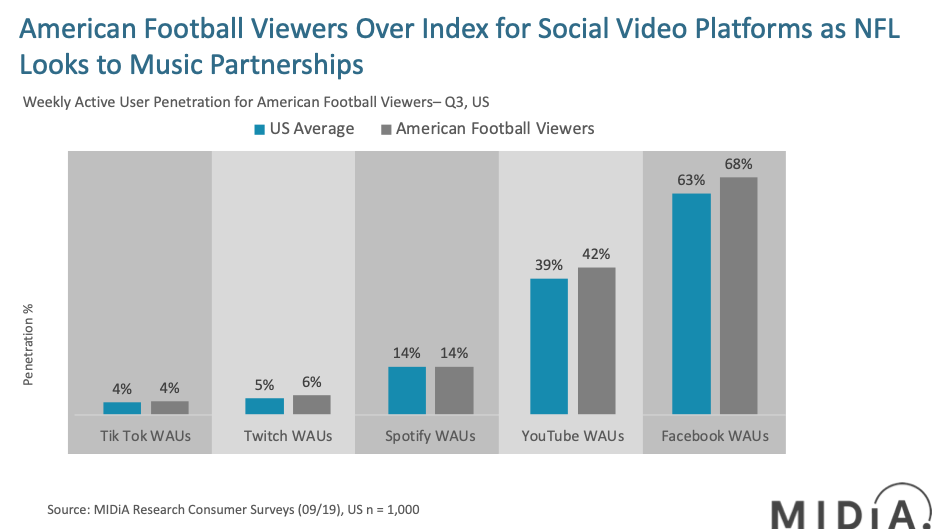 This play is more about expanding the NFL's reach, not leveraging an underserved audience that exist within music platforms. NFL fans unsurprisingly over index for social video platforms YouTube and Facebook when compared to streaming and social music orientated services.
One key target demographic is young male NFL Madden players, and these digital-savvy consumers highlight why this move into music streaming partnerships is a calculated one. 38% of US NFL Madden players between the ages of 16-24 use Spotify daily, so providing curated playlists, archived content and season highlights allows the NFL to engage with future fans on currently untapped platforms.
Long-term engagement key to future fandom
With digital adoption driving rights holders to prioritise digital partnerships, diversifying the ecosystems the NFL can embed itself in will only help increase the overall engagement levels with its content. This season marks the third year for Amazon Prime Video as the live-streaming partner for the Thursday Night Football (TNF) package, and as part of the tech majors' deal with the NFL, Twitch has rights to stream broadcasts. With 36% of Madden NFL players aged 16-24 already weekly average users of Twitch, this is a smart move for the NFL, diversifying its reach to engage with this key demographic. Although Twitch daily active usage penetration in the US for Q3 2019 is only 3.4%, 16-24 year olds account for 27% of this userbase (source: MIDiA Research).

Looking at the overall YouTube engagement for Madden and NFL consumers, with 73% of US Madden players in Q3 2019 being male and 15% being males aged 16-24, this is a key demographic for the NFL to target and retain as fans. Understanding where this demographic exists outside of Madden is an arguable imperative for the NFL. With only 27% of this demographic engaging with Amazon Prime Video on a weekly basis, the Thursday Night Football package is unlikely to gain sufficient engagement from this specific consumer segment, compared to the 73% of which use YouTube weekly, an increasingly important insight for the NFL in the run up to 2020 when Amazon's TNF deal comes up for renewal.
Expect the NFL to continue experimenting with digital content partnerships and embed itself into a diverse range of ecosystems in the lead up to 2022, when it's current main broadcast packages come up for renewal.
Trending