Is Pay-TV killing off Niche Sports?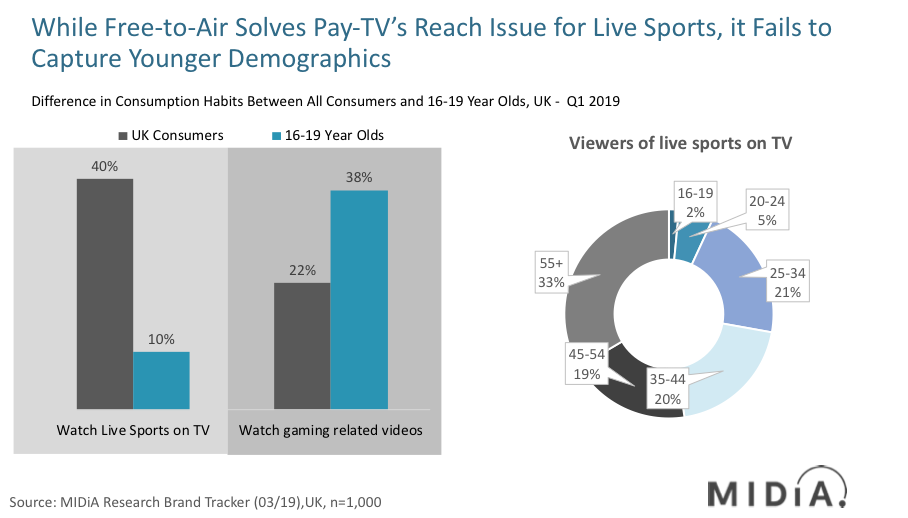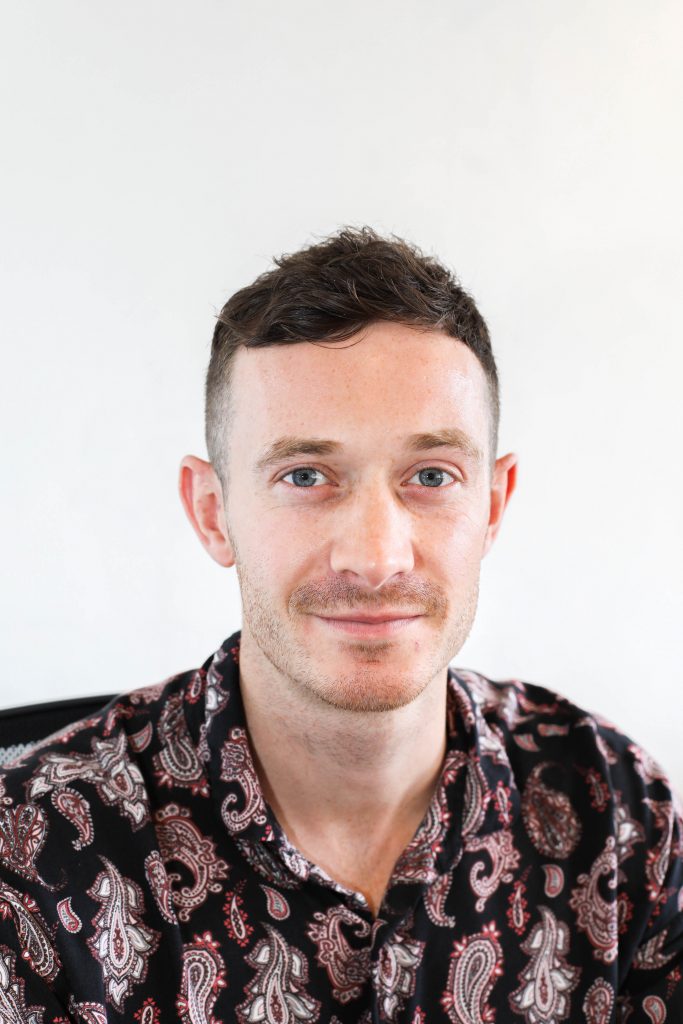 With both the ICC Cricket World Cup and FIFA Women's World Cup approaching their climaxes, the stark difference in audience engagement raises the question, is pay-TV killing off niche sports?
Deciding the medium through which to distribute live sports has never been more crucial. Sport is the latest content genre to feel the disruption of not only streaming insurgents, but a demographic cliff for its addressable audience, due to its connection with pay-TV operators, who are experiencing a decline in subscribers.
A vicious cycle from fragmenting landscape
As more services come to market and acquire minor sports rights for their platforms, pay-TV's value proposition weakens as its portfolio of rights becomes diluted. With subscription-video-on-demand (SVOD) services offering premium scripted drama, it's harder to justify subscribing to pay-TV (namely Sky). This upshot of the cord-cutting phenomenon is reflected in UK pay-TV subscriptions declining from 45% in Q4 2017 to 35% in Q4 2018.
With Amazon Prime Video acquiring one rights package for two sets of EPL fixtures in December 2019, consumers will now have to pay over £860 per year to subscribe to three services to watch all 184 EPL matches from the 2019-2020 season onwards. At a time of peaking attention, with consumers limited in both expendable income and time to engage with content, adding more niche services is increasingly untenable.
With the seemingly exponential rise in the value for sporting rights, the Cricket World Cup clearly illustrates to rights holders that opting for revenue over reach is no longer optimal for the health of niche sports.
Cricket's loss is women's soccer's gain
Women's soccer is finally getting the attention and appreciation it deserves, having been neglected and overlooked for many years by broadcasters. Awareness and fandom stems from distribution and marketing, something FIFA has correctly addressed for this year's iteration of the World Cup. Viewing records have been broken for women's soccer, with 6.9 million viewers tuning in to free-to-air BBC2 to watch the England Lionesses' defeat Cameroon in the last 16. This rose to a peak audience of 7.6 million who watched England's victory over Norway in the quarter-finals. Records did not stop there with BBC One's viewing figures for the Lionesses loss to the USA on Tuesday night, peaking at 11.7 million, making it the most-watched TV programme of 2019. The BBC's audience reach for the FIFA Women's World Cup has grown by over 79% from 12.4 million during the 2014 Women's World Cup to 22.2 million* for this year's competition.
At the same stage, 19.9 million viewers watched the England men's team beat Sweden at last years' FIFA World Cup quarter-finals on BBC One, reaching 26.5 million who witnessed England lose to Croatia in the semi-finals on ITV, illustrating just how far the women's game has come.
Moving to the ICC Cricket World Cup (CWC), Sky's viewing audience offers a harrowing contrast. Outside of its record breaking numbers in India, viewership in the UK has been alarmingly low, with a reported average audience of 641,000, and only 681,000 watching England play Bangladesh. Although viewership will increase during the latter stages of the competition, the CWC's average audience is roughly 10 times less than the Lionesses' group game versus Scotland experienced, drawing an audience of 6.1 million.
*figure was published ahead of the England Lionesses' defeat to USA in the semi-finals on 2nd July 2019
English Cricket Board's (ECB) 'No Ball' with exclusive rights
In hindsight, the ECB awarding exclusive cricket rights to Sky in 2005 was short sighted, not discerning the secular decline of pay-TV subscribers and digital adoption from younger audiences for consuming video content that was to follow. Keeping cricket behind a variable monthly paywall is doing irreparable damage for fans of the future.
The fact that aspiring cricket players have no idea that the ICC Cricket World Cup is even taking place, purely due to not having a Sky subscription in the household, is a fundamental failing of pay-TV's legacy model and the ECB's eagerness to drive revenues rather than serve its addressable audience, let alone grow it. The Ashes series of 2005, aired on free-to-air Channel Four had a peak audience of 8.2 million on a Sunday afternoon, five times higher than Sky's broadcast of the final day of the fifth test in 2009 (also a Sunday). The ICC even considered airing the Cricket World Cup Final on free-to-air due to mounting pressure, before opting against it.
Rights holders need to understand better the evolving digital landscape and, more importantly, the evolution of audience consumption habits. Other sports have learnt from cricket's mistakes, such as the rugby union, which has utilised free-to-air coverage to broaden its appeal, meanwhile cricket is at risk of falling into the shadows having once had national (UK) appeal second only to soccer.
Free-to-air does not solve the issue of future proofing sports fandom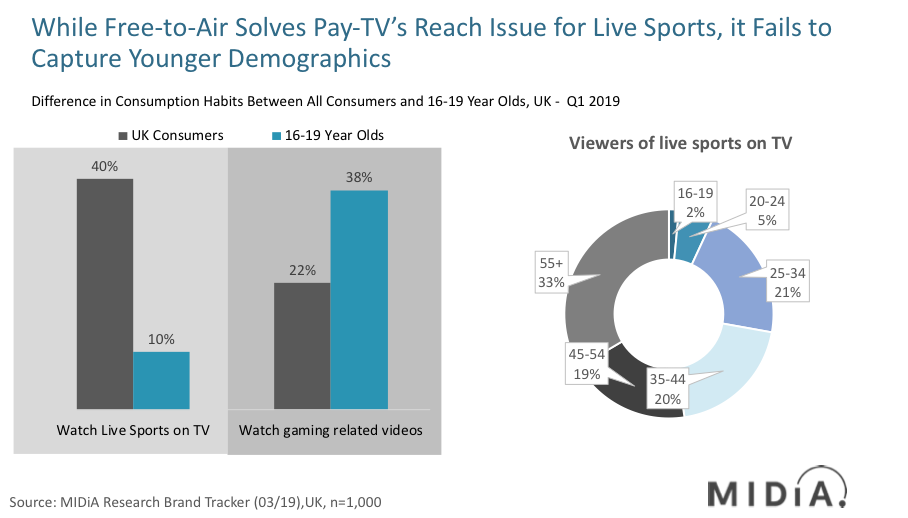 While free-to-air clearly opens up sports to a wider audience than paywalled services, understanding the addressable audience and consumer behaviours are fundamental in securing long-term fandom for less mainstream sports.
Of the 40% of UK consumers who watch live sports on TV (Source: MIDiA Research), only 7% are aged between 16-24. Compare that to 38% of 16-19-year olds who watch gaming-related video content, illustrating a larger concern for rightsholders than just through which medium to distribute. The younger demographic is more likely to engage with gaming or digital video consumption than watching live sports, meaning sport has a fight ahead to penetrate the demographic of consumers preferring to binge scripted drama, and play video games than engage with sports.
None of this even addresses the length of cricket matches, which are a tough sell to the digital-savvy younger demographic. Couple this with keeping the fixtures behind a paywall and it could mean a slow suicide for one of England's most cherished sports.
Trending