Fortnite's Party Royale provides sports untapped avenue for reaching digital natives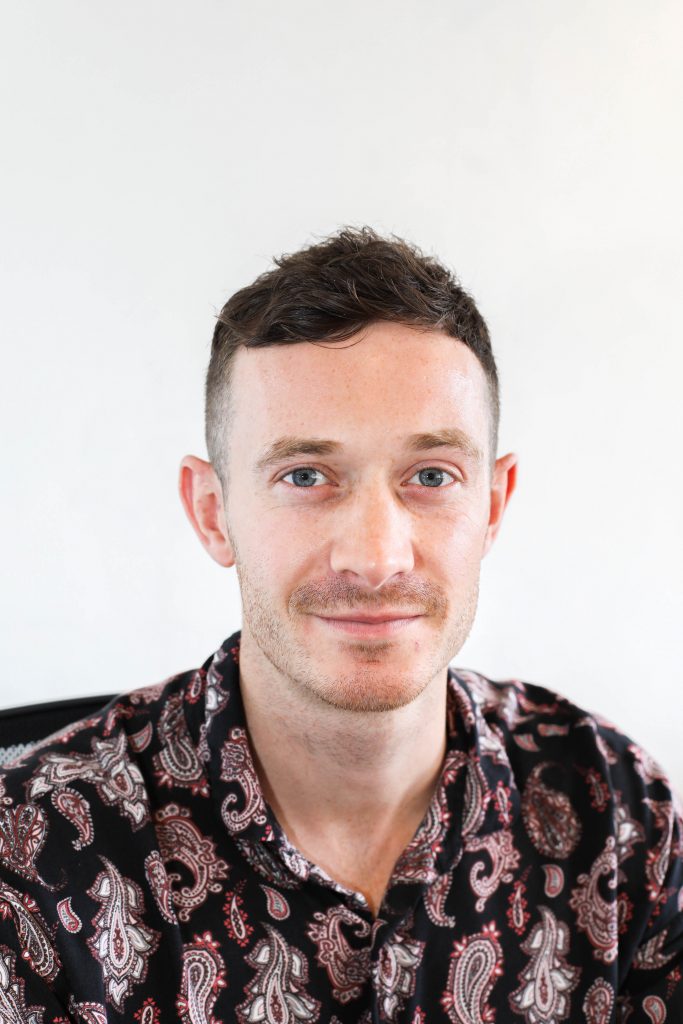 Burgeoning universal platform Fortnite's 'Party Royale' is slowly becoming the gateway for rights holders to reach digitally native audiences. Party Royale, Fortnite's 'experimental' game mode has been a breakthrough for the platform ever since it was released.
In February 2019, Marshmello held a live music concert within a game of Fortnite, drawing an audience of 10.7 million players. In April 2020, Travis Scott exceeded this figure with his own concert, pulling in 12 million players. Fortnite publisher Epic Games capitalised on Marshmello's success by turning Travis Scott's pandemic-based concert into a temporary residency. Four subsequent replays gained a further 15 million players who watched the concert, highlighting the untapped avenue this platform could offer sports – entertaining gamers beyond gaming.
The COVID-enforced postponement of live entertainment exposed the necessity for rights holders to focus on building digital engagement beyond their pure play broadcasting of live events. As a direct consequence of COVID-19, sports consumption declined dramatically from Q4 2019 to Q1 2020, with sports reruns, docuseries and interviews failing to fill the void state which the shelving of live sports created. An increasing concern for rights holders is that consumers would fill the void with other forms of entertainment and these new habits would become instilled once lockdown measures eased. This is why tapping into the digital entertainment share of consumers bereft of live sports content must become rights holders' main prerogative.
Party Royale season 3 began August 8th with Fortnite hosting ESPN:8 The Ocho, airing a marathon of some of the most niche and bizarre sports, showcasing the potential for rights holders going forward. The party which began last Saturday celebrated ESPN's fourth anniversary of channel ESPN 8, giving Fortnite players unrivalled access to cornhole, death diving, robot fights, and more niche events, all live from Party Royale's Big Screen.
Latency still a hurdle for Rights holders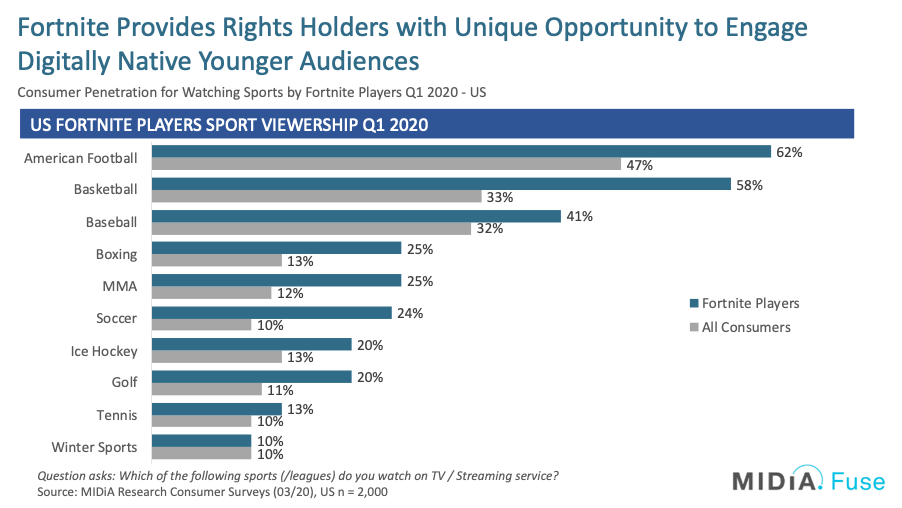 With over 350 million registered players, Fortnite could offer sports a unique opportunity in the post-pandemic era. While technology will be a likely hurdle if rights holders hope to play live sports to large concurrent audiences, the possibility of streaming sports to sets of 100 fans in a virtual setting could solve the issue of playing matches behind closed doors, which deprive fans of crowd-generated atmosphere. Epic Games announced back in 2018 that it would be possible in the future to increase the player limit of 100, although not in the near future. Collaborating with premium sporting rights holders could lead to this development the longer games are bereft of fan attendance. With 58% of Fortnite players watching basketball, compared to a 33% consumer average in Q1 2020 (source: MIDiA Research), the addressable audience for rights holders who could then sell team merchandise via skins etc. would appear to be too attractive an opportunity to overlook. Especially considering the NBA is reaching its climax within Disney Land, already innovating with web conferencing app Zoom.
Video gaming has already presented rights holders with revenue stream opportunities via advertising and introducing Esports operations to major networks; however with Epic Games closing a $1.78 billion funding round last week, it could position itself as the digital distribution partner these rights holders so crave, unearthing a valuable and largely unaddressed younger digital-first demographic.
Trending