Travis Scott has Only Scratched the Surface of Music Games Tie Ups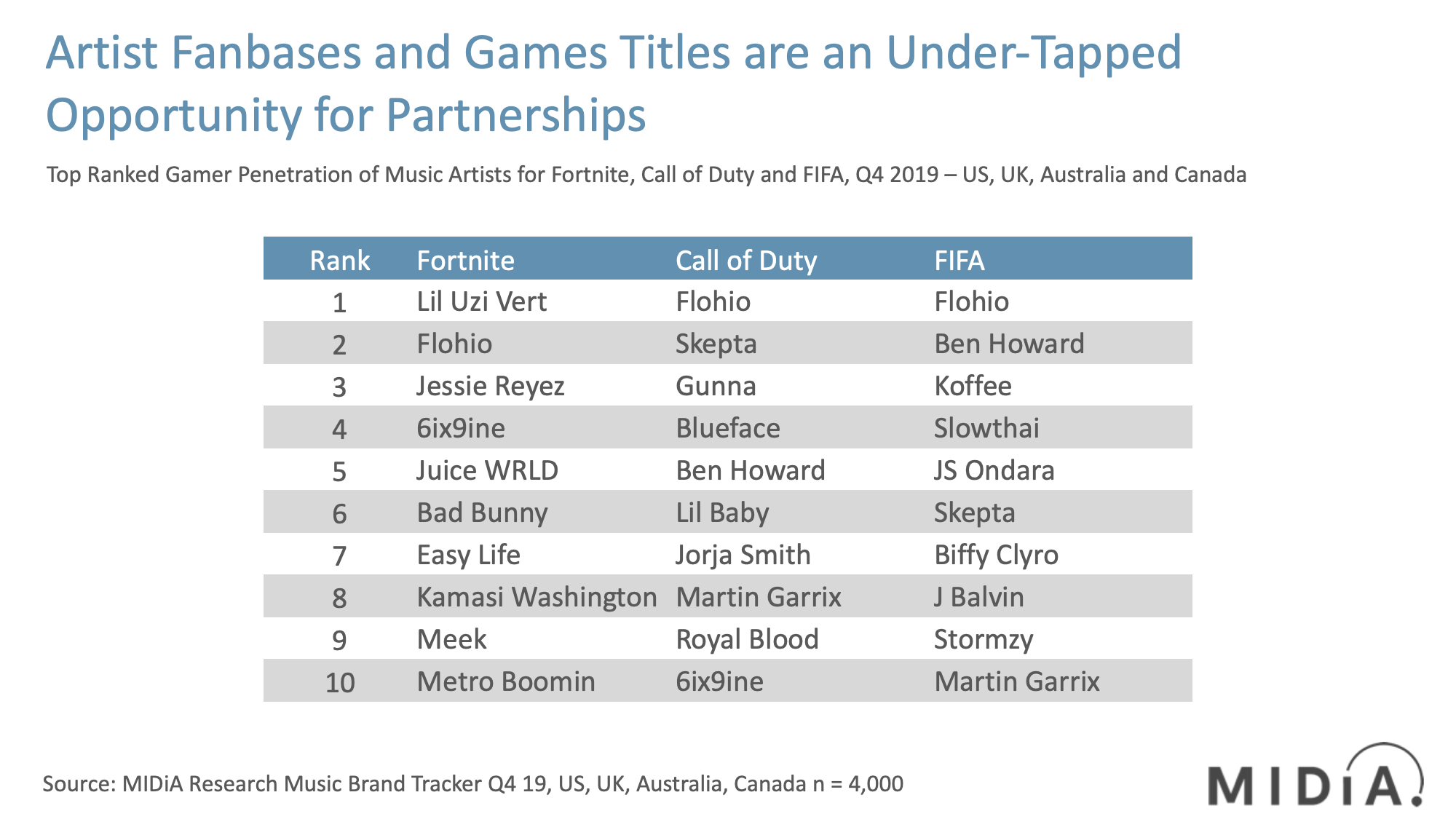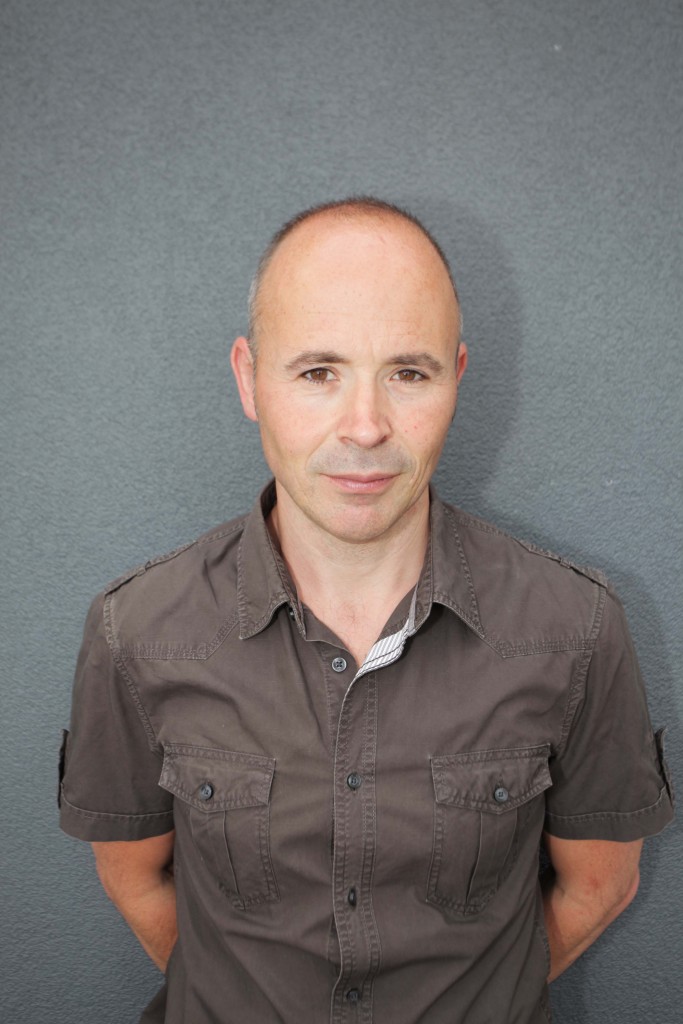 In February 2019 Marshmello caused ripples of almost tidal proportions across the music business when 10.7 million Fortnite fans watched him perform a 'concert' in the game. Then in April 2020 Travis Scott followed in his shoes with his own Fortnite concert, pulling in 12 million players. Given that this was in the COVID-19 lockdown the 1.3 million increase was a relatively modest increase. However, Fortnite publisher Epic Games had learned its lessons from the Marshmello event and rather than limit audience demand to one event, turned it into a residency with a further 15 million players watching over four subsequent replays of the event. This took the total to 27 million, though there will be a substantial number that attended multiple performances. 
What is clear is that a format has been established and that Epic Games is honing its promoter skillset. Fortnite events are labour intensive efforts to put on and currently do not scale well (hence only two events in 14 months). But there is a much bigger opportunity here for artists and one that gains new significance in the lockdown era.
The impact of COVID-19 recurring 
With the cessation of live music in lockdown, artists have seen a dramatic fall in income. Established artists can expect to earn between 50% and 70% of their total income from live—that just disappeared. However fast lockdown measures are eased, live entertainment is going to take a long time to return to normal. Indeed, it may never do so. 
Virologists point to the Spanish Flu outbreak after the First World War as the relevant precedent for understanding how the COVID-19 pandemic may play out. That was a far deadlier outbreak, infecting a third of the world's population and killing up to 50 million. But crucially, it was not a single event. It had four major outbreaks over two years. It is likely that COVID-19 will not simply go away but instead will return, either in waves or as a continual background oscillation of infection. 
As of May 1st 2020 less than half a percent of the world's population has been infected with COVID-19. Even allowing for that being just a tenth of the actual cases, that means that 95% of the population has not had COVID-19. Consequently, the majority of consumers are going to be concerned about returning to potentially infectious environments.
The combination of easing lockdown measures and weak consumer confidence means that live is not going to return to normal anytime soon. Social distancing measures will likely see rows of empty seats in larger venues and smaller, standing-only venues may struggle to operate at all. Reduced, spaced-out crowds will both harm the live experience and prevent many live events from being commercially viable to operate. Consumer concern may even make it hard for reduced capacities to be met. So, artists are not going to be able to reasonably expect a strong return of traditional live income in the mid-term future. 
Lockdown lag
Live's lockdown lag may have the knock-on effect of making artists take a more critical view of their streaming income. When live dominated their income mix, streaming's context was a meaningful revenue stream that built audiences to drive other forms of income. It was effectively marketing artists got paid for. Now that artists are becoming more dependent on streaming income, the old concerns about whether they are getting paid enough will likely come back to the fore. It is in the interests of both labels and streaming services, that labels use this as an opportunity to revisit their streaming splits with artists. Labels cannot afford to have artists united against the labels' primary income stream.
Live streaming is not yet ready for prime time
Live streaming of concerts is gaining traction but lockdown came a little too early for the sector. It is under developed, under monetised, under licensed, under professionalised and lacks the discovery layer crucial to make it ready for prime time (perhaps an opportunity for streaming services). On top of this, it does not create the same scarcity of experience that live music does and the rise of virtual festivals with artists playing just a few songs makes live more like a playlist experience, which favours the platforms over the artists. Enter stage left games.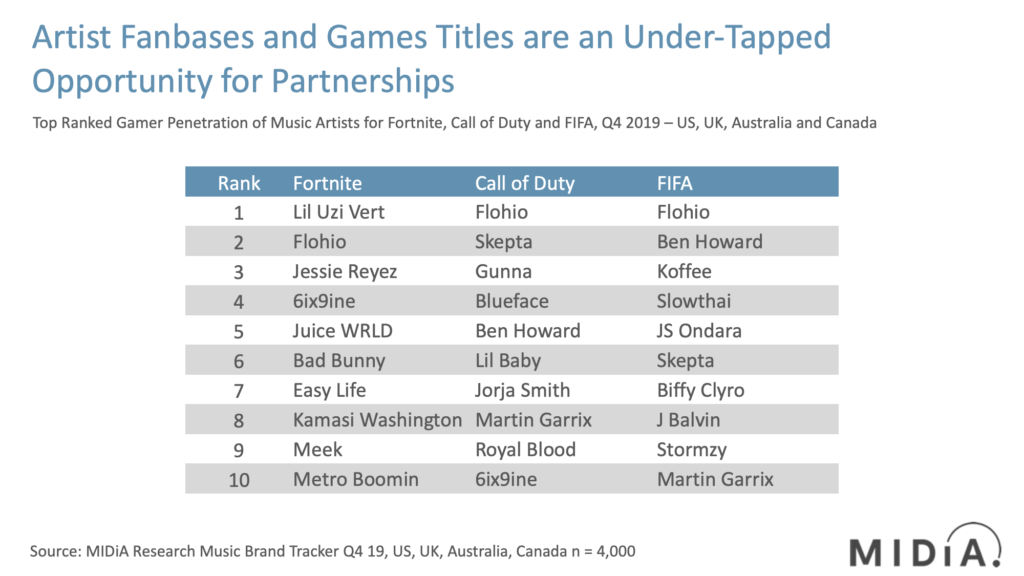 Travis Scott fans are 2.3 times more likely to play Fortnite than overall consumers, but there are 80 other artist fanbases that are more likely to play Fornite than Scott's. How do we know this? 
Every quarter MIDiA fields a music brand tracker that – among many other things – tracks which games artists' fans play. Looking across the 10 artist fanbases most likely to play three of the top games reveals a huge amount of untapped opportunity. The old model for games and music was sync. That is still a major opportunity but in the lockdown era the potential scope is so much wider. 
Not every game is well suited to hosting virtual, gameplay concerts, but the console ecosystems can support so much more. Imagine if Flohio, Ben Howard, Koffee or Slowthai were to do put on exclusive performances live streamed to FIFA players via Xbox Live followed by a gaming session to which players would pay for a premium ticket to play against their favourite artists in an eSports type set up. Tickets would be limited, to create scarcity.
Lockdown economics
The lockdown lag will create a whole new set of economics across all industries. For music it will be about exploring new income streams to recast a new music business. Games will play a major part. No longer simply a place to sync music, games will become platforms for driving artist-fan engagement. 
In the Attention Economy everything is connected. In lockdown economics those connections become productised and monetised, with benefits for all. Think of this like the K-Pop and Japanese Idol models, with superfans paying for extra access to their favourite artists. Instead of handshakes and meets and greets, we have gaming sessions and exclusive concerts. Artists benefit by connecting with fans and driving income; labels get to be participants in new revenue streams and help offset growing artist concern about streaming pay-outs; games companies get to add new revenue sources and products.
A dystopian virtual future
A final thought to leave you with. Tim Ingham's recent piece suggested that Epic Games' long view might be to create virtual artists, with the thinking being that the Marshmello and Travis Scott concerts were already in practice virtual artists. What if Epic Games is using these concerts to learn the ropes so that it could create its own roster of virtual artists. It could follow the Japanese and Korean music agency model of building rosters of employee artists, that operate under a work for hire basis. Epic Games would own 100% of all rights while the artists perform under stage names and as game avatars. Epic Games could make these virtual artists part of the Fortnite game itself to help build tribalism and fandom, and it of course already has a highly effective virtual merch store. 
In doing so, Epic Games would create a games-centric music division that operates entirely outside of the confines of the traditional music industry. Dystopian perhaps, but also entirely feasible, which is why artists and labels should probably think less about becoming integrated into the games themselves and focus more on connecting their real selves with their gaming fans.
If you are a MIDiA client we will be publishing a report on this topic shortly with thousands of data points. If you are not yet a MIDiA client and would like to learn how to get access to this data email Stephen@midiaresearch.com
Trending