Announcing MIDiA's Streaming Services Market Shares Report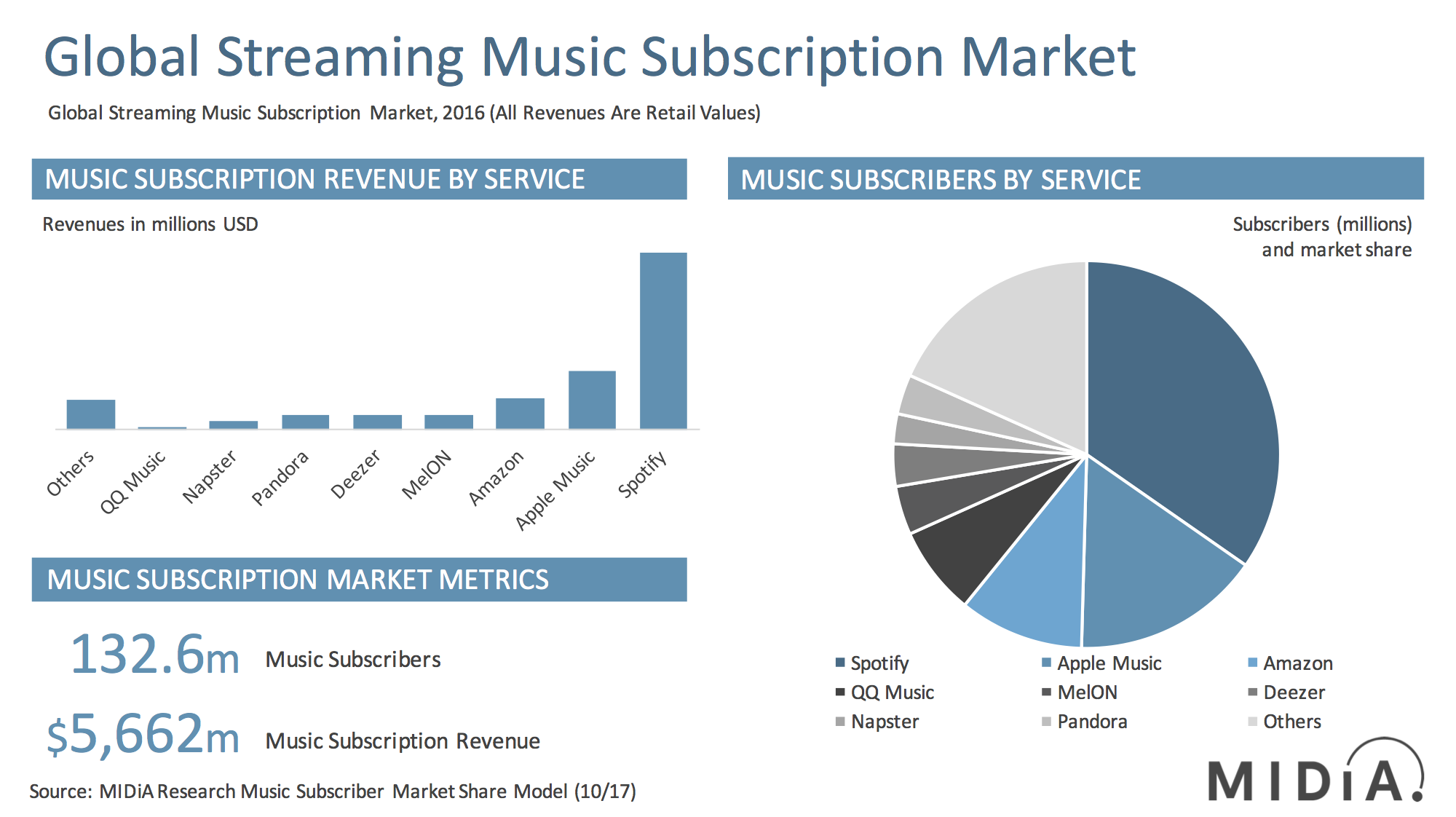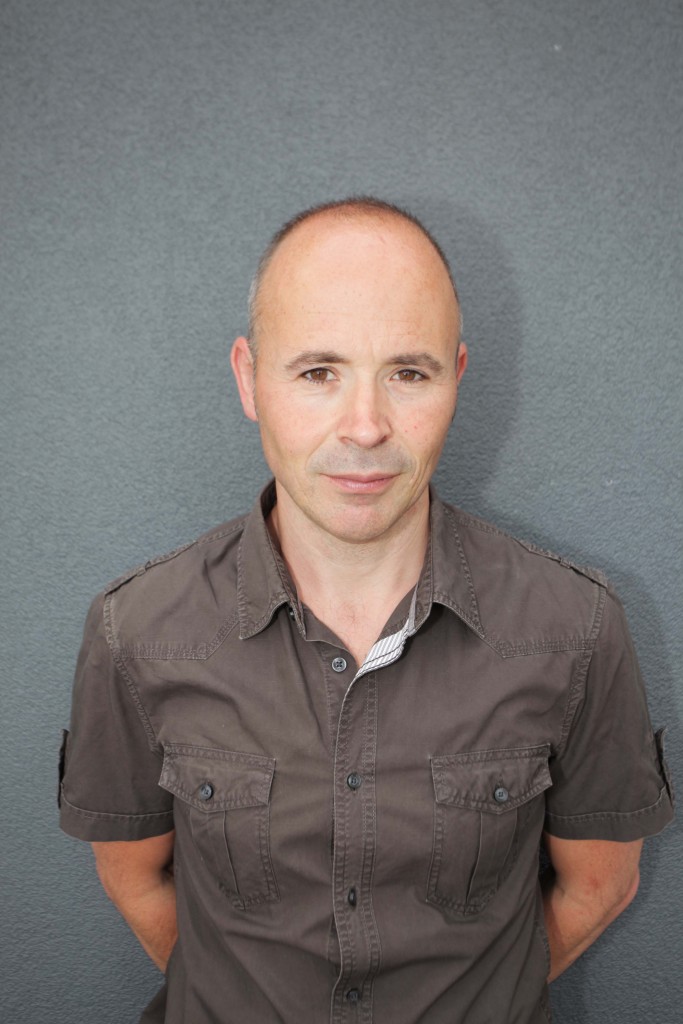 As the streaming music market matures, the bar is continually raised for the quality of data required, both in terms of granularity and accuracy. At MIDiA we have worked hard to earn a reputation for high-quality, reliable datasets that go far beyond what is available elsewhere. This gives our clients a competitive edge. We are now taking this approach a major step forward with the launch of MIDiA's Streaming Services Market Shares report. This is our most comprehensive streaming dataset yet, and there is, quite simply, nothing else like it out there. Knowing the size of streaming revenues, or the global subscriber counts of music services is useful, but it isn't enough. Nor even, is knowing country level streaming revenue figures. So, we built a global market shares model that breaks out subscription revenues (trade and retail), subscribers and subscription market shares for more than 30 music services at country level, across 30 countries and regions. You want to know how much subscription revenue Spotify is generating in Canada? How many subscribers Apple Music has in Germany? How much subscription revenue QQ Music is generating China? This is the report for you. Here are some highlights: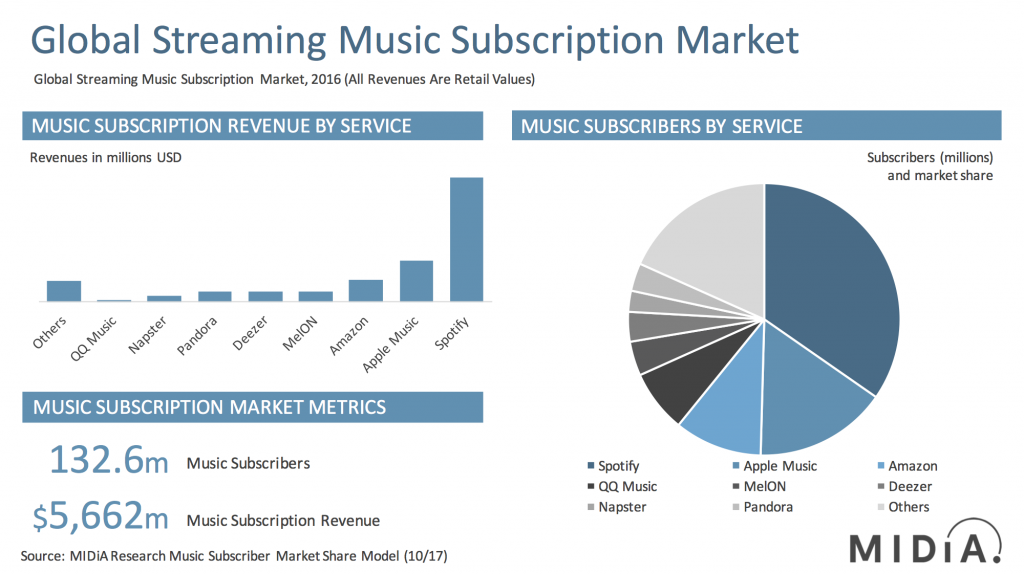 At the end of 2016 there were 132.6 million music subscribers, up from 76.8 million in 2015In Q4 2016 Spotify's subscriber market share was 35% and it had $2,766 million in retail revenueApple Music was second with 21 million subscribers at the end of 2016, a 15.6% market share and it had $912 million in retail revenueIn 2016 Apple was the largest driver of digital music revenue across Apple Music and iTunesThe US is the largest music subscription market, which Spotify leads with 38% subscriber market shareThe UK is Europe's largest streaming market, which Spotify also leadsChina's subscriber base is the second largest globally, but it ranks just 13th in revenue termsJapan is the world's third largest subscription market, in which Amazon has the largest subscriber market shareBrazil is Latin America's largest music subscription market
The report contains 23 pages and 13 charts with full country detail as well as audience engagement metrics. The dataset includes four worksheets and a comprehensive methodology statement.
Streaming Services Market Shares is available right now to MIDiA premium subscribers. If you would like to learn more about how to access MIDiA's analysis and data, email Stephen@midiaresearch.com.
The report and data is also available as a standalone purchase on MIDiA's report store as part of our 'Streaming Music Metrics Bundle'. This bundle additionally includes MIDiA's 'State of The Streaming Nation 2.1'. This is our mid-year 2017 update to the exhaustive assessment of the streaming music market first published in May. It includes data on revenue, forecasts, consumer attitudes and behaviour, YouTube, app usage and audience trends.
Examples of country graphics (data labels removed in this preview)
Trending