Announcing MIDiA's State Of The Streaming Nation 2 Report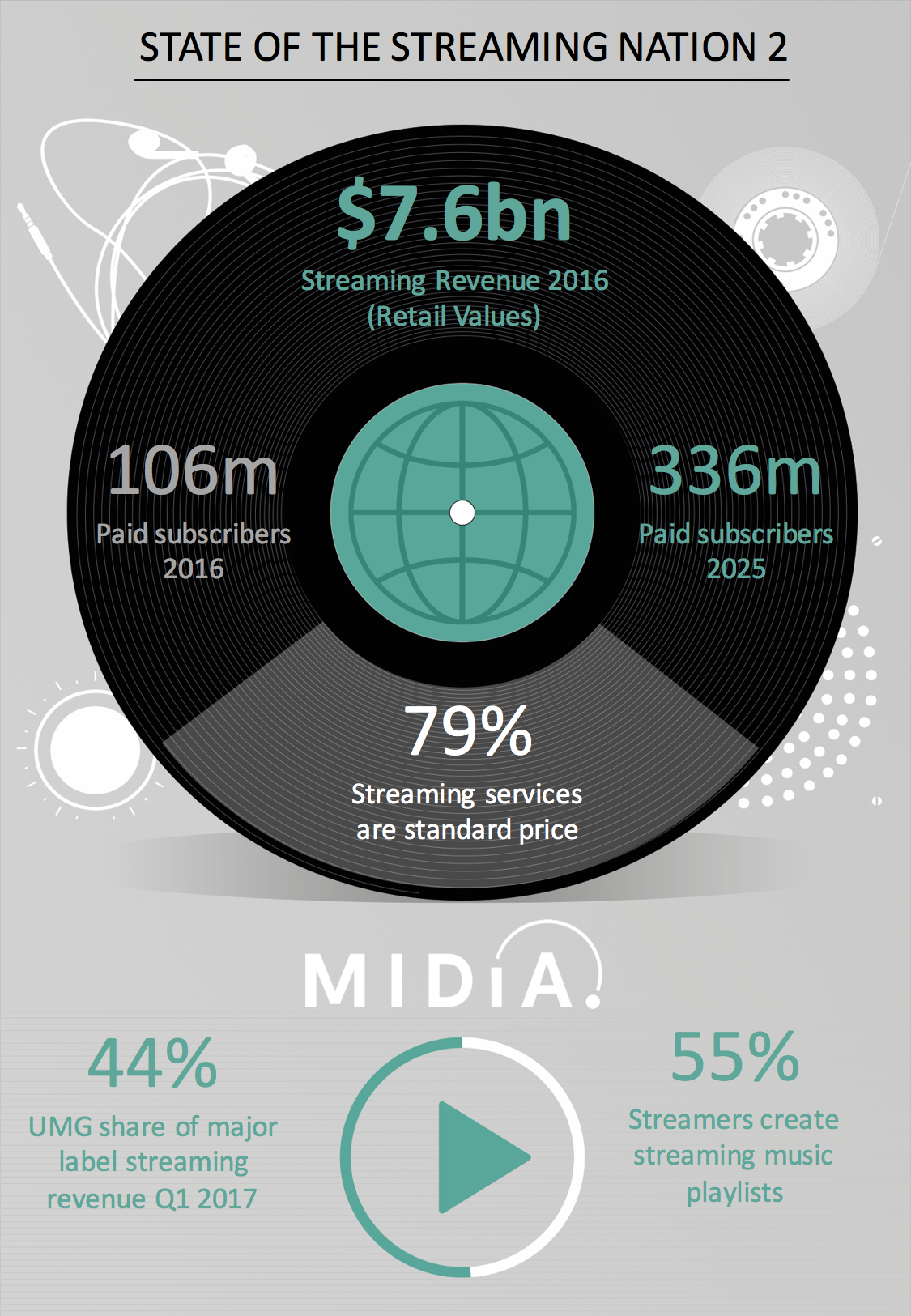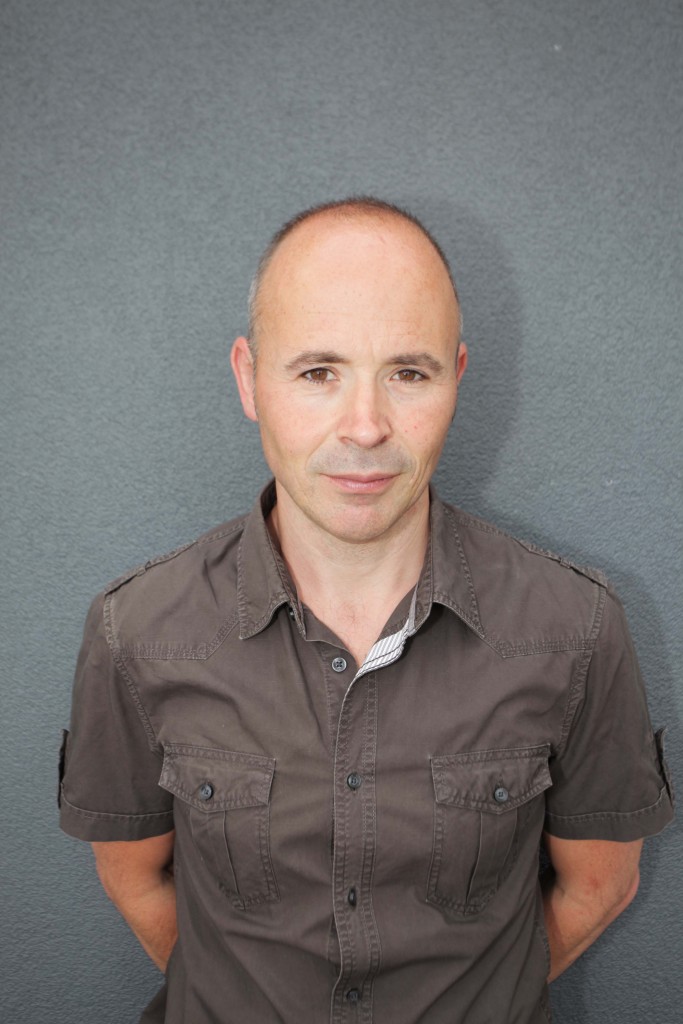 2016 was the year that streaming turned the recorded music business into a good news story, with revenue growth so strong that it drove nearly a billion dollars of total growth. Leading streaming services spent the year competing with ever more impressive metrics while playlisting and streaming exclusives became cornerstones of the wider music market both culturally and commercially. 2017 is set to be another year of growth and the coming decade will see the music industry become a streaming industry in all but name. In this, MIDiA's 2nd annual benchmark of the global streaming business, we present a definitive assessment of the global market, combining an unprecedented breadth and depth of supply side, demand side and market level data, as well as revenue and user forecasts out to 2025. This is quite simply the most comprehensive of assessment of the streaming music market available. If your business is involved in the streaming music market this is the report you need.
Key features for the report:
32 pages

4,650 words

17 charts

9,000+ data point dataset
At the bottom of this post is a full list of the figures included in the report. The report is immediately available to all paid MIDiA music subscribers.
To find out how to become a MIDiA client or to find out more about the report email Stephen@midiaresearch.com
Selected Key Findings
YouTube and Spotify lead Weekly Active User penetration with 25.1% and 16.3%

There were 106.4 million paid subscribers in 2016, rising to 336 million in 2025

Global streaming music revenue was $7.6 billion in 2016 in retail terms

55% of subscribers create streaming music playlists

Universal music had 44% of major label streaming revenue in Q1 2017

79% of streaming services globally have standard pricing as their lead price point
Companies And Brands Mentioned In The Report: 7Digital, Alibaba, Amazon, Anghami, Apple, Apple Music, CDiscount, Cstream, CÜR Media, Deezer, Echo, Google, Google Play Music All Acccess, Hitster, IFPI, KKBox, KuGou, Kuwo, MelON, Merlin, Mixcloud, MTV Trax, Napster, Pandora, QQ Music, Radionomy, Saavn, Slacker, Société Générale, So Music, Sony Music, Soundcloud, Tencent, The Echo Nest, Tidal, TIM Music, Universal Music, Vivo Musica, Warner Music, Worldwide Independent Network, YouTube, Vevo
List of Figures In The Report
Figure 1: Penetration Of Key Streaming Music Segments (Subscriptions, Ad Supported Audio, YouTube/Vevo), April 2017

Figure 2: Overlap Of Key Streaming Music Consumer Segments (Subscriptions, Ad Supported Audio, YouTube/Vevo), April 2017

Figure 3: Key Streaming Adoption Behaviours Of All Consumers, Paid Streamers And Free Streamers (Including, family plans, trials, telco bundles), April 2017

Figure 4: Key Streaming Adoption Behaviours Of All Consumers, Paid Streamers And Free Streamers (Including playlist creation, curated playlists, radio impact, spending impact), April 2017

Figure 5: Weekly Time Spent Listening To Music And To Streaming Music (Streamers, Overall Consumers), April 2017

Figure 6: Age And Gender Distribution Of Streaming Music Consumers By Category (Subscriptions, Ad Supported Audio, YouTube/Vevo), April 2017

Figure 7: Average Number Of Tracks Streamed Per Week By Segment (All Consumers, Spotify, Apple Music, Subscribers)

Figure 8: End Subscriber Numbers For Individual Streaming Subscription Services, 2014 – 2016, Global

Figure 9: Weekly Active User Penetration For Selected Streaming Music Services, Q4 2016

Figure 10: Quarterly Major Label Streaming Music Revenue, Q1 15, Q1 16, Q1 17, Global (Millions USD)

Figure 11: Number Of Streaming Subscription Services Available By Country, April 2017

Figure 12: Key Pricing, Product And Trial Features For Music Subscription Services Across 22 Markets, April 2017

Figure 13: Streaming Music Revenue And Streaming Share Of Total Recorded Music Revenue, 2008-2025, Global

Figure 14: Global Streaming Music Revenue Split By Subscriptions And Ad Supported, 2008 to 2025

Figure 15: Streaming Music Revenue For 10 Largest Streaming Markets And Top 10 Share Of All Streaming Revenue, 2016 And 2025

Figure 16: Music Subscribers By Region (North America, Latin America, Europe, Asia Pacific, Rest Of World), 2013-2016

State Of The Streaming Nation 2 Infographic
Trending