DAZN Financials Highlight Difficulty in Changing Sports Viewing for Fans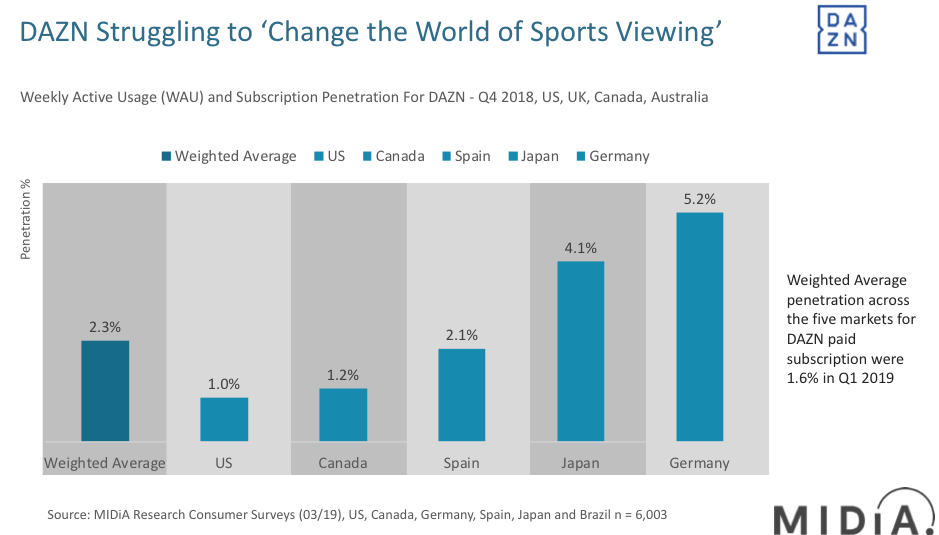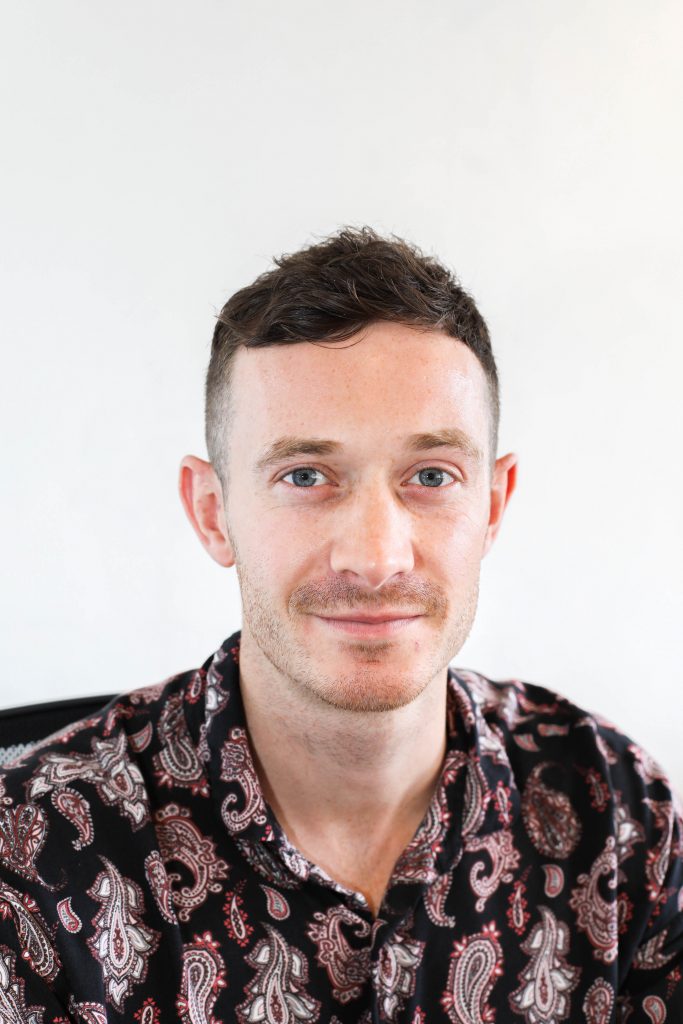 DAZN, the sports-centric streaming service which made headlines in 2018 with several high-profile rights acquisitions, and according to documents seen by SportsPro Media, has managed to dramatically reduce its debt burden by 93% in the year up to 2018.
DAZN's borrowing reduced from $980 million to $275 million from 2017 to 2018, thanks largely to the $2.2 billion in funding which DAZN has received since its 2016 launch. Len Blavatnik's Access Industries Group, DAZNs parent company, invested $848 million into DAZN in 2018, and Japanese agency Dentsu Aegis has also invested a further $391 million.
SportsPro Media reported that DAZN's revenue increased 136.2% from 2017 to 2018 to $277.6 million. The DAZN group also saw advertising revenue across its sports properties (including Goal, Sporting News and Spox) rise by 4.4% to $77.2 million. Additionally DAZN looks to increase its revenue generated through advertising in the coming year having announced in March 2019 the introduction of advertising to its streaming service.
DAZN having to play the long game internationally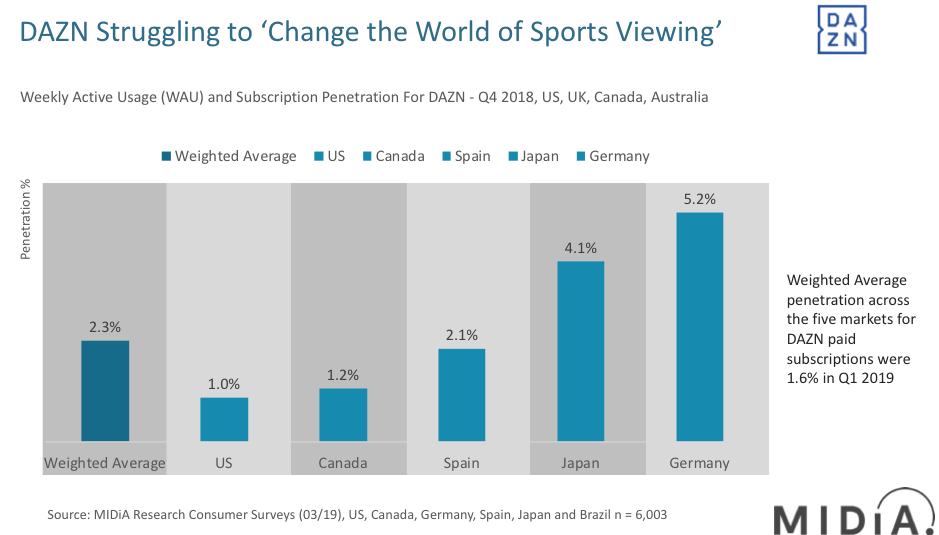 DAZN WAU Adoption
Having launched in the US in September 2018 off the back of a $1 billion acquisition for 32 Matchroom Boxing fights, its combat sport-centric service has struggled to entice and retain a large subscriber base in the US. MIDiA Research's Q1 consumer survey highlights this niche proposition struggling to appeal to fans, with only 1.0% of US consumers engaging with DAZN weekly (WAU). Fortunately these are early days for its US operations and DAZN has already built an unrivalled boxing stable with the likes of Anthony Joshua, Canelo Alvarez and GGG (Genady Golovkin) signing long-term contracts with the platform.
DAZN in November 2018 acquired a three-year live rights partnership with Major League Baseball (MLB) starting this year, which is DAZN's best opportunity to truly 'disrupt the status quo' in the US. Owning premium domestic rights, which Eleven Sports' failings demonstrated, are fundamental to forging a compelling value proposition in the key sporting markets. DAZN will be wary of competition from Disney's ESPN+ in the US, with DAZN's WAU penetration five times smaller than the leading US sport-centric streaming service.
DAZN entered its 9th market with its launch in Brazil last week, with a largely soccer-orientated proposition which should be well positioned to resonate with consumers. This could help increase the contribution of the Americas accounts in terms of overall company revenue, with its North American operations generating $14.3 million in 2018.
Key markets for DAZN
DAZN's largest share of company revenue came from Asia, which saw $65.2 million in growth from 2017 to 2018 and accounted for 42% of all company revenues. Europe is another core market for DAZN, host to two of its largest markets for WAU (Spain and Germany) and subscribers, and accounting for 44% of overall platform streaming sales. If DAZN can continue to acquire premium domestic rights in these core markets, it will offer the best opportunity to disrupt the traditional broadcasters, leveraging its early mover status in these markets for streaming services.
Diversification or overextension?
According to SportsPro, DAZN has four million paying subscribers, but investments in growing out its international rights portfolio has seen outgoings double to $336.6 million. While DAZN has successfully acquired rights from the largest and most valuable rightsholders globally, enticing four million subscribers into its ecosystem does not justify the outlay, with DAZN Group's total rights commitments as of April 2019 at $6.1 billion beyond five years. Hypothetically, even if DAZN retains all four million over the next five years at the new US annual subscription price of $99.99, subscription revenue would only generate $1.5 billion – allowing for a 25% churn rate in subscriptions with no further growth in subscriptions factored in. A $4.6 billion deficit doesn't even factor in the cost of acquiring new premium domestic rights which DAZN must employ to improve its acquisition funnel, highlighting the uphill battle DAZN faces.
The pendulum is swinging against DAZN
The magnitude of these undertakings could ultimately force DAZN into making a distressed sale or becoming an acquisition target for a tech major or a company with the appetite and financial resources to acquire DAZN's assets and endure the losses while it builds (bundles) out a truly viable content proposition for sports fans.
Trending