State Of The Streaming Nation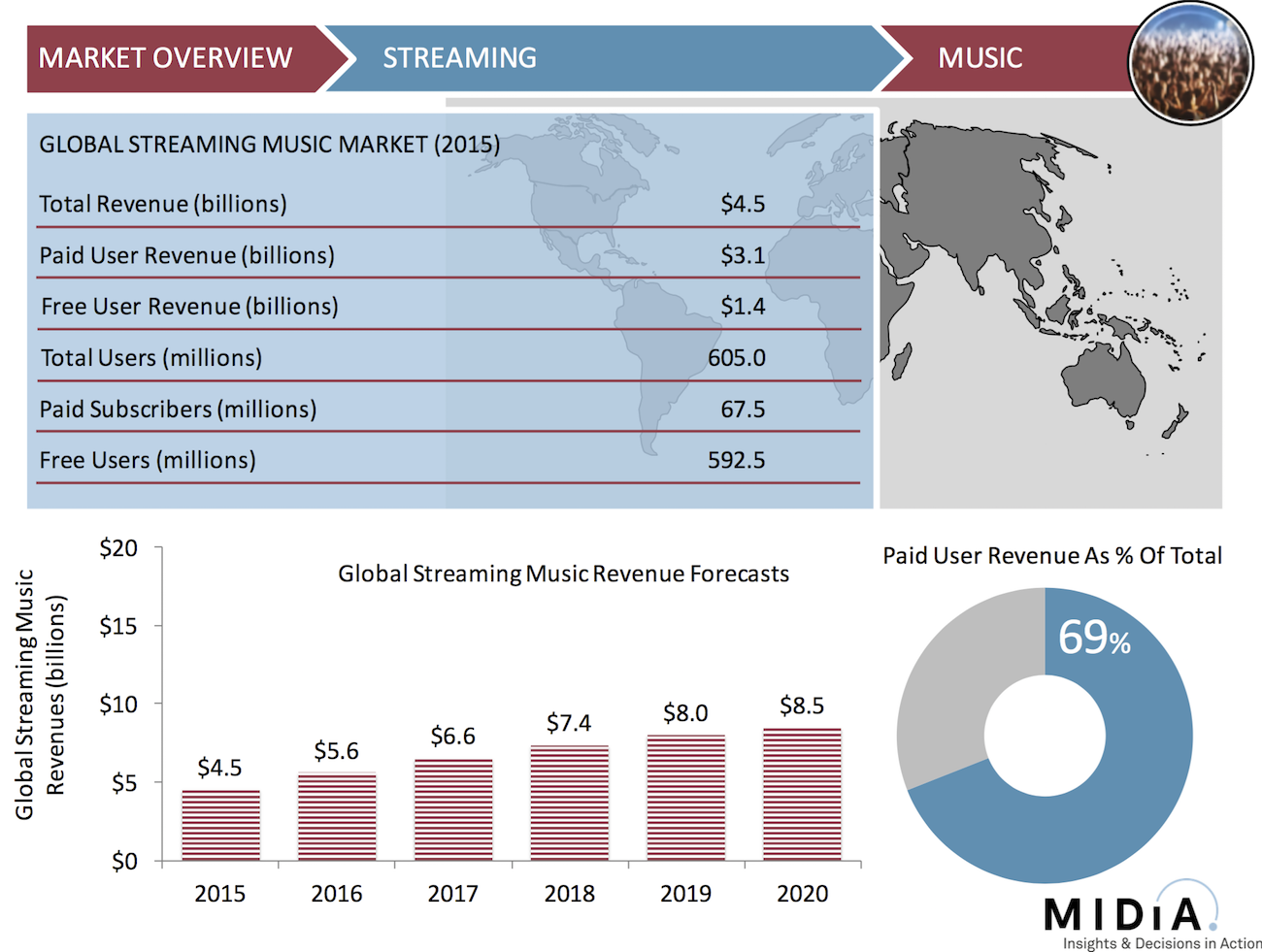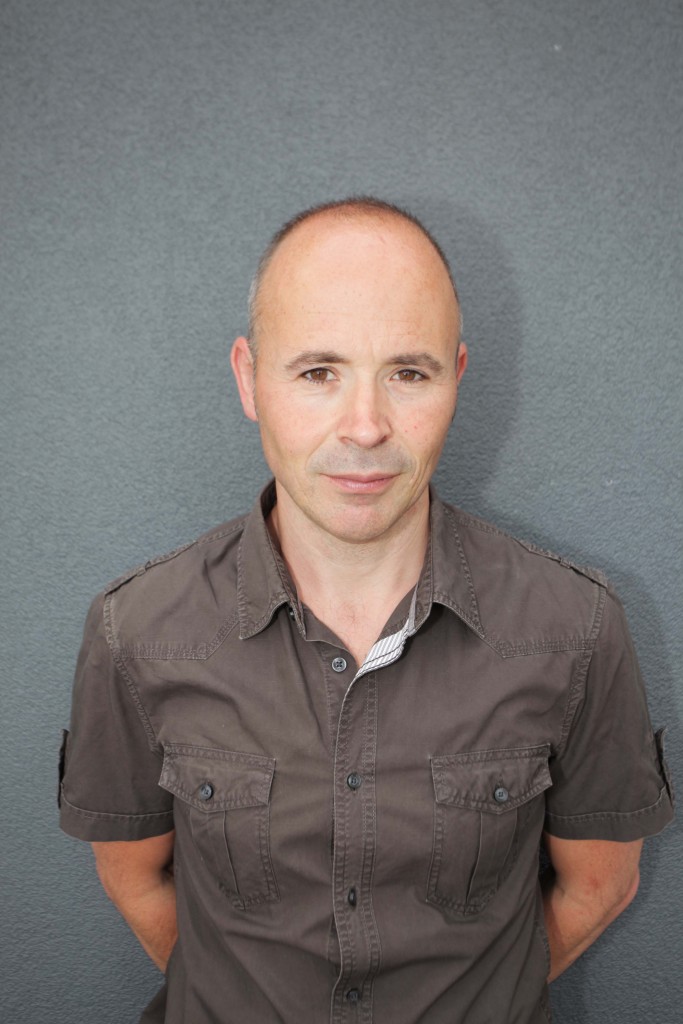 We are proud to announce a landmark MIDiA report: State Of The Streaming Nation: A Comprehensive Assessment Of The Global Streaming Music Market. If you are in any way involved with the streaming music market this report is an absolute must. We've pulled together absolutely everything that you need to know about the streaming music market all into one report and dataset which are available right now to MIDiA subscribers and which you can buy direct form our report store here.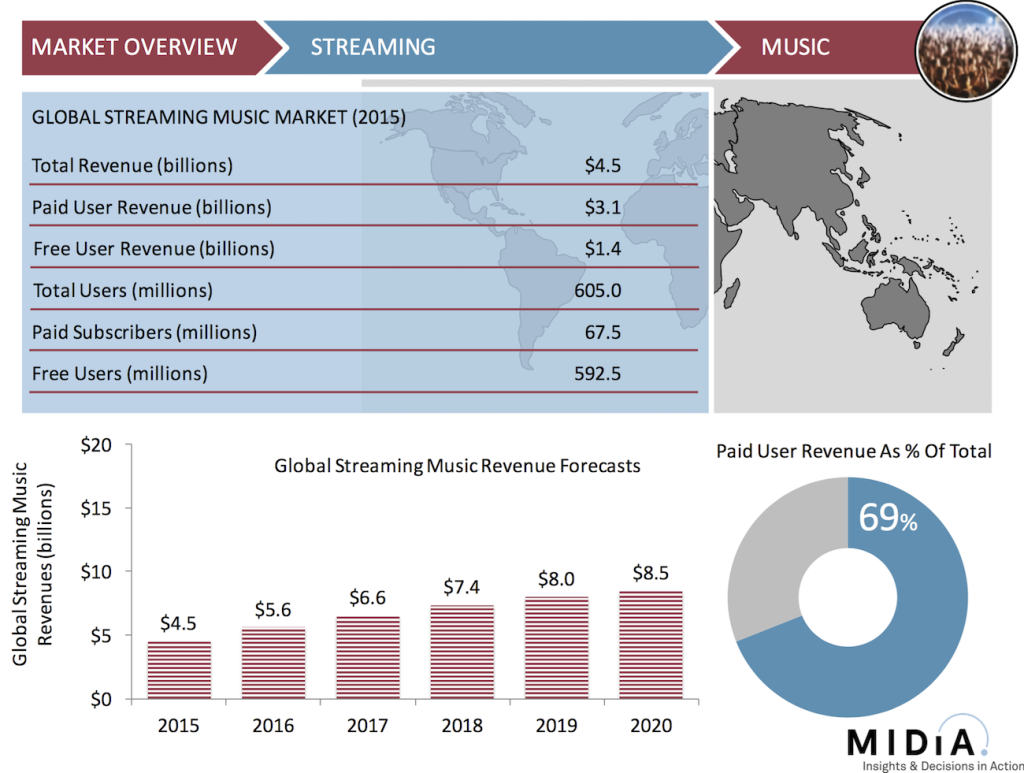 2015 was the year in which streaming music came of age, with robust growth from market leader Spotify and the rapid ascent into second place of new entrant Apple Music. Though questions remain about the commercial viability of the model right across the value chain, there is no doubt that momentum is now with streaming. The picture across the globe though is one of stark contrasts with wildly differing rates of adoption, strong variations in pricing and key players across different regions. This report provides the definitive assessment of the global streaming market with exclusive supply and demand side data alongside market analysis. The report includes:
Streaming revenues and forecasts, free and paid, by country and globally

Number of streaming users and forecasts, free and paid

Demographics of streaming users, free and paid

Streaming music consumer behaviour

Number of subscribers and music services by country

Number of subscribers for each individual music service

Number of free streamers for each individual music service

Pricing strategy by individual music service

Analysis of emerging market streaming services

Strategic analysis of the streaming landscape

Analysis of market and future outlook
Here are just a few of the key findings:
2015 was the year that streaming came of age; however, YouTube remains the main game in town, with video outpacing audio streams in the US and UK

Subscriptions account for 69% of streaming revenue but 10% of users

North America and Europe dominate global revenues but Asia is catching up

52% of consumers regularly watch music videos on YouTube, making it the most widely adopted digital music activity

Music subscribers are far more likely to be male than are free streamers

Streaming markets are evolving at highly diverse rates across the globe

Free streaming services account for 1.3 billion users but the number of unique active free users is 593 million

There were 67.5 million subscribers in 2015, up from 43.4 million in 2014
24 million new subscribers in 2015
That last finding is particularly important. 24 million new subscribers came into the market in 2015, that was a spectacular level of growth, driven by both the usual suspects (Spotify and Apple Music) but also by a host of emerging market players such as QQ Music and KKBOX. 2015 was a massive year for streaming and 2016 is already picking up where 2015 left off.
Companies mentioned in the report: 8Tracks, AccuRadio, Amazon Prime Music, Anghami, Apple Music, Celcom, Cubo Music, Deezer, Digitally Imported, Google Play Music, Groove, iHeart Radio, iTunes Radio, KKBOX Music, Line Music, MelON, Ministry of Sound, Mix Radio, Mixcloud, MTV Trax, Muve Music, Pandora, Pandora One, Psonar, QQ Music (Tencent), Rdio, Rhapsody, Rhapsody unRadio, Saavn, Simfy, Slacker, Slacker, Songza, Sony Music Unlimited, SoundCloud, Spotify, TDC Play Musik, TIDAL, Vevo, Yonder, YouTube
The report is immediately available to MIDiA Research subscription clients and can also be bought direct from our report store here.
Trending