Quick take: Gunna's triumph over The Weeknd is all about moving the culture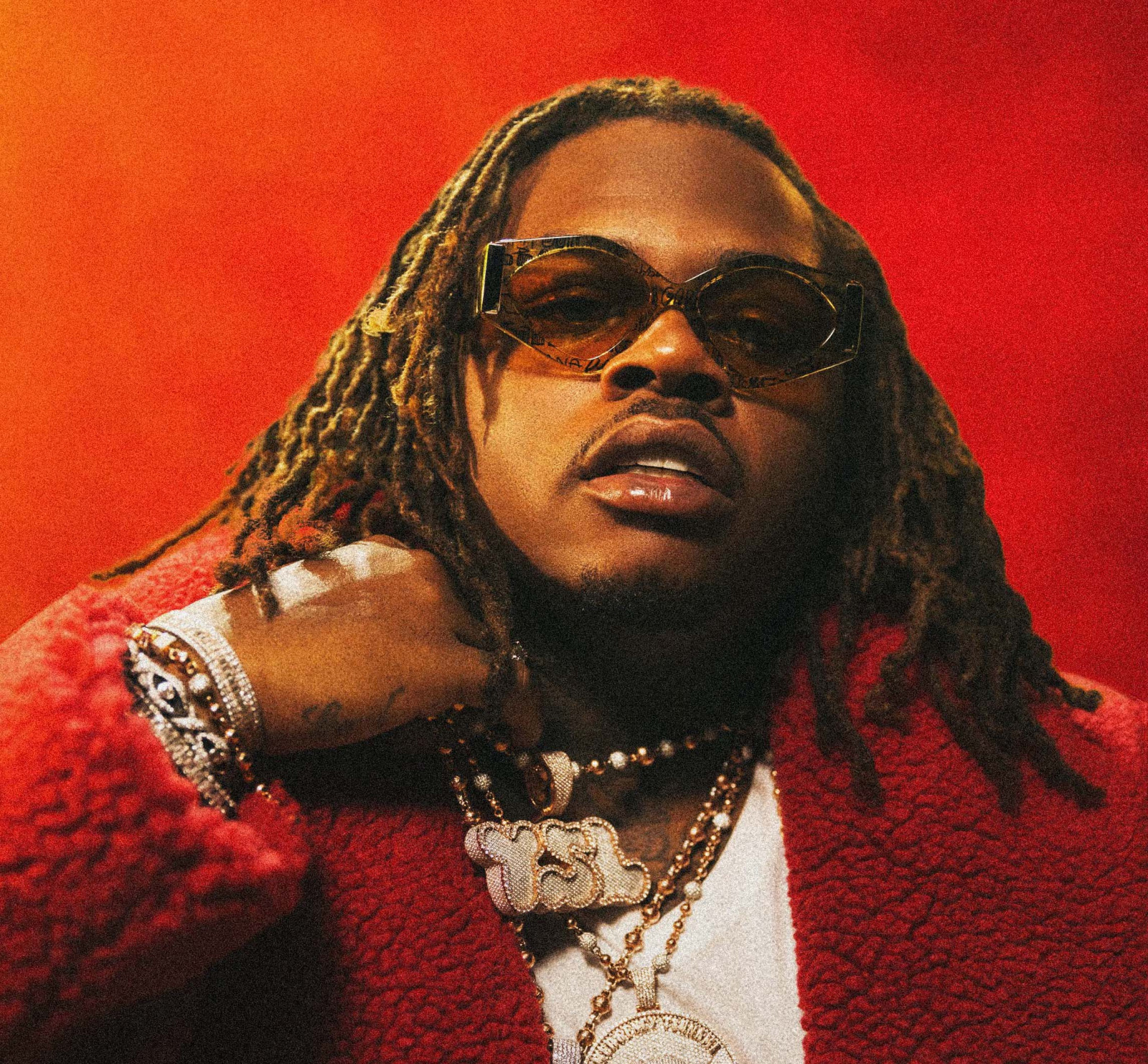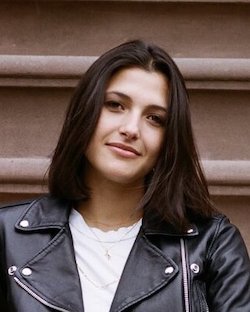 For the past week, hip-hop Twitter was buzzing with debate. The Weeknd and Gunna both released surprise albums on 7th January: Dawn FM and DS4EVER, respectively. So, whose album would come out on top? Though The Weeknd is the bigger household name, the two artists' rollout strategies were remarkably similar. Both releases came with less than a week of advance notice, neither artist had fed physical product into the supply chain at the time of release, and both dropped deluxe editions mere days after their initial albums. The two albums were also stacked with big-name features: The Weeknd had Tyler, the Creator, Lil Wayne, and Jim Carrey, while Gunna had Future, Lil Baby, and Young Thug. 
All very similar, except for one thing. A few days before the release, Gunna took over the internet thanks to a viral catchphrase – "pushing P" – which serves as the title of the album's most popular track. No doubt helped by the "P" phenomenon, Gunna prevailed over The Weeknd, debuting this week at No. 1 on the Billboard 200 albums ranking. He came out on top only by a margin – debuting with 150,300 equivalent album units compared to The Weeknd's 148,000 – and it was The Weeknd who topped charts around the world. But the story helps illustrate how in today's fast-moving, fragmented music landscape, success is becoming more about sustained cultural impact than anything else. 
Breaking down Gunna's big week
A few days before releasing DS4EVER, Gunna started talking about "pushing P" on Twitter and Instagram, replacing the letter with the parking sign emoji. He egged on his confused followers, asking them to guess what the term meant. It seems that "pushing P" essentially stands for positivity, staying true to oneself, and making money.
None of this happened by accident. Sure enough, DS4EVER includes a track called 'Pushin P', which already has over 15 million streams on Spotify. Gunna continued to milk the moment post-release by posting on social media about what (and who) is and is not "P", sparking dozens of memes and headlines. With the deluxe album, Gunna even unveiled a new Drake track, 'P Power'. At this point, social media feeds were filled with the parking sign emoji, and Gunna revealed a merchandise line of hats ($55) and hoodies ($88) emblazoned with the symbol. 
At the same time, The Weeknd released Dawn FM to rave reviews from the likes of Rolling Stone and Pitchfork, and he released multiple music videos along with a merch line. But scores of fans were busy following the "P" story.
Revisiting cultural moments versus cultural movements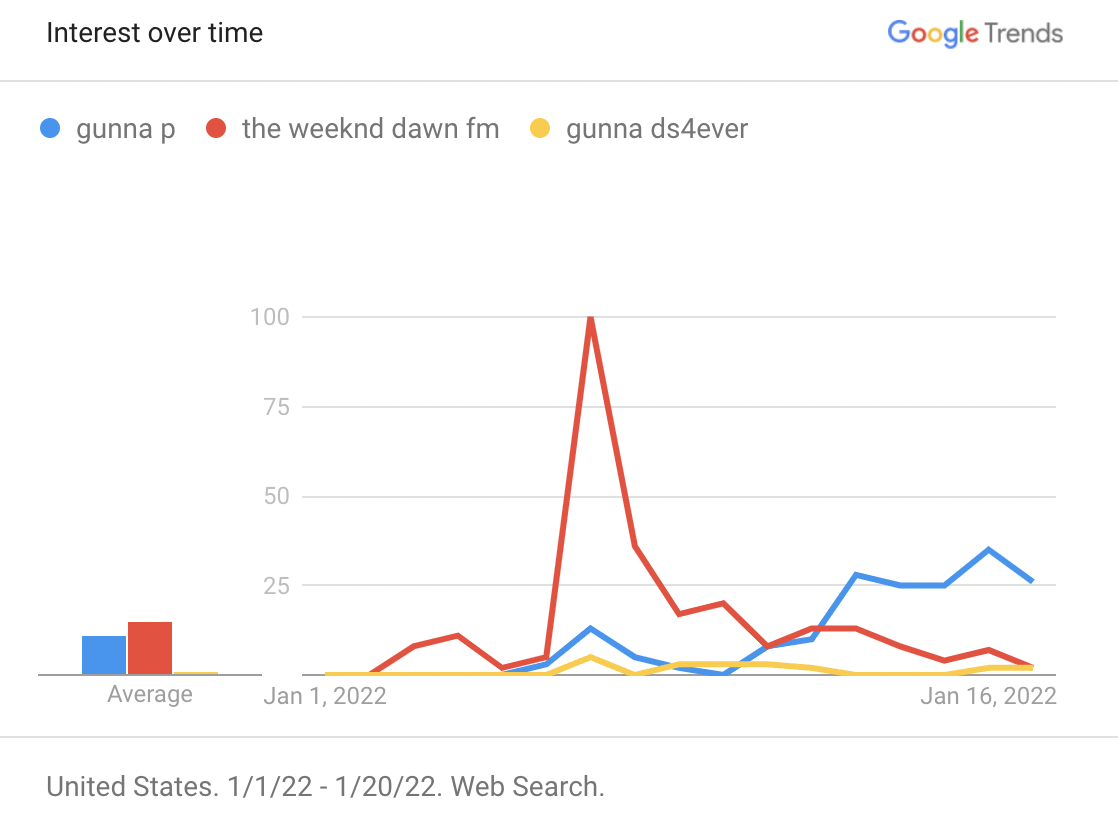 According to Google Trends, search popularity for "The Weeknd Dawn FM" rose slightly following the 3rd January album announcement, and it peaked on the day of the album's release. Search-term popularity fell by more than half the following day, and it has since settled to about 2% of its peak popularity. 
Google Trends counted far fewer searches for "Gunna DS4EVER" overall, but rather than a high peak on release day followed by a sharp decline, search-term popularity rose and fell several times throughout release week and the week following. Searches for "Gunna P" rose steadily from the day prior to the release, fell slightly afterward, and have since continued to rise. 
We have written about the difference between cultural moments and movements, and these two artists offer yet another example. The Weeknd's traditional album release created a classic water-cooler cultural moment, one that hit the radar of most music listeners for a brief time. On the other hand, even though Gunna's "P" phenomenon likely touched only a small sub-culture of hip-hop fans, it far transcended the album itself, trickling into social media, memes and – perhaps most impressive of all – the meaning of an emoji. 
Of course, the conclusion depends on how you measure success – an increasingly difficult task in today's music industry. The Weeknd may not be interested in virality. If he is more interested in releasing an album that he is proud of and gaining the respect of the industry and his peers, then he has surely already won. But for Gunna, engaging the hip-hop community around this phrase online may have been enough to move the needle on one of music's most traditional methods of gauging success. The significance speaks for itself.
Trending