Quick Take: Here Is Just How Much TV Show Brands Are Diverging Between Linear And Streaming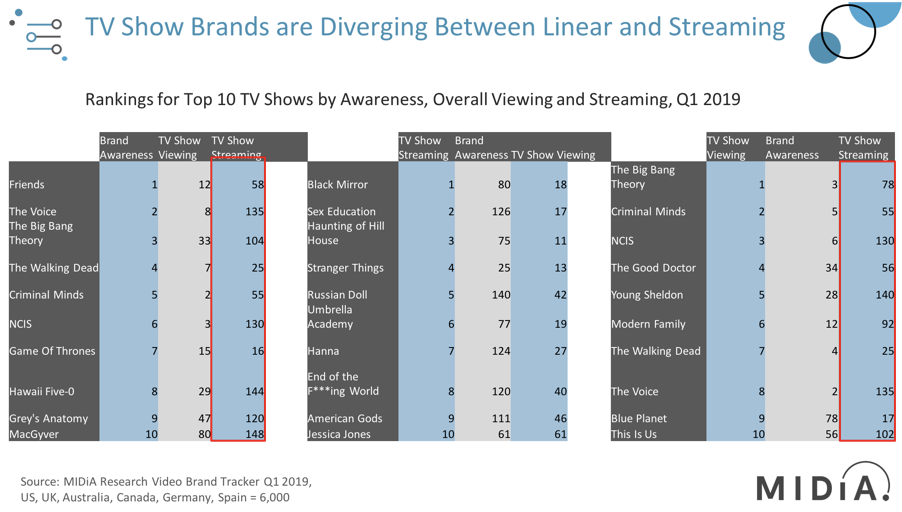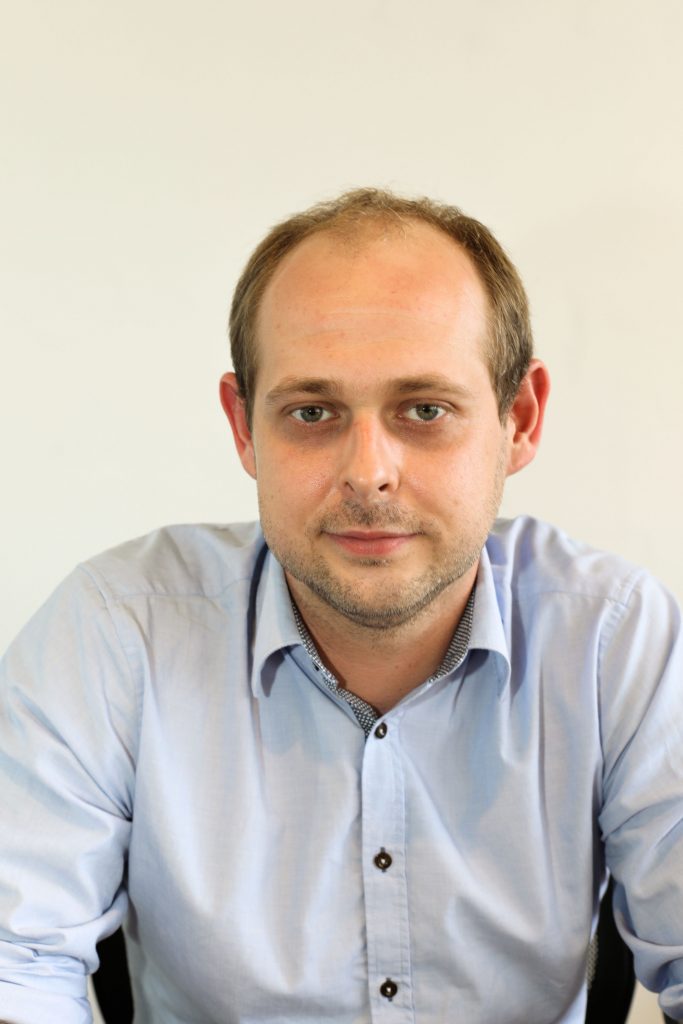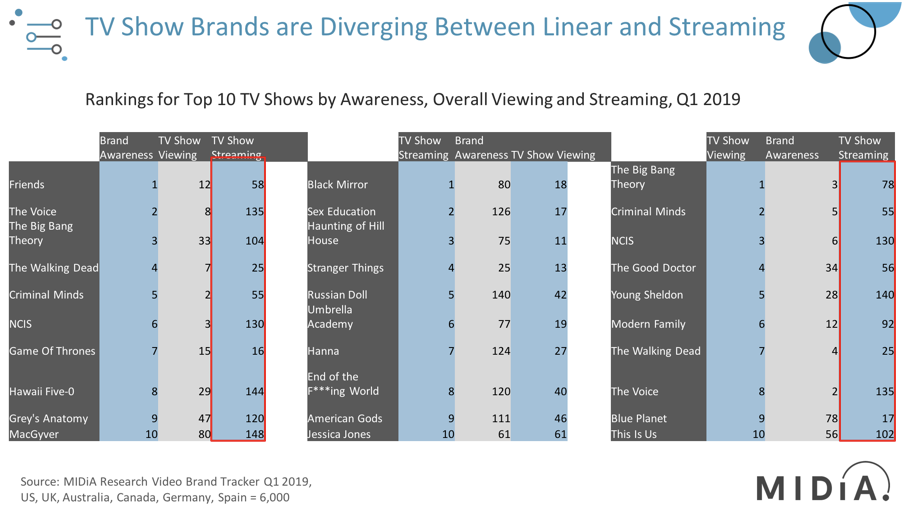 Looking at streaming numbers against total viewership and brand awareness reveals some stark differences between streaming and traditional pay-TV. The fact that a TV show can now be in the top five most streamed of the quarter, and simultaneously not even reach the top 100 in terms of brand awareness, highlights two key trends:
Niche is the new mainstream: Fandom is fragmenting. Streaming personalisation and falling linear TV audiences are combining to rewrite the TV show marketing rulebook, ushering in a whole new marketing paradigm. Hits used to be cultural moments; TV show brands built by traditional mass media. However, this fire-hydrant approach to marketing lacked both accountability and effective targeting. Now, hyper targeting, both in marketing campaigns and streaming recommendations, is creating a new type of hit and a new type of production strategy approach. Global fanbases are being built via the accumulation of local niches, while a few big hits for everyone are being replaced by many, smaller hits for individuals.
Opportunities for increased return on investment (ROI) for product placement targeted at digital natives: While product placement campaign price rates traditionally used to be defined by overall reach and brand awareness, the emergence of streaming video on demand (SVOD) original content means that companies wishing to target digital natives behind paywalls (the most valuable audiences in terms of time and money spent on entertainment) can now look to strike more effective deals for the streaming niche only. For example, 'NCIS' and 'Walking Dead' have approximately twice the size of overall fan population and brand awareness than 'Hanna'. However, the latter has by far the largest streaming audience, as well as number of streams in Q1 2019. Arguably it would be cheaper to strike a product placement campaign in Hanna than either of the two hit shows, significantly improving ROI in terms of targeting digital natives and streaming audiences.
*Please note: rankings in this chart are based on a sample of 150 key TV Shows, currently tracked on our new data tool, Index. This number is growing constantly and we have the ability to add the shows that may be important to you. If you'd like to find out more about Index for TV shows, please contact karol@midiaresearch.com
Trending