Peacock Gets Ready to Ruffle Some D2C Feathers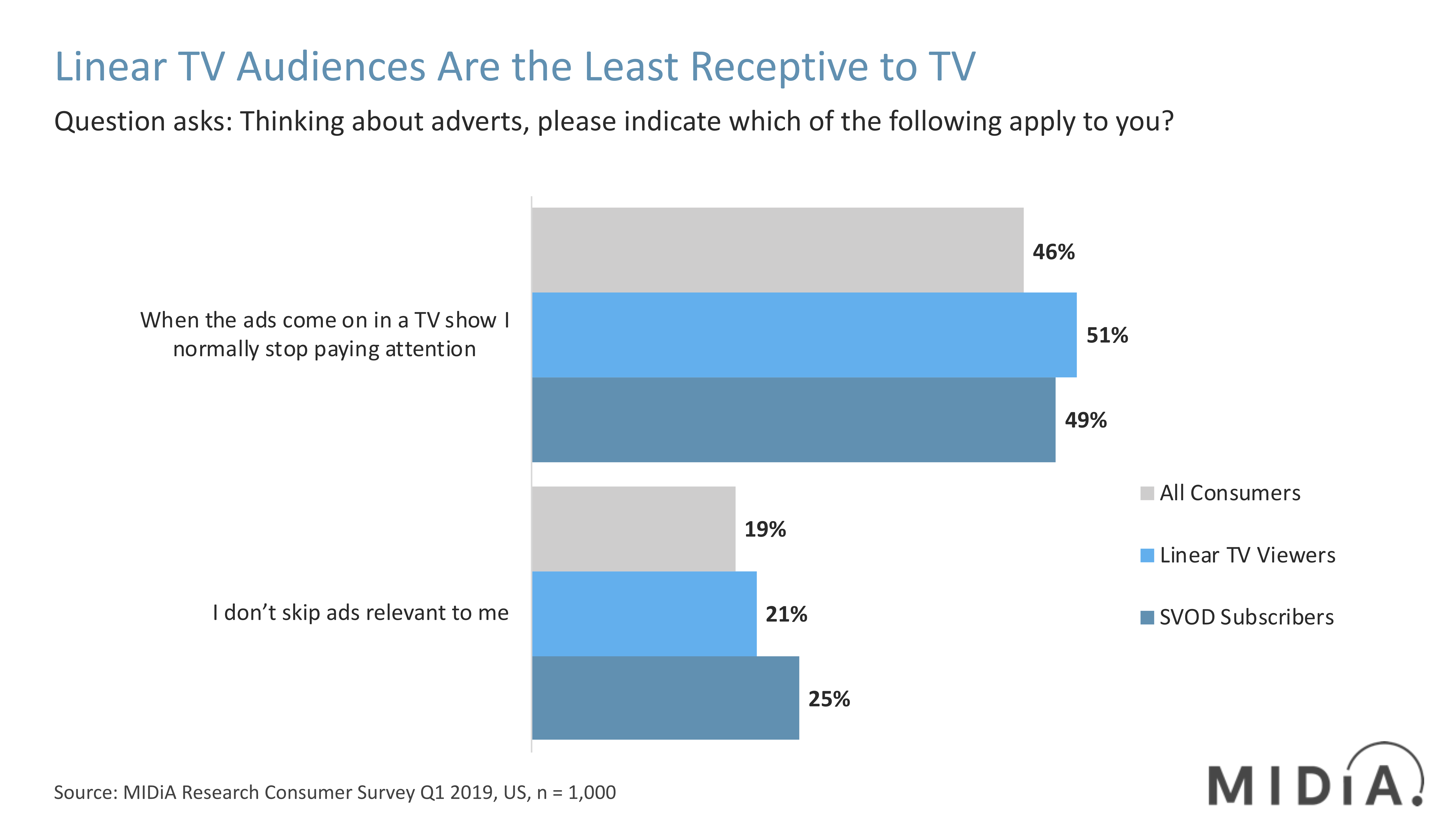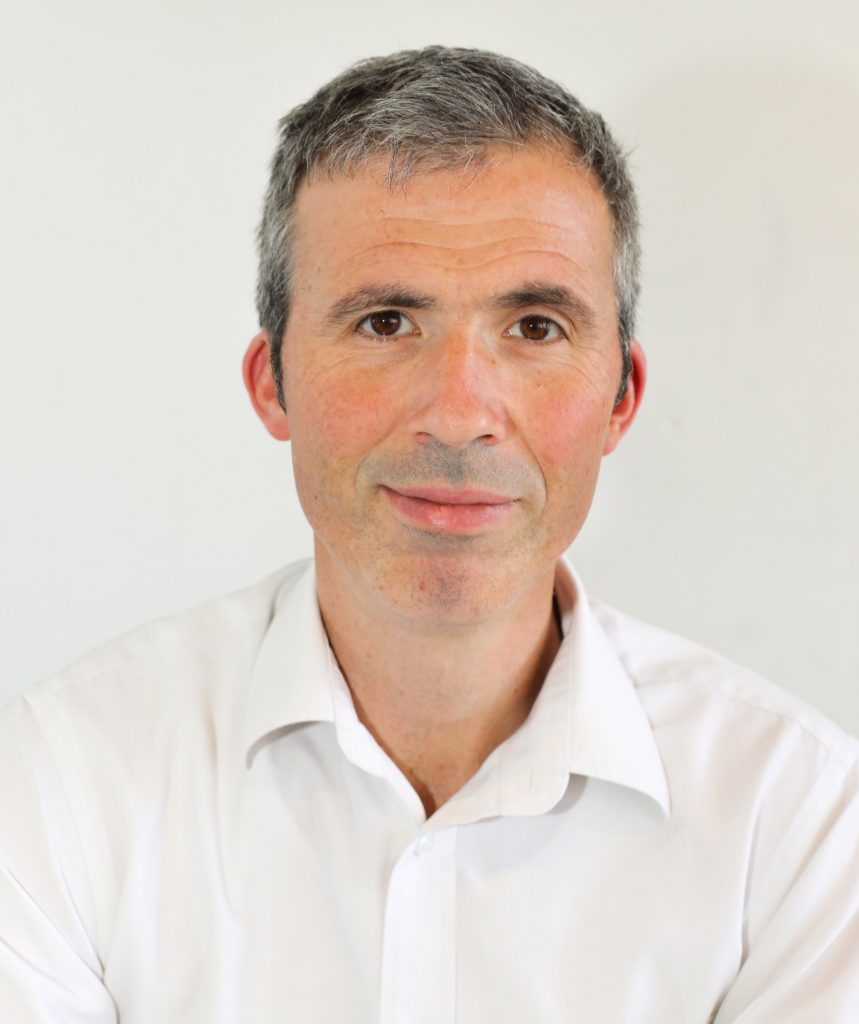 On January 16th, US communications behemoth Comcast (owner of NBCUniversal) held an investors day to provide much-needed clarity around its forthcoming direct-to-consumer (D2C) service Peacock. Of the big four D2C services due to launch in a 12-month period between H2 2019 and H2 2020, Peacock is the late entrant – but potentially the one with the biggest disruptive impact.
Why? Because Comcast owns the second largest cable pay-TV business and the largest broadband business in the US, with 28 million customer relationships as of Q3 2019. Alongside that, it has NBCUniversal – which includes the largest free-to-air TV network in the US and the fourth largest movie studio, Universal Studios. It also operates Spanish language network and content producer Telemundo, which competes domestically with Univision and internationally with Mexico's Televisa as a leading producer of Hispanic content. Internationally it acquired Europe' largest pay-TV operator Sky in 2018, along with its over-the-top (OTT) service Now TV currently available in the UK, Ireland, Spain and Italy – the team of which is a core part of the 600 engineers now building Peacock.
Peacock is coming to market in two distinct phases with three different monetisation strategies. Peacock Free will be a free, ad-supported service with ad loads restricted to five minutes per hour (compared to linear TV's 15+ minutes of advertising). Peacock Premium, which includes a wider and more up-to-date library as well as Peacock Originals, will be $4.99 with a $9.99 option for an ad-free experience. On April 15th Peacock Premium has a soft launch in the US as a free addition for Comcast's Xfinity subscribers and Cox subscribers, creating a 24 million Peacock Premium bundled subscriber base. July 15th will see the full launch of Peacock Free and the unbundled version of Peacock Premium. July 15th has been chosen as it provides one week of marketing ramp-up time before the July 24th opening ceremony of the Tokyo Olympics.
Throughout the Peacock presentation the Olympics was front and centre of the go-to-market strategy for the new streaming service, and with good reason – the exclusive US broadcast rights to the Olympics is a $12 billion investment by NBC in 10 Olympics (summer and winter games) up to 2032. What seemed like a sure-fire bet in 2011 and 2014 when the two most recent sets of rights deals were signed has now come under increasing scrutiny by investors as the world moves from linear TV to an on-demand model. In 2016, NBC's audience for the Rio Olympics was down 15% on the 2012 London Olympics, with more people live streaming gaming content on gaming platform Twitch over the same period than watching the live NBC Rio Olympics coverage. Twitch reported that it had 100 million users with 8.5 million daily active users in 2016, compared to the 28.1 million Olympic linear audience recorded by Nielsen for the 2016 Olympics (it is Important to note, however, that this was a global Twitch number and its owner Amazon declines to break out detailed user metrics). Revamping the Olympics coverage is therefore crucial to NBC both seeing a meaningful return on an expensive ongoing rights commitment, and in convincing investors that it is actively working towards re-engaging dissipating audiences.
Why Peacock's ad strategy is so important both to Comcast and to the D2C ecosystem
In last Thursday's presentation, Stephen Burke, the Chairman of NBCUniversal, opened the investor meeting by highlighting two key aspects of the TV content landscape in 2020. Firstly, there has never been a bigger audience for TV content – Burke made the following comparison between NBC hit show ER in the 1990s and NBC hit show This Is Us:
"Another example is our hit drama, This Is Us. This show has an 80% bigger total audience than ER, the #1 show on television 25 years ago."
Secondly, a key revenue driver for the TV industry has always been advertising – 46% of all video (including TV) revenue in 2019 was ad-derived. However, in the on-demand environment of streaming, advertising has lagged behind subscription services in both technology and service innovation and implementation. Advertising on OTT currently fails to attract the high spending traditional mainstream, despite advertisers who still instinctively believe linear TV to be the most important ad distribution partner for their brands. Instead, digital video users are served generic, limited inventory, low-production-value ads in intrusive, narrative-impacting ways. Burke went onto state:
"Ad-supported business has been a proven business model for decades. There are currently more than 250 ad-supported linear television channels, representing 92% of all viewership on linear television, as opposed to a handful of channels that have no advertising, which get less than 10% of total viewership."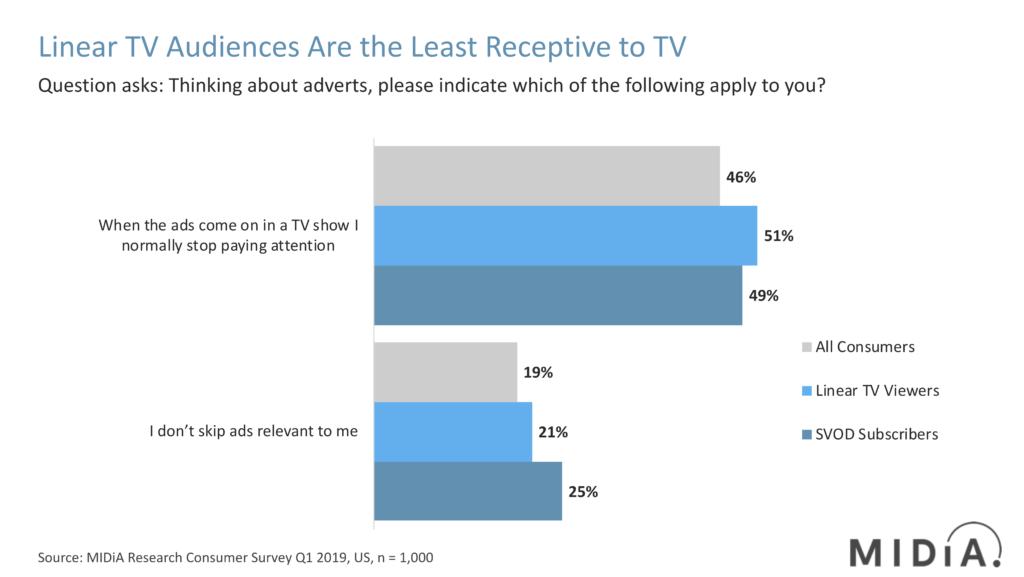 Beyond the current limitations of the digital ad landscape lies a deeper reason why Peacock is heavily skewed towards ad-supported video on demand (AVOD) – the linear TV ad audience is the least responsive to TV advertising. As the above chart graphically reveals, in the US traditional TV audiences are even more intolerant of TV advertising than ad-free streaming video on demand (SVOD) subscribers. Combined with the cord-cutting phenomenon of consumers abandoning the traditional pay-TV ecosystem, TV ad-dependent businesses will soon find themselves in the twin pincers of dwindling audiences and collapsing revenues. Peacock allows NBCUniversal to regain the initiative and partner with their existing advertising client base in the migration of focus and budgets towards a lower margin, yet vastly more accountable, digital advertising successor to the linear TV ad model. To help smooth over this process, the company is creating a Peacock Streaming Council to directly involve key advertising partners in the iteration of ad build and delivery.
While stating that consumers "love" relevant advertising is stretching realistic consumer ad tolerance, Peacock is taking some significant steps to make the AVOD model more palatable. Limiting the ad load on Peacock to five minutes per hour (compared to the eight to 20 minutes common to linear TV and AVOD), and innovating by making different categories of digital delivery available to advertisers, should resonate favourably with digital migrants. An additional commitment to high quality and verified ads will also help Peacock stand out from the digital ad norm.
Peacock is ultimately positioning itself to be the prime beneficiary domestically for bringing the 49% of US linear laggards into the streaming era. Whether it succeeds will depend to a great extent on just how well it executes on its bold vision – and, more importantly, how it turns this domestic-focused business model into a global business model. Using US-only Olympic broadcast rights as a-go-to-market strategy will be a prime example.
Trending