Netflix $17 billion budget staves off Disney and HBO Max competition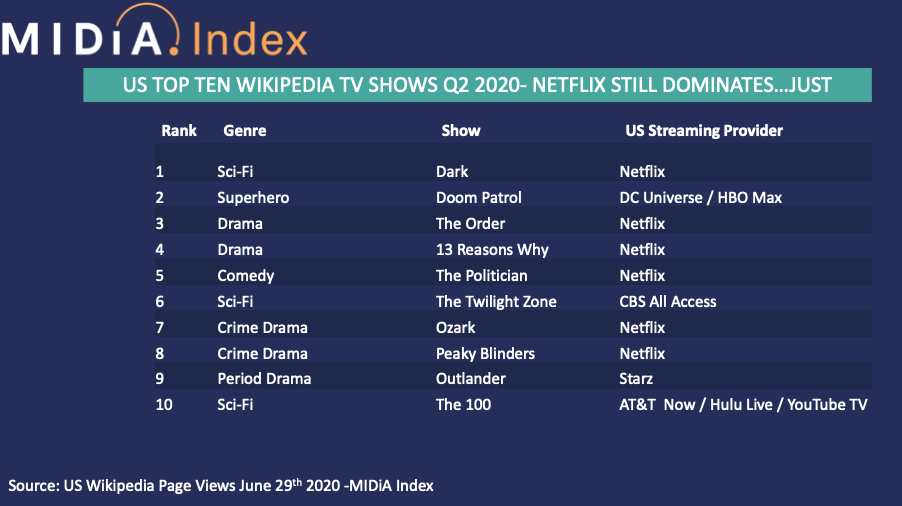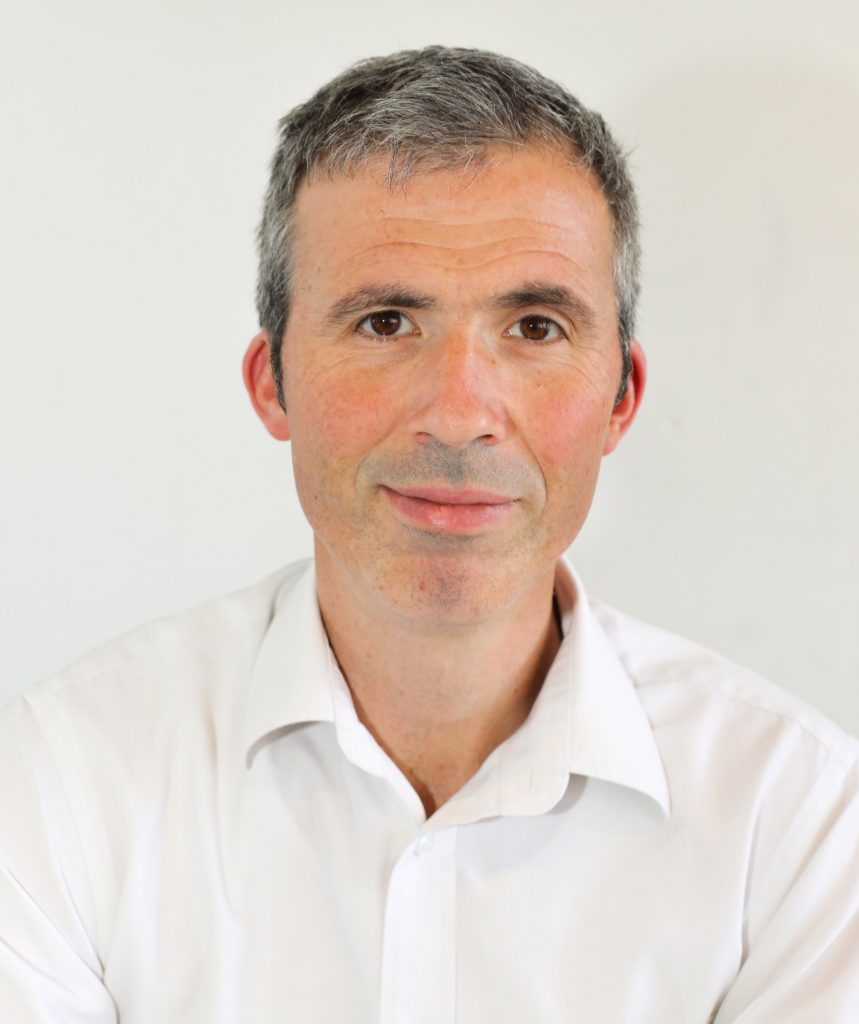 As Netflix increases its annual content budget from the $13.9 billion in 2019 to an estimated $17 billion in 2020, the global video streaming leader is responding to the competitive threat posed by its new D2C rivals by doubling down on content. The result is that volume now equals traction, with six of the top 10 most-viewed Wikipedia TV show pages being Netflix shows.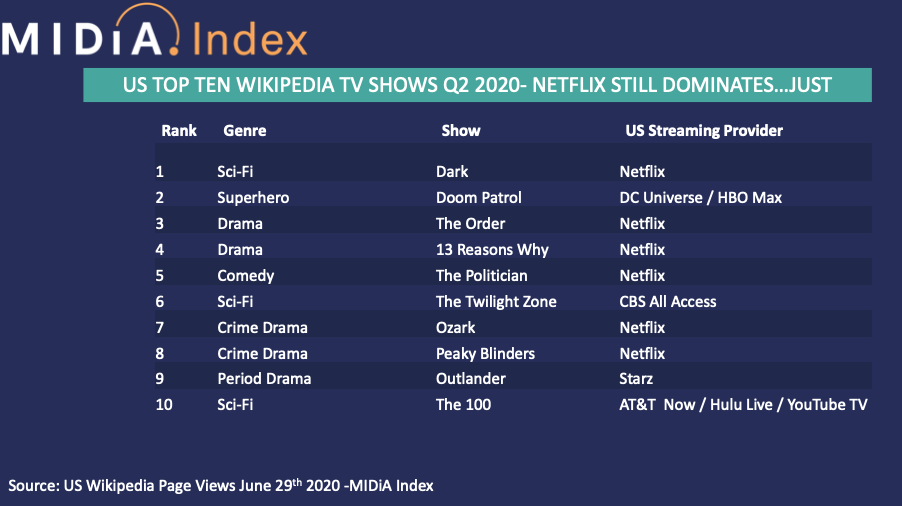 As the above chart shows (source: MIDiA Index), Netflix's robust production line is drawing significant interest from prospective audiences. In July 2020 alone, 131 new original and licensed titles will become available for US subscribers. 
The sheer scale of Netflix's content funnel means that it is dominating the TV show landscape across scripted drama, sci-fi, comedy and factual. However, US D2C competitor HBO Max is now making inroads on Netflix's show interest through its ability to leverage the DC Universe fandom ecosystem. Netflix's 2017 acquisition of Millarworld – IP holder for Kick Ass and Kingsmen – is yet to deliver a meaningful challenge to the DC / Marvel duopoly of Warner Media and Disney respectively. 
As the D2C competition heats up in 2020, HBO Max and Disney+ will increasingly rely upon their proprietary content IP to leverage established fanbases to grow subscriptions. The success of Disney+'s The Mandalorian is an early indicator of the attention threat confronting Netflix in its core domestic market, as its well-funded rivals start to invest  heavily into original content exclusively available to their streaming subscribers.
Featured Report
TV monetisation The third way
The slowing of subscription growth in developed markets means that streaming services have to look both towards post-subscription and post-advertising models. A focus on retention will maintain downward...
Find out more…
D2C battle will be fought at home and abroad
With the full brunt of D2C disruption currently confined to the US (both HBO Max and Comcast's Peacock will only be available for US consumers in 2020), the battle for engagement, and thereby retention and subscription revenues will be divided between the US and the rest of the world. MIDiA's Q2 2020 TV show demand  reports for Europe, MENA, Asia Pacific, and LatAm, underlines the strength of Netflix's position operating internationally, but also the ongoing threat posed by regional players and territory-specific genres, which Netflix is doubling down on to remain competitive. 
Netflix has a strong early follower advantage. The company built a service that learnt from the lessons of early streaming video predecessors to build a global brand that has now become synonymous with subscription video on demand. This has given it a global early mover advantage which it now needs to vigorously defend. How it competes against rivals with strong portfolios and internationally recognised content IP will increasingly mean cutting the losers quickly and doubling down on winning originals in order to retain engagement. 
As Netflix continues to become all things to all consumers through its massive investment in a broad array of content types and formats, it is making the future international roll out of rivals a challenging and hugely expensive undertaking. 
Trending