Amazon Music: From Dark Horse to Thoroughbred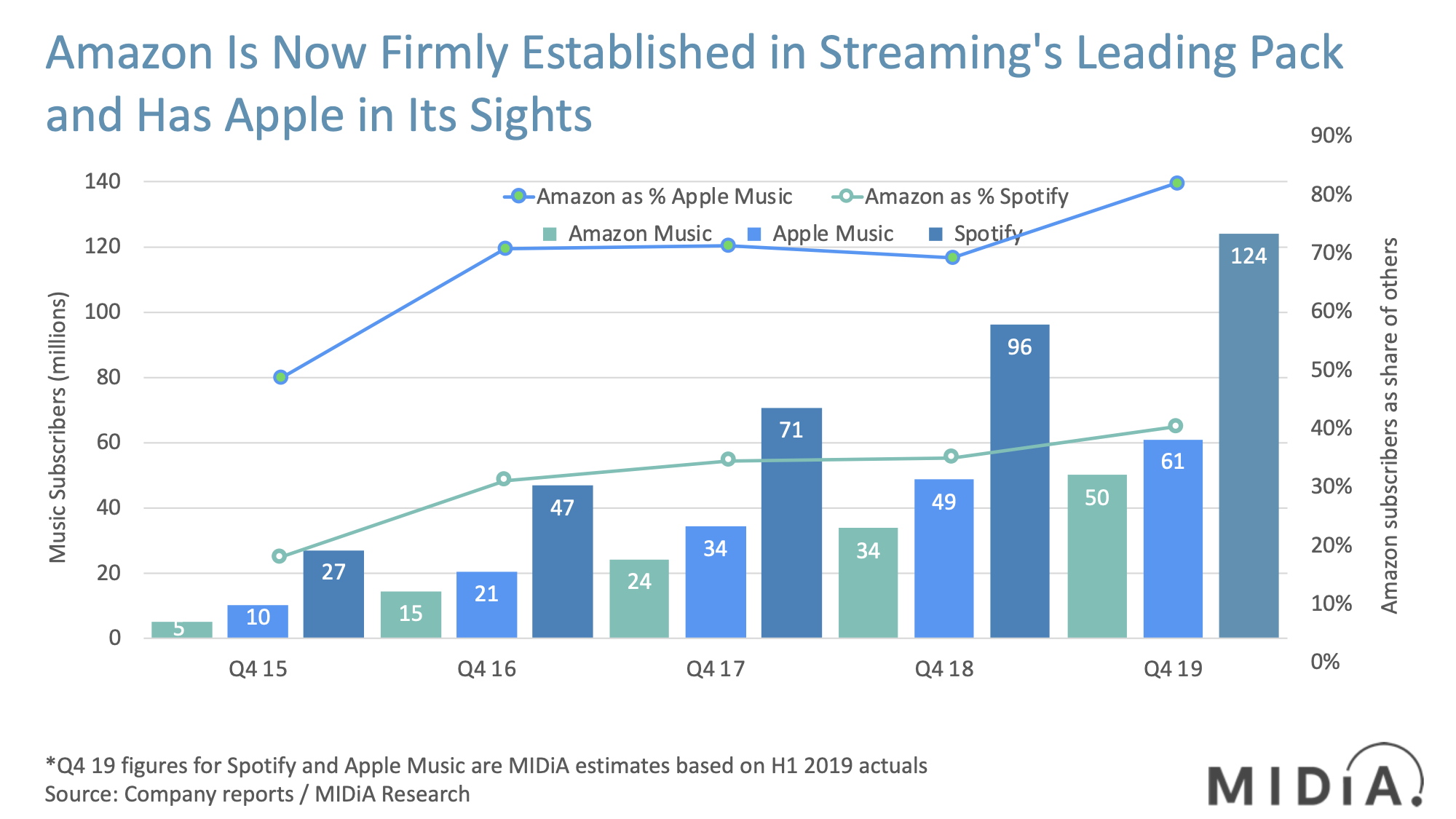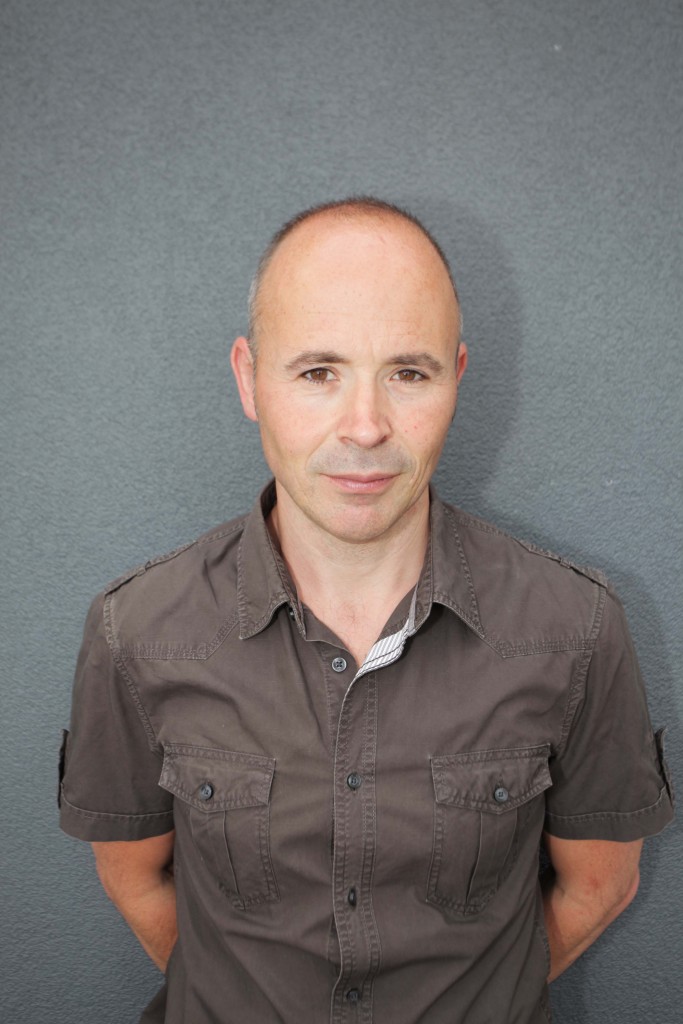 Neatly ahead of Spotify's Q4 earnings, Amazon has taken the rare step of announcing subscriber metrics for Amazon Music (inclusive of Prime Music and Music Unlimited). Amazon Music closed 2019 with 55 million 'customers' across free and paid. Based on our Q2 2019 numbers for Amazon and the fact that Amazon's free tier was only rolled out in late 2019 across a few markets, MIDiA estimates Amazon Music's actual subscriber number to be 50 million. This implies a subscriber growth of 16 million on 2018. Make no mistake, this is a really strong performance. From a bit-part player in 2015 and 2016, Amazon Music is now firmly established in streaming's leading pack and looks set to overtake Apple Music in 2020. What's more, unlike Apple and Spotify, Amazon's wider business is not a top-tier player in dozens of countries, so Amazon Music's geographic footprint is uneven – making its global figure even more impressive. Indeed, underneath this headline figure Amazon is the number two player in some of the world's biggest music markets. Amazon is now in the big league.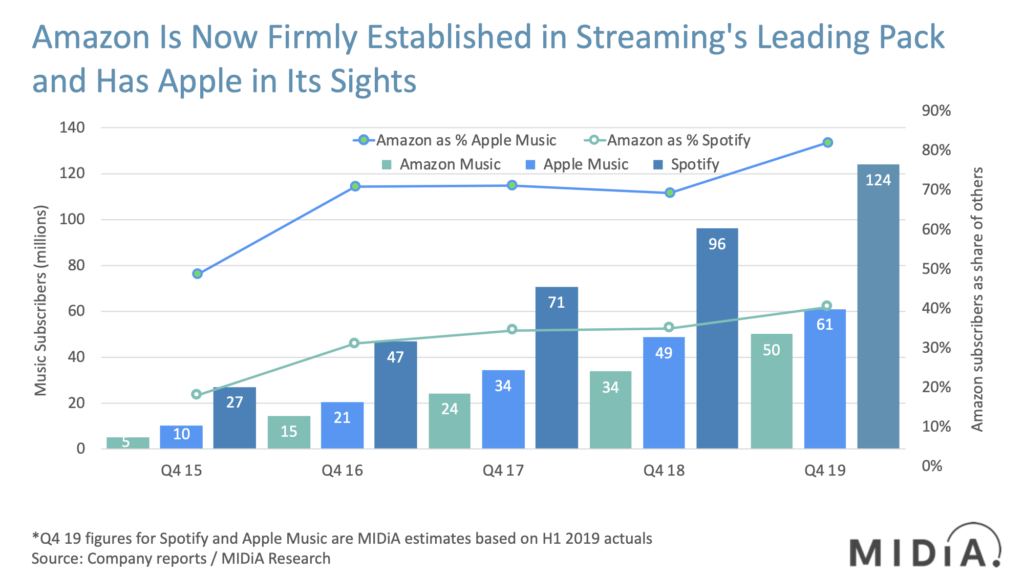 Since Q4 2016, Spotify has averaged 34.8% global music subscriber market share, meaning that despite fierce competition it has managed to stay ahead of the pack, actually increasing share slightly from 34.2% to 35.3%. Amazon's success is in some respects even more impressive. In Q4 2015 Amazon Music's subscriber base was just 18% of Spotify's. By Q4 2019 (assuming Spotify hit the 124 million that MIDiA predicted for Q4 2019) Amazon's 55 million subscribers represented 40% of Spotify's – more than doubling its relative scale. 
However, the DSP that should be paying most attention is Apple Music. Over the same period Amazon Music went from 49% of Apple's subscriber base to 82%. At this rate Amazon could trump Apple for second place in 2020. It has already done so in a number of major music markets, including Germany, the UK and Japan – three of the world's top four recorded music markets.
Extending the market
Amazon is often competing around, rather than with, Spotify and Apple. The combination of Prime Music and Echo / Alexa means that Amazon is extending the addressable market for streaming by unlocking older, higher-income households that do not fit the young, mobile-first demographic mold that the streaming market generally trades upon. Ellie Goulding's Amazon exclusive 'River' claiming the UK Christmas number one spotillustrates that this under-served segment is far from a niche. Of course, Amazon is now also competing for the younger, mobile-centric consumer – Music Unlimited grew by more than 50% in 2019 – but, along with its new ad-supported and HD tiers, Amazon is pursuing a segmented strategy that is pushing beyond its older Prime Music beachhead.
Amazon Music's success trades heavily on Amazon's overall brand reach and existing customer relationships, so its global brand reach will always be less evenly distributed than Apple and Spotify's. However, throughout 2018 and 2019 Amazon has been assertively building its reach in non-core markets through music and video. Traditionally Amazon has been a retailer first and a content brand second. Now, in newer markets across the globe, Amazon is building a reputation as a digital content provider first and retailer second. Though Amazon is clearly going to remain a retailer first globally, streaming is proving to be a powerful tool for establishing the company in markets that would have previously taken years and hundreds of millions of dollars to set up as fully functioning e-commerce markets. 
While rightsholders will have well-grounded concerns about Amazon's corporate objectives of using content to help sell consumer products, what is now undeniable is that Amazon Music and Video are both top-tier content services. Back in 2017 we suggested that the dark horse of Amazon was emerging from the shadows; now it is clear to see it is a thoroughbred in its own right. 
Trending