The Top TV Shows Of 2017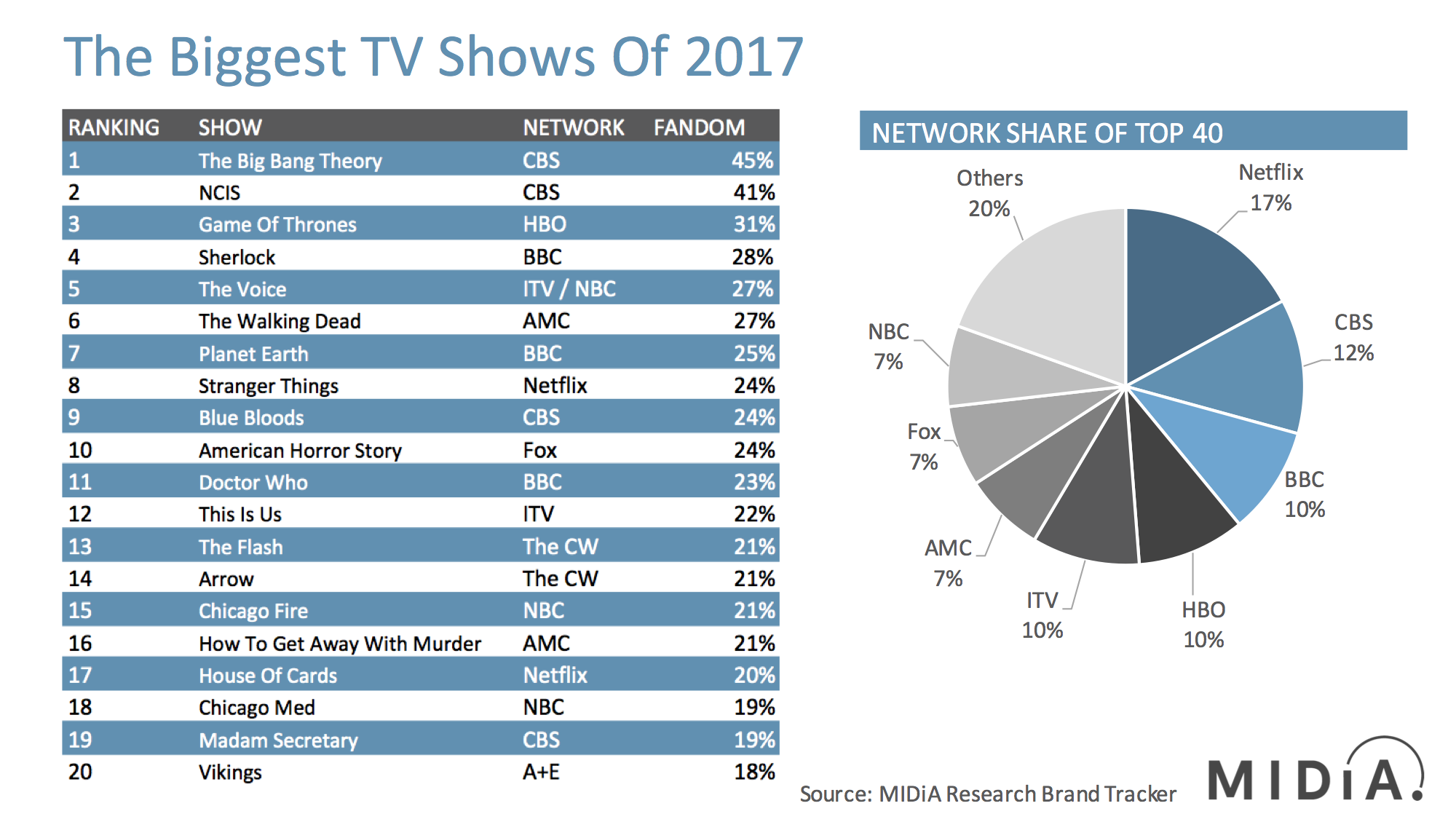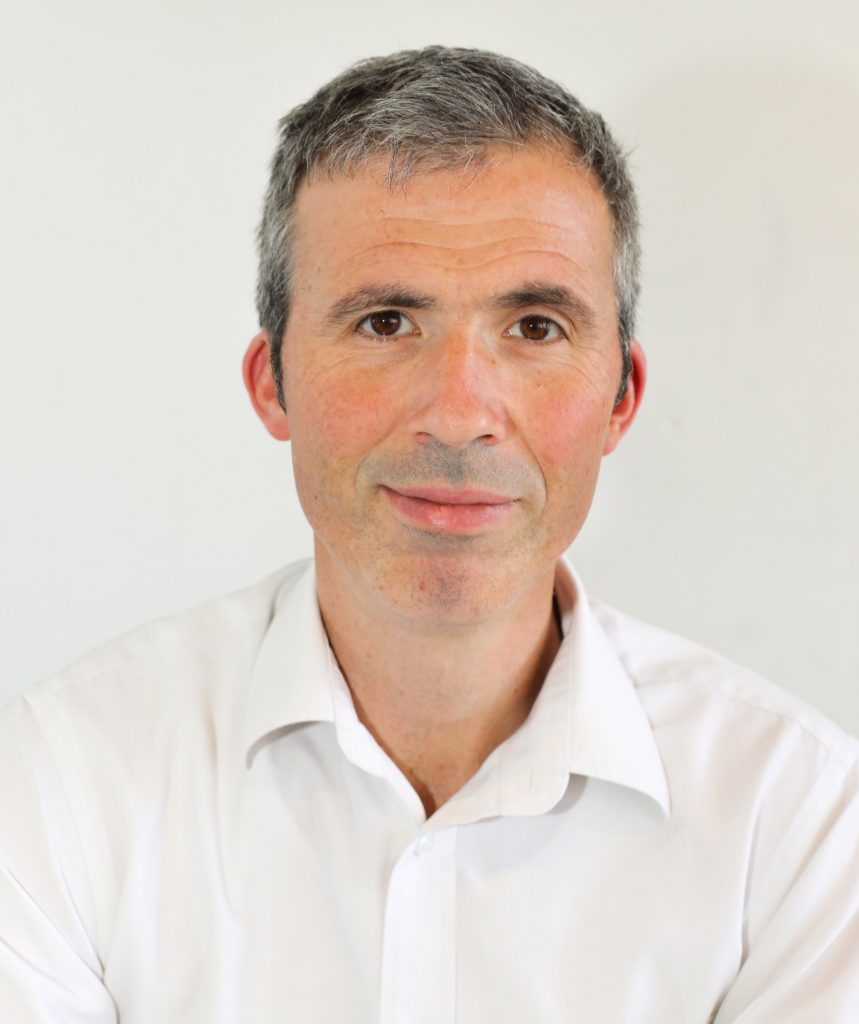 For the past 15 months MIDiA Research has been tracking every quarter more than 60 leading TV shows across the US, UK, Canada and Australia. With the fragmentation of TV audiences and the rise of streaming video services like Netflix and Amazon Prime Video that are notoriously guarded with their data, it is becoming progressively more difficult for TV companies and advertisers to know just how popular individual TV shows actually are. Many are increasingly turning to social media as a guide to popularity, but these are demographically skewed. For example, the audiences of Facebook and Twitter are both older, so rankings based on these platforms skew results towards shows that are popular among older consumers. This is why the likes of The Walking Dead and Game of Thrones usually top such rankings. (More than half of the audiences for both shows are aged 35 and above, compared to, for example, just 36% for 13 Reasons Why).
This is why we developed the MIDiA TV Show Brand Tracker, surveying 3,500 consumers, to track popularity of shows with a neutral and objective methodology. The results provide a unique view of which shows are resonating with consumers in the streaming era.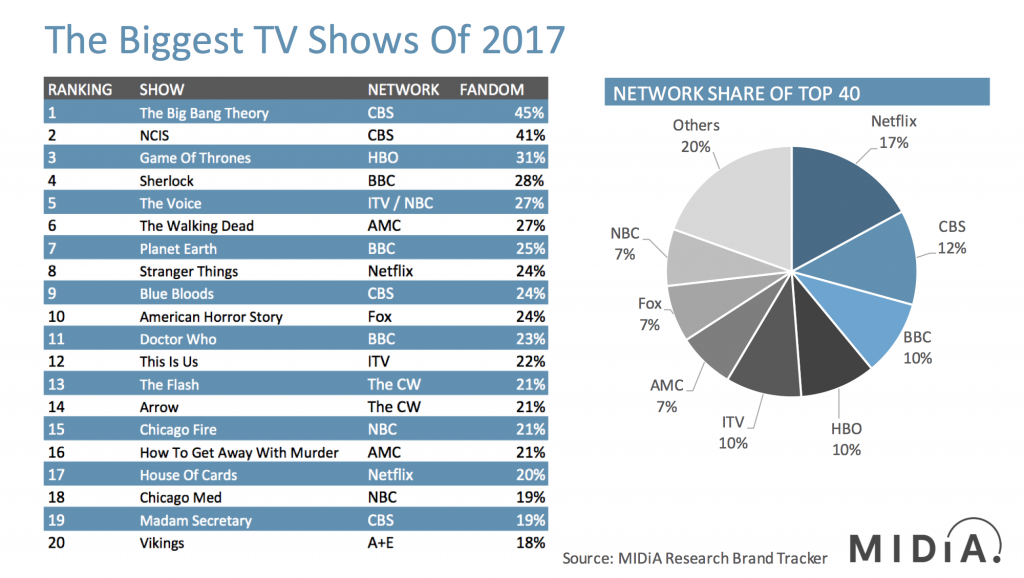 CBS's The Big Bang Theory tops MIDiA's Brand Tracker rankings with an average 45% fan penetration across all of 2017. The Big Bang Theory tends to underreport on Twitter and Facebook rankings but has topped our list in each quarter in every market except for the UK where it is shunted into third place by the BBC's Sherlock and ITV's Broadchurch. CBS also takes second spot with 41% fan penetration, holding the same position in the US and Australia, but slipping to third in Canada and sixth in the UK.
2017 was a massive year for HBO's Game of Thrones with season 7 premiering in July, which drove a three-percentage-point spike in fandom in Q3 – up to 33%. Game of Thrones is a top-four show across all four markets surveyed. Although Game of Thrones is HBO's only show in the top 20, the network has three other shows in the Top 40 including Westworld (which maintained strong fandom despite having aired in December 2016, suggesting that season 2 will get off to a strong start in 2018).
The BBC is one of the strongest performing networks with three shows in the top 20. AMC's The Walking Dead takes sixth position with 27% penetration, but fandom varies markedly by market, slipping to just 10th in the UK.
Perhaps the biggest story of 2017 is the rise of Netflix as a TV network. Netflix, with seven, has more shows than any other in the top 40, though only two are in the top 20 (Stranger Things and House of Cards). Superhero shows have been a big win for Netflix with Jessica Jones, Luke Cage and Daredevil all in the top 40. But, the one to pay attention to is 13 Reasons Why at number 23, driven largely by 16-24-year-old viewers. In the post-linear schedule world Netflix has learned how to super serve audience segments with shows that are 'prime time' titles within its service that would not be able to occupy prime time slots on broadcast TV because their appeal to older audiences is limited.
Stranger Things was Netflix's biggest hit of 2017, taking eighth spot overall, but first among 16-19 year olds and second place for 20-24 year olds. Netflix might have built its revenue business around 25-44 year olds but it is winning the programming battle for younger millennials. Traditional TV networks should pay heed.
If you would like to learn more about MIDiA's TV Brand Tracker and how to get access to the data, email us at info@midiaresearch.com 
Trending