Music industry earnings 2021: Riding the wave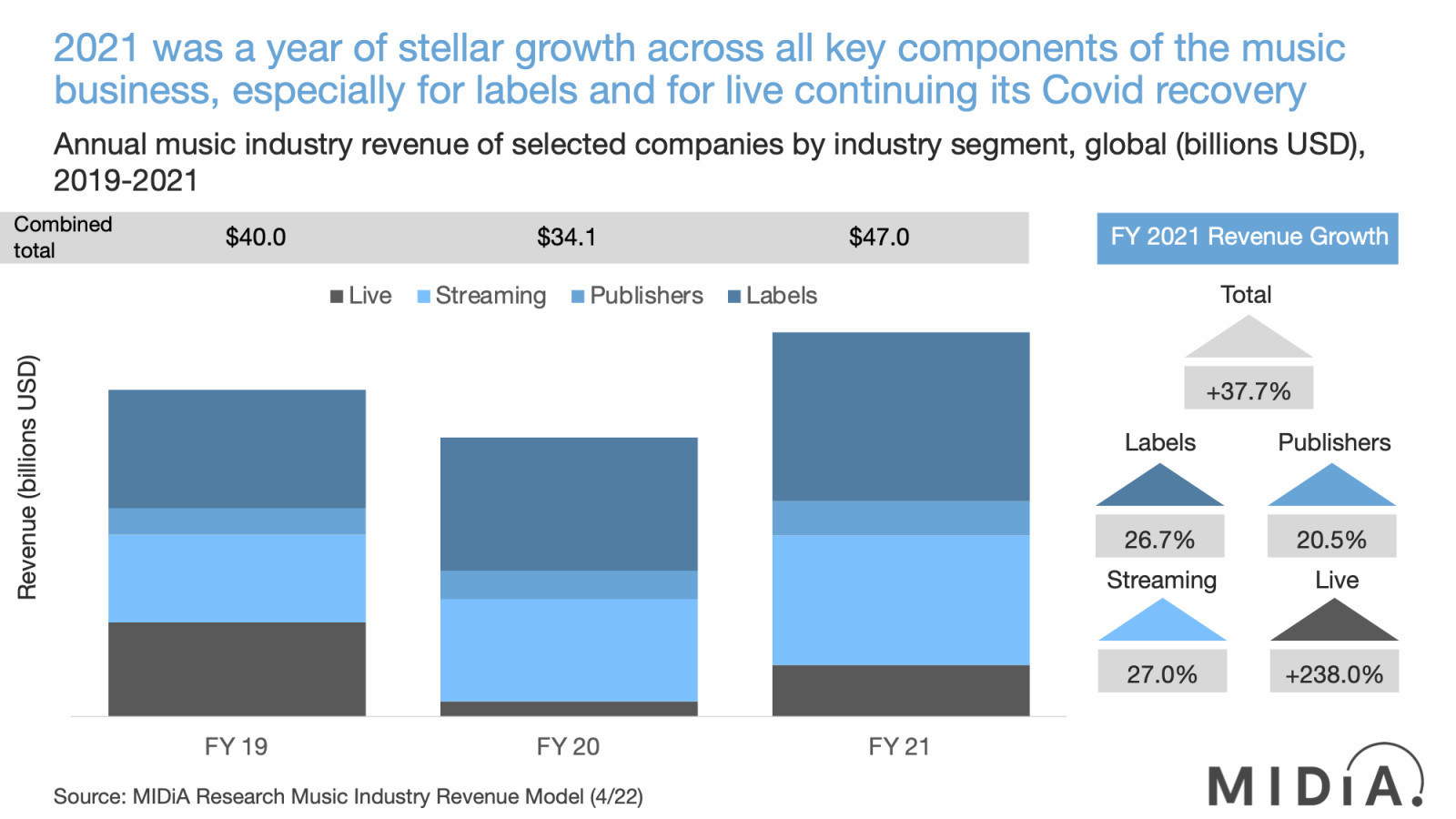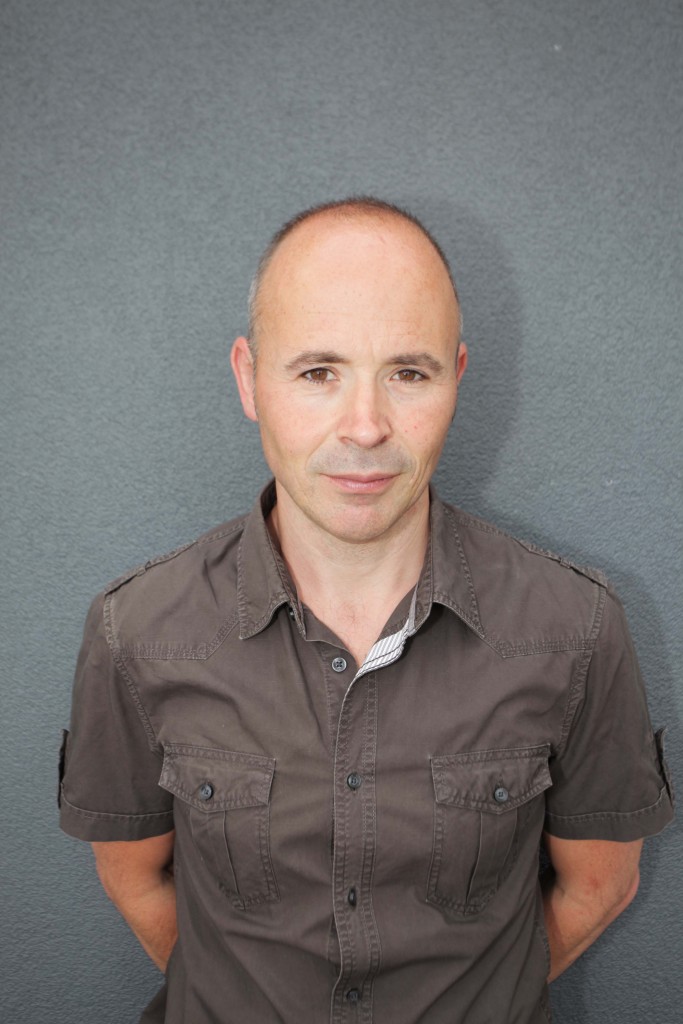 Universal music's Q1 2022 earnings showed continued growth but a noticeable slowdown in streaming growth, with streaming revenues up 12% year-on-year (YoY) in USD term compared to a growth of 35% one year earlier.* As results trickle in from across the music business over the coming months, we will get a fuller sense of how much the wider business is slowing down after an exceptional 2021. Until then, it is worth looking at how leading companies across the wider music business fared across all of 2021. To that end, MIDiA has just published its inaugural 'Music Industry Earnings' report, tracking the revenues of 12 leading music companies across recordings, publishing, streaming and live**. MIDiA clients can download the full report and dataset here. Here are some of the findings.
The overall trajectory of travel for the music industry in the late 2010s and early 2020s was positive, but growth was not always spread evenly. Self-releasing artists direct consistently outpaced record labels, streaming revenues grew fast in some markets while others lagged, and Covid turned the live music business upside down – 2021 was different. Similarly, strong growth was present in most parts of the music industry, with most companies and geographies benefiting in broadly similar ways.
2021 was a year like no other in recent memory, with the music industry rebounding from the pandemic. In many respects, 2021 was a catch-up year for the wider economy, with additional business being done that had been put on hold during the worst of the pandemic. Although the music business is largely a consumer business, it does have a B2B component (advertising) and the uplift in wider economic activity filtered down to consumers as employees. The result was a blended 37.7% increase in revenues for leading companies across recordings, publishing, streaming and live.
This figure, though, was skewed upwards by the unusual dynamic of the live music industry recovering revenues after a pandemic-induced collapse. With live therefore excepted, organic growth was broadly similar across all other sectors, with labels (26.7%) and streaming digital services providers (DSPs) (27.0%) performing strongest. Music publishers were up 20.5%.
Live increased its share of total to 13%, up from 5% in 2020, but this was still far below its 29% 2019 share. It remains likely that live will not reclaim such a high share, even if it recovers fully, principally because music rights companies grew revenue by nearly two and half times faster in 2021 than in 2020. The net effect will be a net increase in organic market share once the live recovery process is complete.
Within labels, HYBE was the fastest growing (across its recorded music revenues), up by 70.4%, in publishing it was Warner Chappell (23.7%), while NetEase Cloud music led the way in subscriber growth, up by 81.1% (far ahead of Spotify's 16.1% growth). However, Spotify grew its free userbase far faster than NetEase while Tencent Music Entertainment saw its free userbase decrease by 1.1%.
While Covid turned many industries upside down, live music was the only component of the music industry that did not continue to grow throughout the pandemic. For investors, the appeal is clear of an asset class that can flourish even in difficult times. The remainder of 2022, and potentially beyond – depending on what happens in the global economy and geo-political environment – will be a sterner test. Rocketing fuel bills and food costs will cut into consumer discretionary spending, but, as music subscriptions are relatively low cost products that tend to be held by consumers with meaningful disposable income, the risk exposure may be low. Though the fact that UMG grew its subscription revenues by just 10% in Q1 YoY, we may even be seeing a slow down there.
Whereas a few years ago, a subscription slowdown would have been as worrying for labels and publishers as it would have been for DSPs, the emergence of non-DSP revenue (Meta, TikTok, Peloton, Snap, Twitch, etc.) means that rightsholders now have an established plan B. A point illustrated by UMG's 17% growth in ad supported streaming in Q1 2022 YoY. The economic headwinds during the remainder of 2022 will be challenging for sure, but the performance in 2020 and 2021 point to a robustness that will help it weather the storm in a way that other consumer-centric industries may not enjoy.
*All values in current currency terms, using the exchange rates published by Vivendi for each corresponding quarter.
**List of companies tracked in MIDiA's 2021 Music Industry Earnings report:
1.     Believe
2.     HYBE
3.     Live Nation
4.     LiveXLive
5.     NetEase Cloud Music
6.     Pandora
7.     Reservoir Media
8.     Sony Music Group
9.     Spotify
10.  Tencent Music Entertainment
11.  Universal Music Group
12.  Warner Music Group
Trending