MIDiA Chart Of The Week: User Generated Broadcast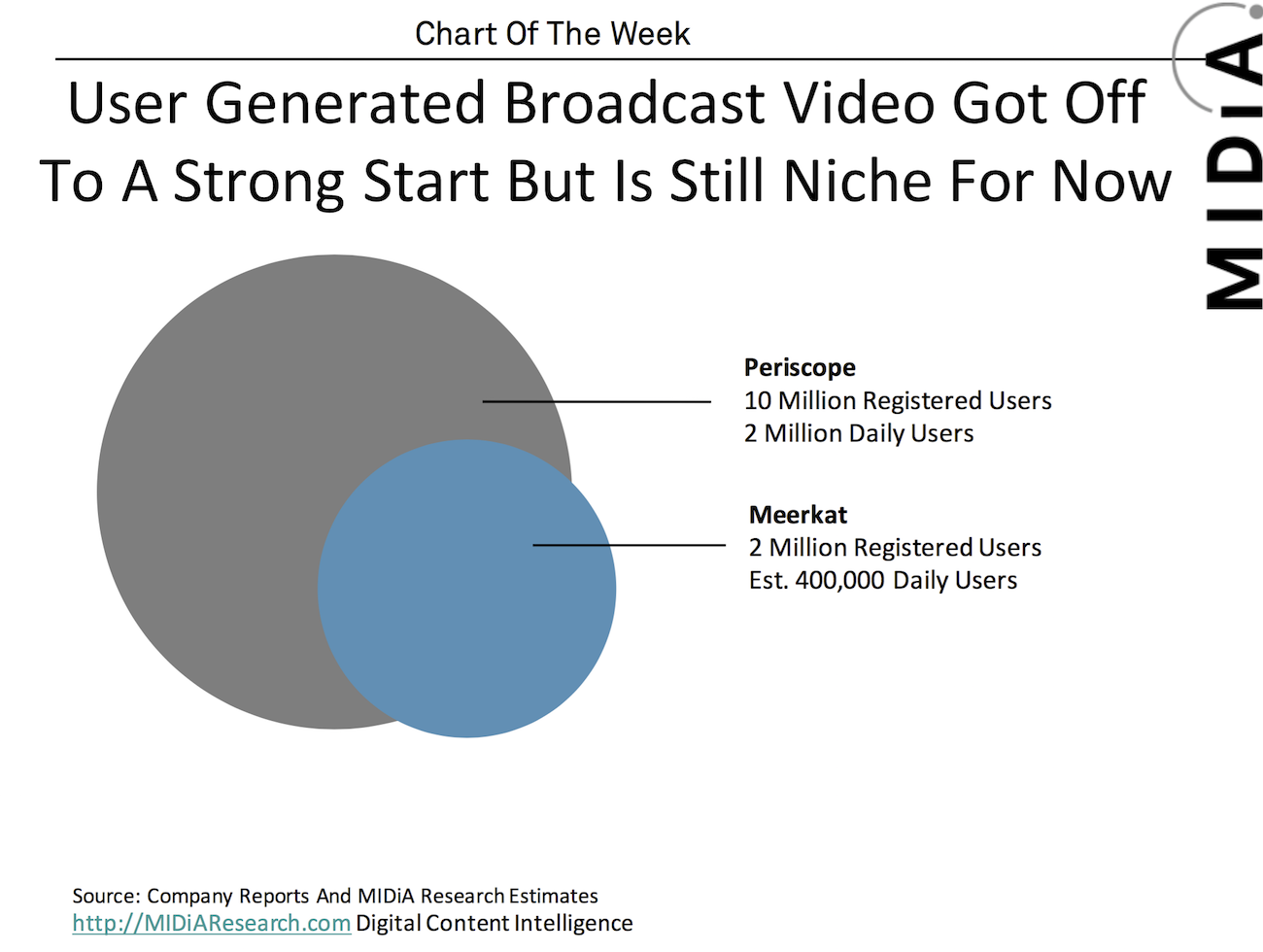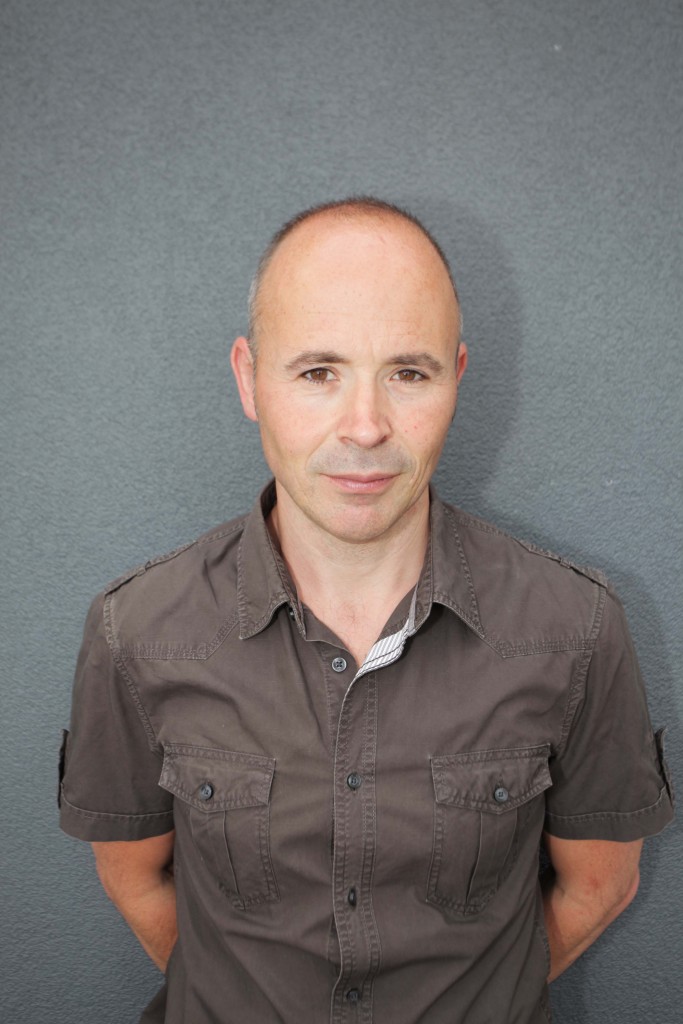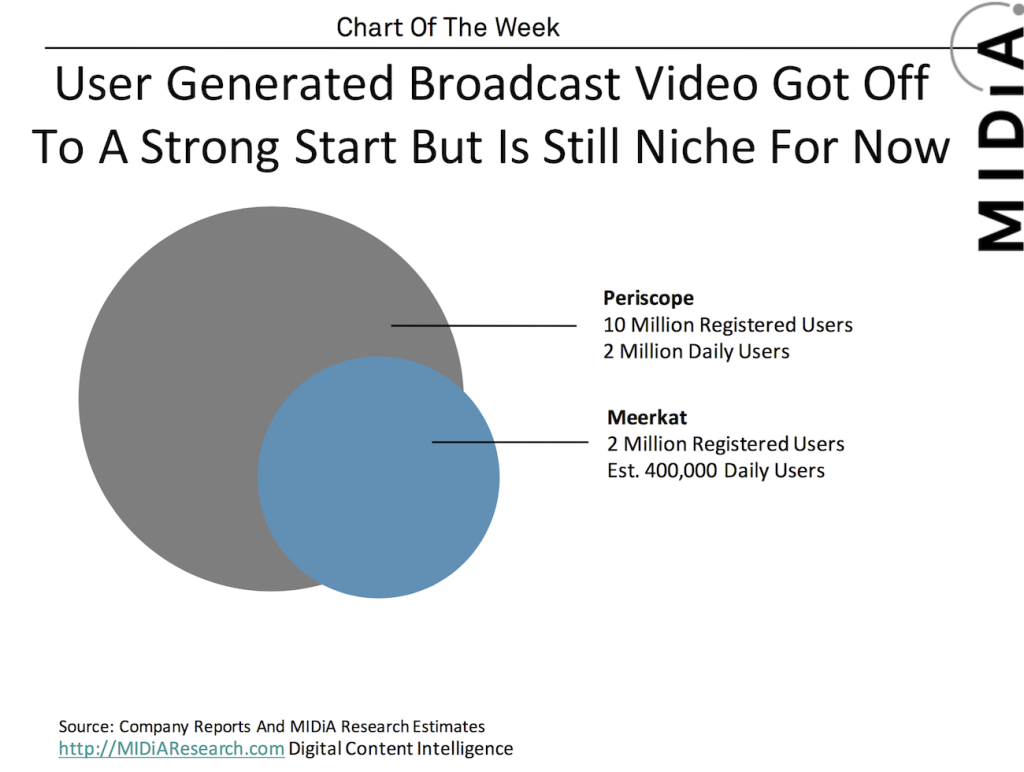 The early adopter buzz around the launches of the live video streaming apps Meerkat and Twitter-acquired Persicope have so far failed to translate into meaningful real world adoption. But these User Generated Broadcast (UGB) apps have undoubted potential. Currently, live streaming video has two core user groups: early technology adopters and gaming fans (the latter especially through sites such as Twitch). Facebook's decision to incorporate live video streaming into its verified user app Facebook Mentions could be the impetus the technology needs to bring it to a wider audience.  While Facebook's and YouTube's video success is built on pre-recorded video and global asynchronous viewing, apps like Meerkat, Periscope and Twitch instead focus on live streaming and synchronous viewing.
2015 will be remembered as the year that technology decision-makers decided to take online video seriously as a content category in its own right. The year really started with the live video streaming app Meerkat being showcased in March at South By South West (SXSW). This was swiftly followed by the purchase of its competitor Periscope and its subsequent re-launch as a Twitter company. The first quarter of 2015 was wrapped up by Facebook announcing a quadrupling in video impressions in its Q1earnings call. This was a 25% increase on its January 2015 figures and palpably demonstrated both advertiser commitment and public appetite for short form recorded video.
Live Streaming from Smartphones is clearly still at the innovator stage of technology adoption i.e. the very earliest stage of adoption. Of the 10 million registered users on Periscope only 2 million are daily users. This 20% daily user rate can be compared to the 65% percent of Facebook users who use the platform on a daily basis suggesting that even for innovators the current live video streaming apps at present lack stickiness. For Periscope and Meerkat to break out of the innovator adoption stage there clearly needs to be more content, better product features and more clearly defined use cases.
Trending