DAZN launches in the US – is it worth the gamble?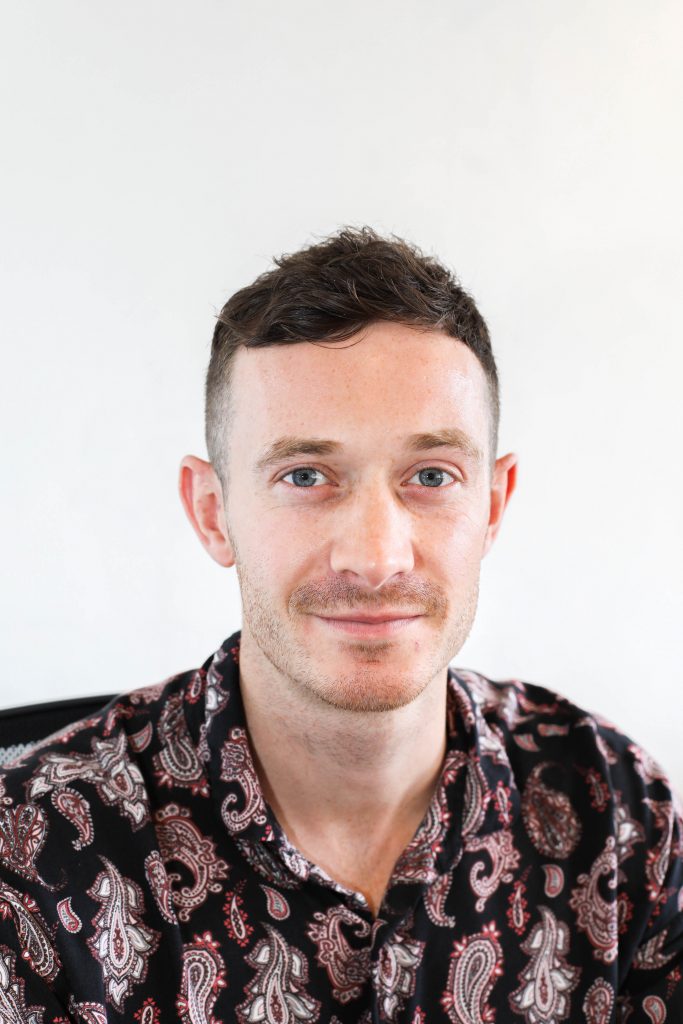 On September 10th 2018 UK-based Perform Group officially launched DAZN US, its sports streaming video on demand (SVOD) service for the US. Following its inaugural launch in August 2016 in Austria, Germany and Switzerland, which was followed shortly thereafter by its launch in Japan, Perform has been actively buying up an extensive range of international sporting rights. DAZN's highly anticipated US launch this week for its combat sport centric service, came several months after the ground-breaking joint venture with Matchroom Boxing, in which DAZN obtained the exclusive US rights to broadcast Matchroom's 16 US and 16 UK staged fight nights per year, for $1 billion.
James Rushton, DAZN CEO has been clear about his intention:
"We launched DAZN to disrupt the status quo and change the way the world sees sports. When you get DAZN, you'll get all the fights; we won't stash our best matchups for PPV, linear TV or a higher-tier package. And you're going to get the entire card live, no matter the time zone and without constraints for one affordable price."
While a cheaper alternative to traditional pay-per-view (PPV) prices could entice fight fans to view the elite fights on the service, doubling down on fight sports will not appeal to the masses. This could limit DAZN's potential reach in the US when competing with other SVOD services, namely ESPN+, and traditional pay-TV broadcasters. The Disney-owned ESPN+ currently offers a much more diverse sports portfolio, which could impact DAZN's value proposition on entering the market.
To put DAZN's bet on boxing in perspective, its partnership with Matchroom Boxing costs almost the same amount as what BT paid for the domestic rights to show 52 English Premier League games a season. Paying over the odds for a niche sport in an already saturated US market, in terms of content distributors, is an enormous gamble; especially at a time when viewing figures for boxing and sports overall is declining.
Can DAZN counter the decline in viewing?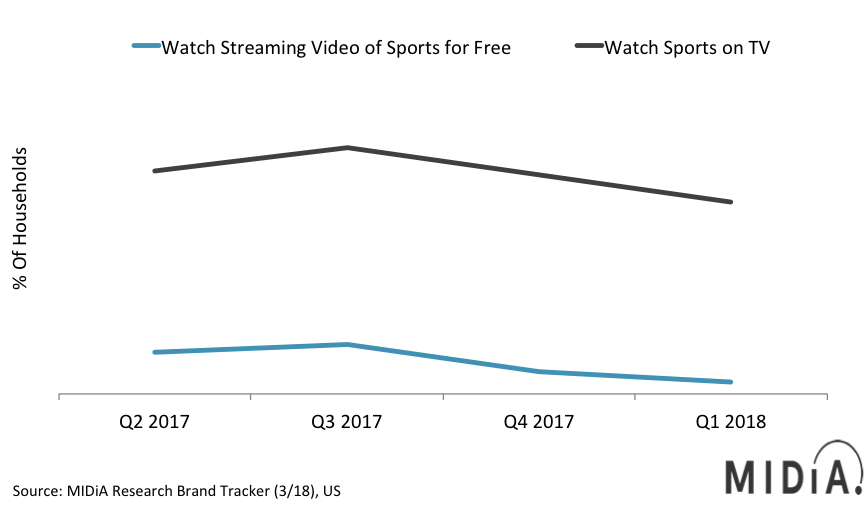 As the above MIDiA Research consumer tracker data illustrates, the percentage of households in the US watching sports on TV fell by eight points between Q3 2017 and Q1 2018, while households watching streaming videos of sports for free, decreased five percentage points over the same period. DAZN's current US rights portfolio does not offer US consumers a compelling value proposition to reverse this decline.
Can DAZN compete with the heavyweight tech majors?
In stating its ambition to become 'the Netflix of Sports', DAZN's original content strategy was based around acquiring premium rights in non-premium markets. This changed two months ago, when the company acquired domestic rights for Serie A football league, ahead of its August launch in Italy. DAZN, along with several other sport-centric SVOD services and tech majors, has experienced teething issues delivering live content to large audiences online. This has concerned rightsholders. DAZN recently overcame technical issues with its Serie A coverage, halving the average buffering time for users, compared to its first weekend, and also doubling the number of registered users.
According to Perform, fight sports are just the 'first chapter' in DAZN's diverse plans for the US. DAZN's strategic international push, via expanding its sporting rights portfolio, could aid in the long-term US deployment. Establishing relationships with key rights holders including the NFL, NBA, MLB, NHL, EPL and UEFA for rights in non-domestic markets could support DAZN in acquiring more rights in the US, when premium rights become available in 2021-2022. As long as DAZN can illustrate to the rights holders that it boasts a reliable and seamless platform for delivery of content to the large audiences that premium sports attract, then it could have a realistic chance at competing with traditional broadcasters and the tech majors for these highly-sought-after sports rights.
However, if DAZN is to reach its goal of becoming 'the home of true sports fans', it will have to offer more to the US consumer than just the current combat sports solution. Proving its ability to deliver quality and reliable service to all of its users internationally is unlikely to be enough. Having the finances available to compete for the premium US domestic rights in 2021-2022 will be key to this.
DAZN is not the only online technology company trying to win a lucrative share of the US live sports viewing market. In 2018, tech major Amazon added live English Premier League and US Open tennis content to its Prime Video service, primarily seeking to increase consumer 'lock-in' engagement with its online platforms. In response to this increasing competition for sports broadcasting rights, incumbents will likely have to significantly increase their bid purses for pro-league content (NBA, NHL, MLB and NFL). The fight for supremacy in this market will be bloody, and DAZN needs to up its game if it wants to be taken seriously as a streaming sports service contender.
Trending