Cord Cutting FY 2018: Streaming Transition Picks Up Pace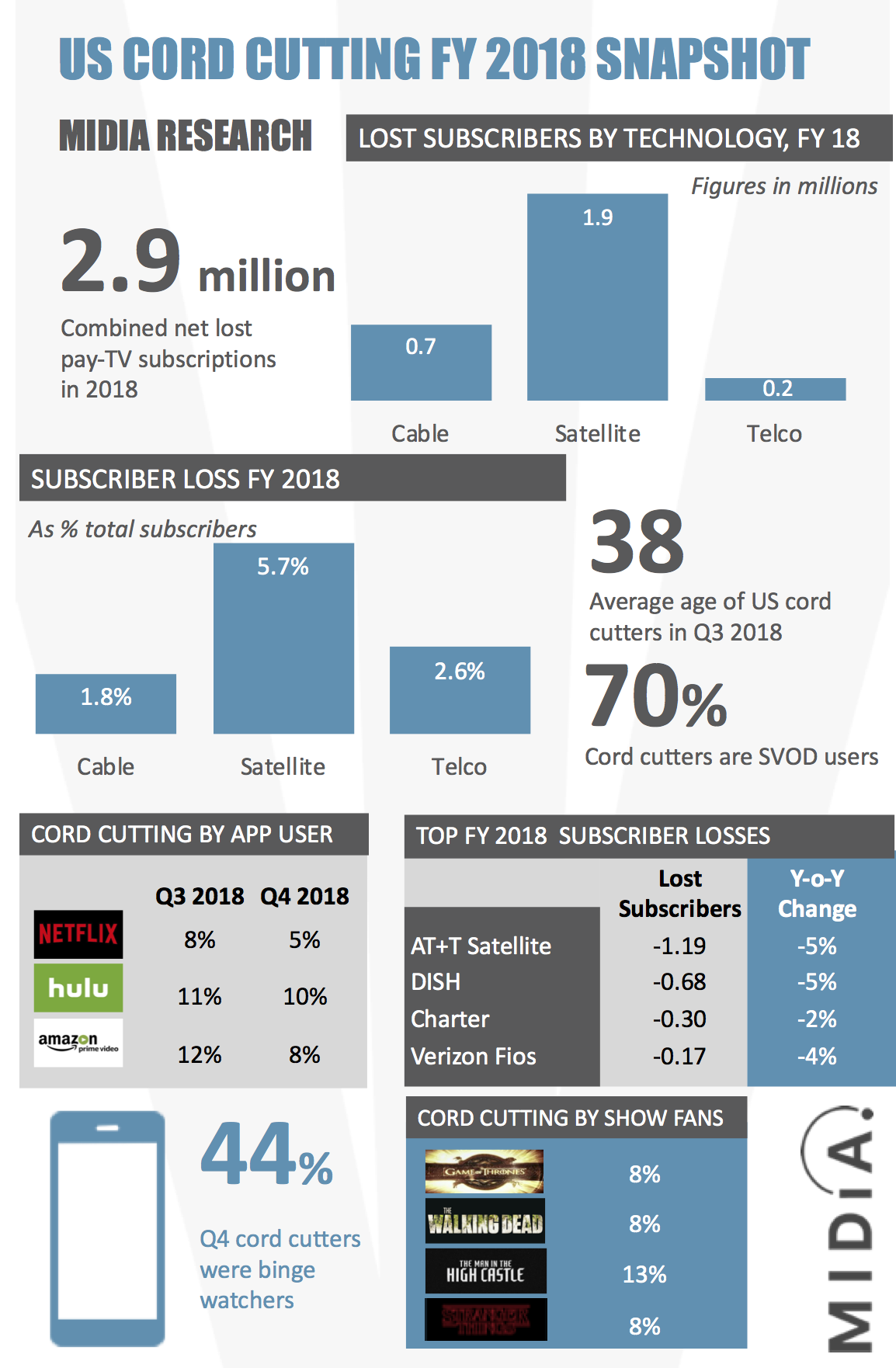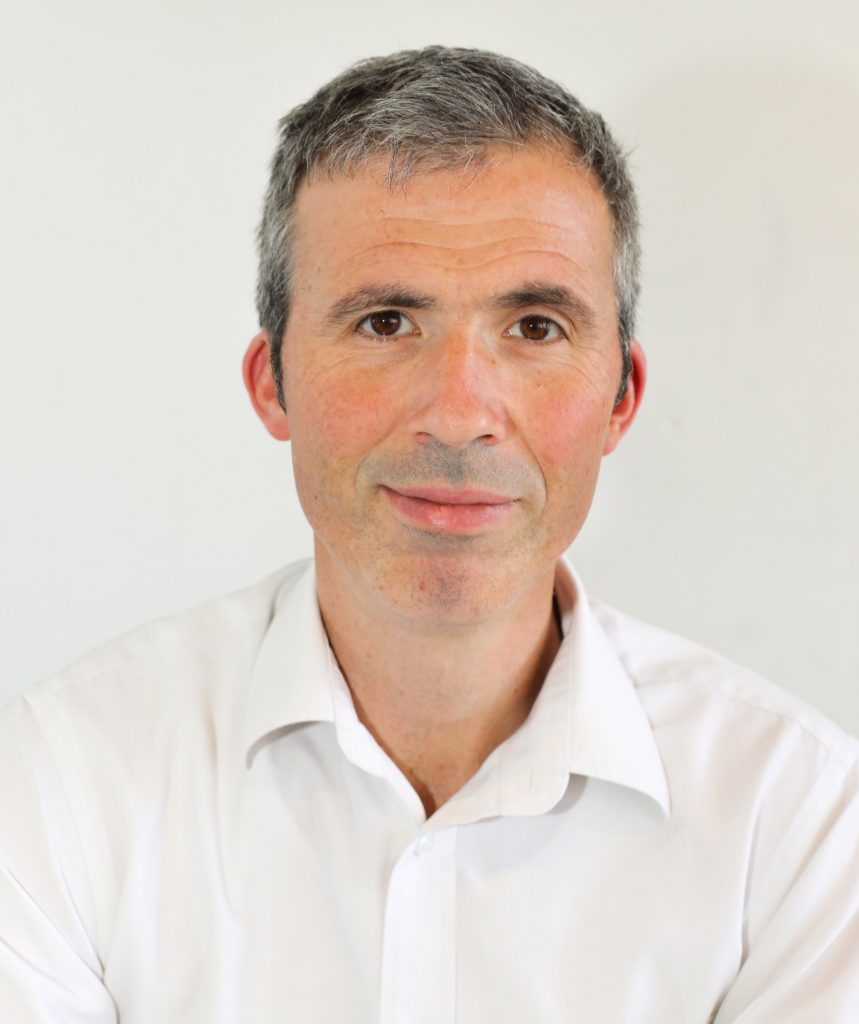 Cord cutting is now an established component of the US pay-TV landscape, reinforcing the role of the US as the canary in the mine for the global pay-TV business. Cord cutting accelerated in 2018, highlighting the secular nature of the phenomenon. But this is not simply a story of decline but instead one of transition, with streaming growing, in a wider sense, the total base of pay-TV subscribers. With ever more overlaps in consumer behaviour and segments across traditional pay-TV and streaming, all signs point to more of the same in 2019.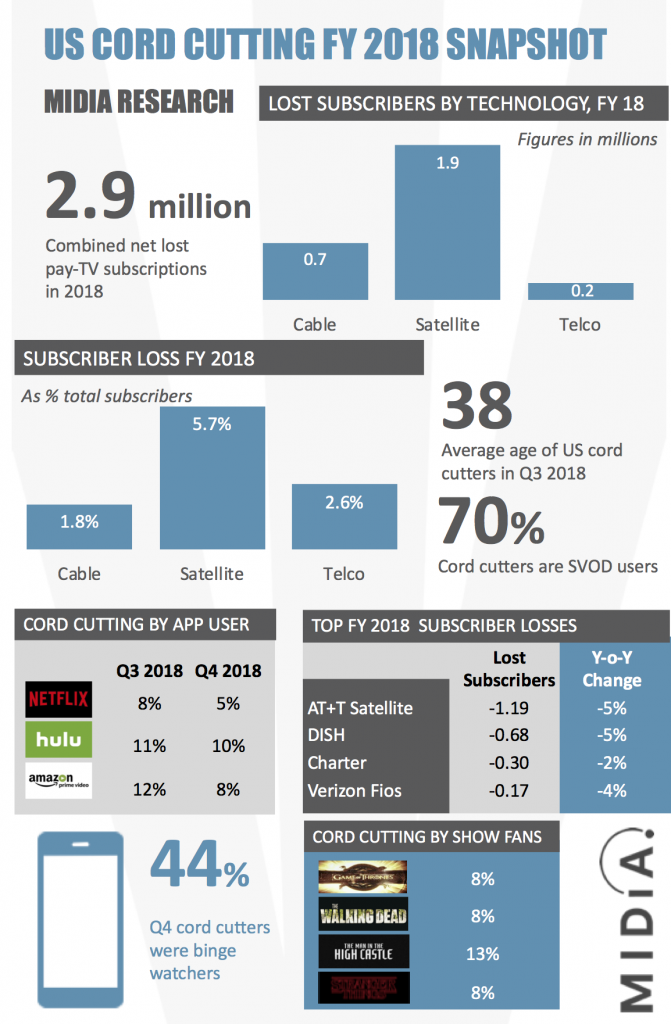 2018 was a big year for cord cutting in the US, with 2.9 million net subscribers cutting the cord, up from 1.8 million in 2017, representing a 3.4% decline. In 2017 it had briefly looked like the cord cutting phenomenon was slowing, having peaked at 3.2 million in 2016. However, the long term picture is clear, namely that the fall in traditional pay-TV subscribers is a secular trend that is not only not going away, but that is picking up pace once again:
Satellite continues to bear the burden: Satellite pay-TV providers lost 1.9 million subscribers in 2018, both the largest number of subscribers and also the largest percentage change 5.7%, with AT+T shedding the most (1.3 million). Cable was next, losing 0.7 million and while Telco was last on 0.2 million, it lost a larger share of its base than cable (2.6% compared to 1.8%). The long term implication for the operators is that they are having to focus on driving higher ARPU from their remaining subscriber base, which is inherently skewing ever more strongly to their more loyal customers. Telco services in a multi-play bundle remain a crucial lock in, the velvet handcuffs with which operators can slow the exodus.


Cord cutting is a transition rather than a demise: Cord cutting is reshaping the businesses of traditional pay-TV operators but pay-TV in a wider sense is booming. Subscription Video On Demand (SVOD) services added 34.6 million subscribers in 2018, pushing the combined pay-TV subscriber base (streaming and traditional) to 259.7 million, an increase of 14% on 2017. The transition dynamic is well illustrated by the fact that 70% of US cord cutters in Q4 2018 were SVOD users. Cord shavers were marginally lower on 67%. Half of US pay-TV subscribers in Q4 18 were also SVOD users. Many of these consumers will remain content with both propositions combining to provide them a full TV experience. Multi-play and sports are both lock ins for these consumers, however the fact that sports TV viewers are more prone to reduce their pay-TV spend than overall consumers (7% compared to 4%) illustrates that even these consumers are beginning to be more discretionary in their spending. Additionally, other SVOD using traditional pay-TV subscribers will increasingly shift to streaming only experiences, a trend that will be exacerbated by TV networks' D2C offerings such as HBO Now and CBS All Access. Cord cutters are around eight times more likely to use both those services than overall consumers. Available wallet share will also impact –47% of cord cutters have two or more streaming video subscriptions, compared to 32% of overall video subscribers and 17% of the total adult population.


Hulu is the prime cord-cutting driver: Hulu is the SVOD service with the highest rate of cord cutting (10%) followed by Amazon and then Netflix. The irony is that the traditional TV industry-backed streaming service has a bigger cord cutting base than the streaming insurgents. Though of course Hulu's TV network backers will take the long view that their business depends on having large installed bases of premium subscribers, rather than worrying too much about what platform they are on.


Binge viewing still an early warning sign: Binge viewing is the core use case that SVOD enabled and TV incumbents are running fast to support. It has long been a clear driver of SVOD usage and simultaneously highlighting the limitations of linear schedules. Binge watching consumers are more likely to become cord cutters. 44% of cord cutters in Q4 18 were binge viewers. Binge watching is both an early indicator of cord cutting and a use case that traditional pay-TV companies have to support to retain streaming savvy subscribers.


Sports not locking subscribers in:Sports have long played a key role in the traditional pay-TV proposition, but with streaming companies building out their own sports offerings, more sports fans are proving willing to cut the cord: 50% of cord cutters in Q4 regularly watch sports on TV. But even more pertinent, this rises to 67% of cord shavers.So streaming savvy sports fans are trimming down their TV bills to keep hold of their sports packages while shifting much of their other spend to SVOD. Even more concerning for TV operators, 39% of cord cutters stream sports for free – including from illegal sites – which is nearly four times the all consumer average. This matters, because this gives sports fans with an appetite for risk to drop their pay-TV subscription and use illegal streams instead.
Trending