The Genre Strikes Back-Why TV Networks Need To Be Wary of Unbundling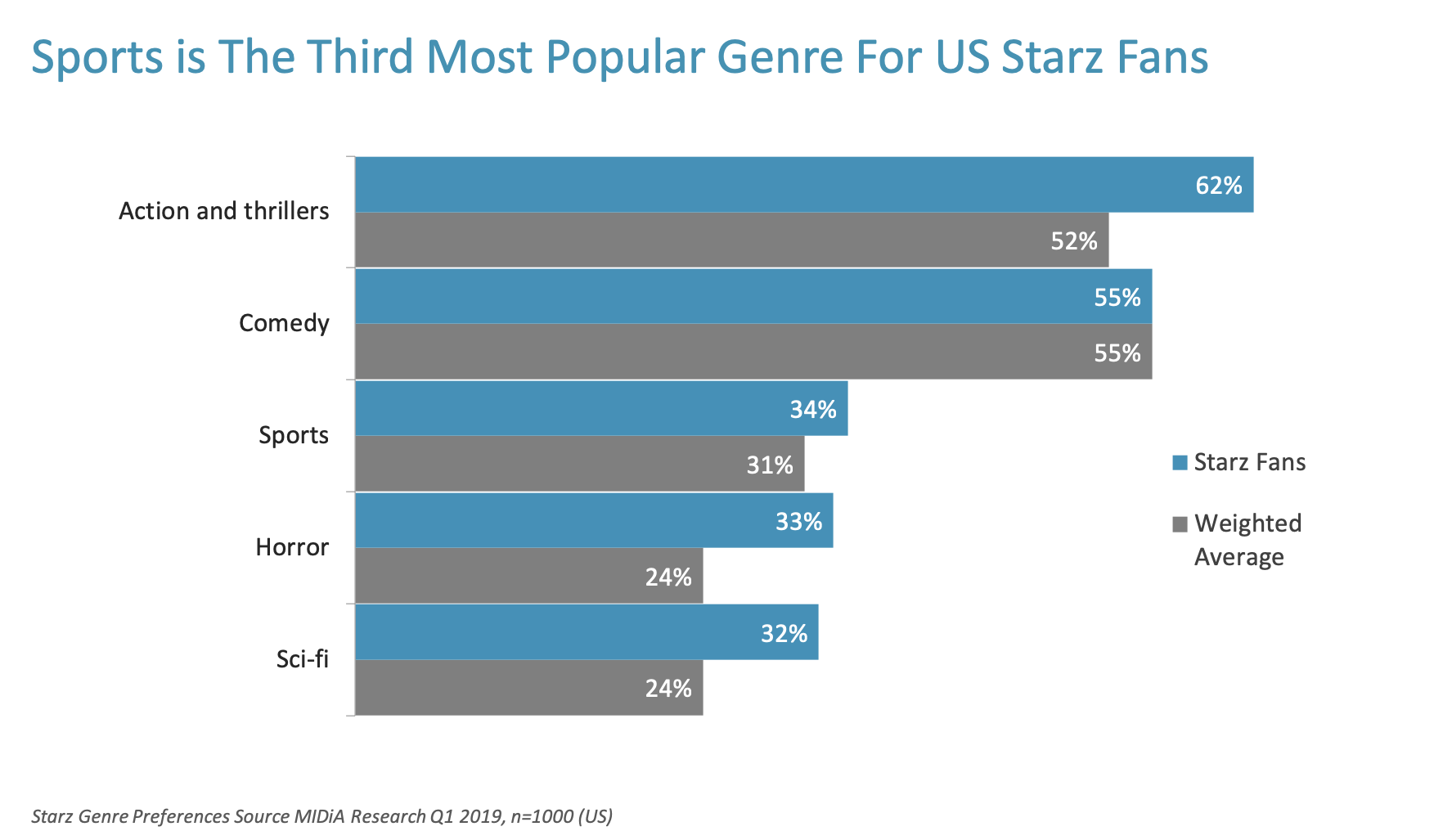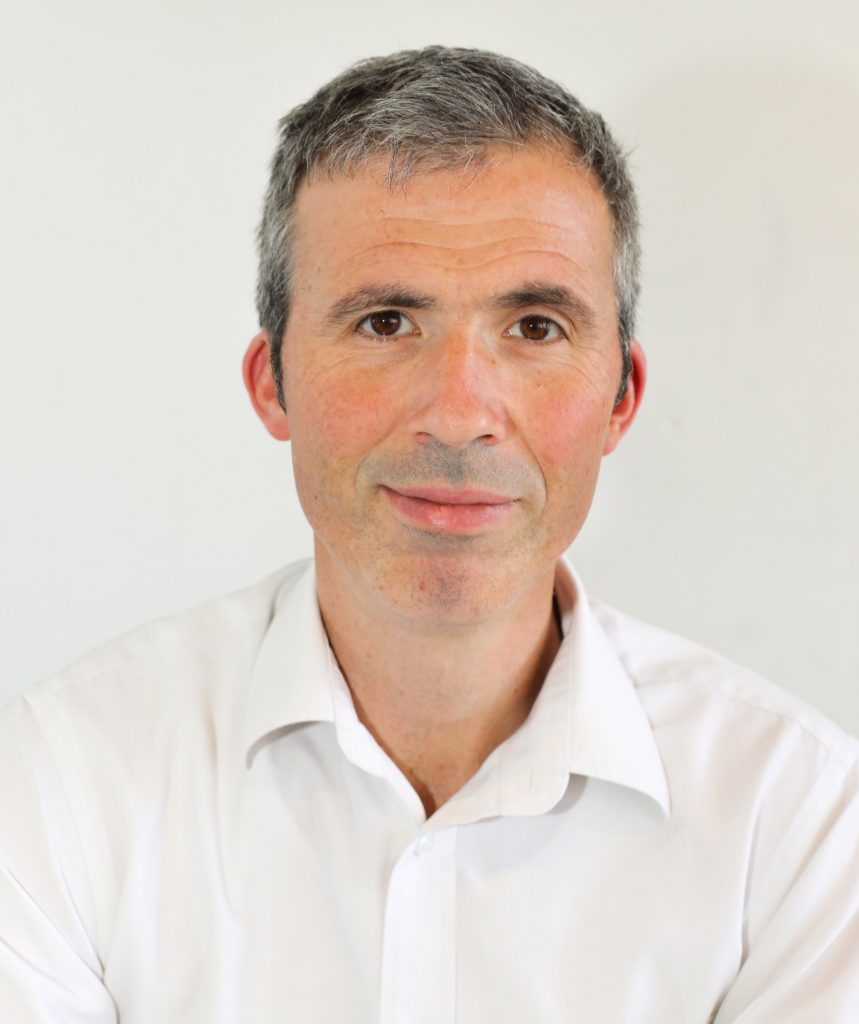 With direct to consumer (DTC) the great buzzword for video in 2019 it comes loaded with risk for TV networks which have risen to prominence and financial success on the traditional carriage deals struck with cable and satellite operators. Since the rise of cord cutting back in August 2015, networks have scrambled to mitigate their distribution risks by bypassing TV operators and going directly to the consumer with their own subscription video on demand (SVOD) services. However, building a viable DTC business requires a specific set of skills distinct from managing a business-to-business service. Alongside the challenges of reaching, engaging and then retaining subscribers is the inevitable challenge of creating a viable standalone proposition that consumers are prepared to pay for.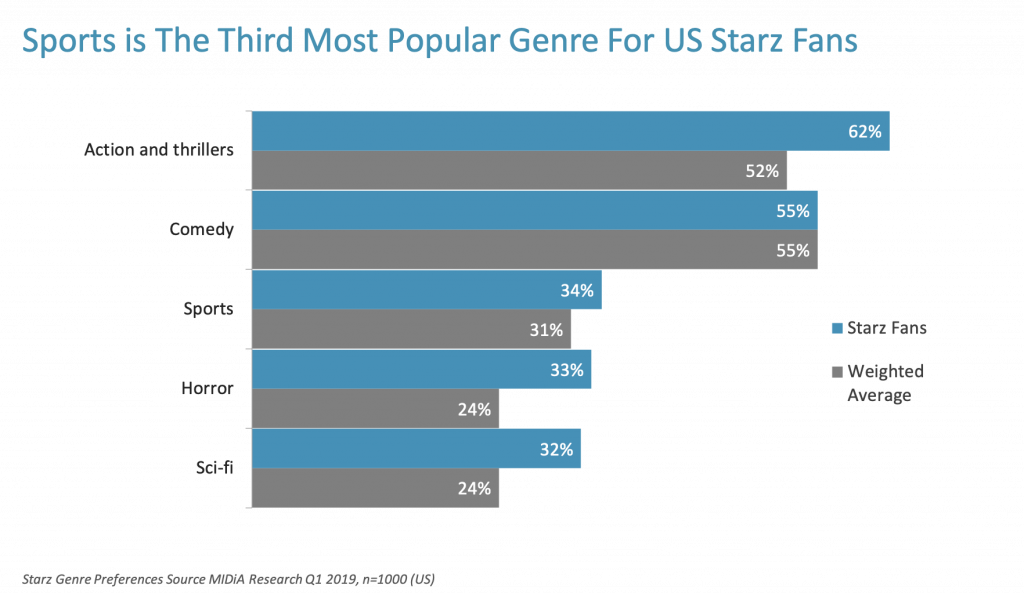 Starz is a textbook example of the risk-reward challenge currently facing TV networks in the US. Starz was acquired by Movie Studio Lionsgate in 2016 on the back of building a successful business as a premium content provider. Shortly before its acquisition by Lionsgate, Starz rolled out its DTC Starz app. In the highly-competitive world of SVOD, the Starz app has been reasonably successful in acquiring users, with its subscriber base in Q1 2019 just behind Showtime Anytime (source MIDiA Index). However, for Starz to bridge the 10-times difference between its pay-TV audience and its streaming audience, it needs to address a key gap in its DTC proposition: content diversity.
As the above data for genre preferences among Starz fans demonstrates, Starz fans are not just interested in the film, scripted drama comedy and kids programming available on Starz six current channels. Starz fans actually bigger sports fans than the average consumer and, significantly, bigger fans of horror and sci-fi than the weighted average. In the traditional pay-TV ecosystem, these additional non-Starz genre preferences are serviced by the other networks carried by the satellite and cable operators. However, in the brave new world of DTC, consumers have to use supplementary video services to engage with non-core genres. This results on two outcomes:
Consumers perceive the service as specialised and therefore an additive rather than a substitutive service
Consumers are more prone to savvy switching (strategically subscribing and unsubscribing from limited genre services
The net result is that budget savvy and time-poor digital consumer are always one step away from unsubscribing to non-360 DTC services.
DTC Services Need a Next Generation Re-aggregator to Continue to Meaningfully Scale
At the core of the challenge is the need to replicate the old world into the new, rapidly-evolving and fragmenting digital era. The pay-TV era pre-solved the digital tyranny of consumer choice and discovery, and as long as DTC services remain niche in their output then they will fail to become a viable substitute for traditional pay-TV. The likely re-aggregators are the tech majors who have the scale and billing relationships to offer both the unified platform experience and the mainstream audiences to the networks. When that happens, DTC will switch from being a nice to have to a need to have for the mainstream TV fan.
Trending