SVOD and the Emerging Video Content Bubble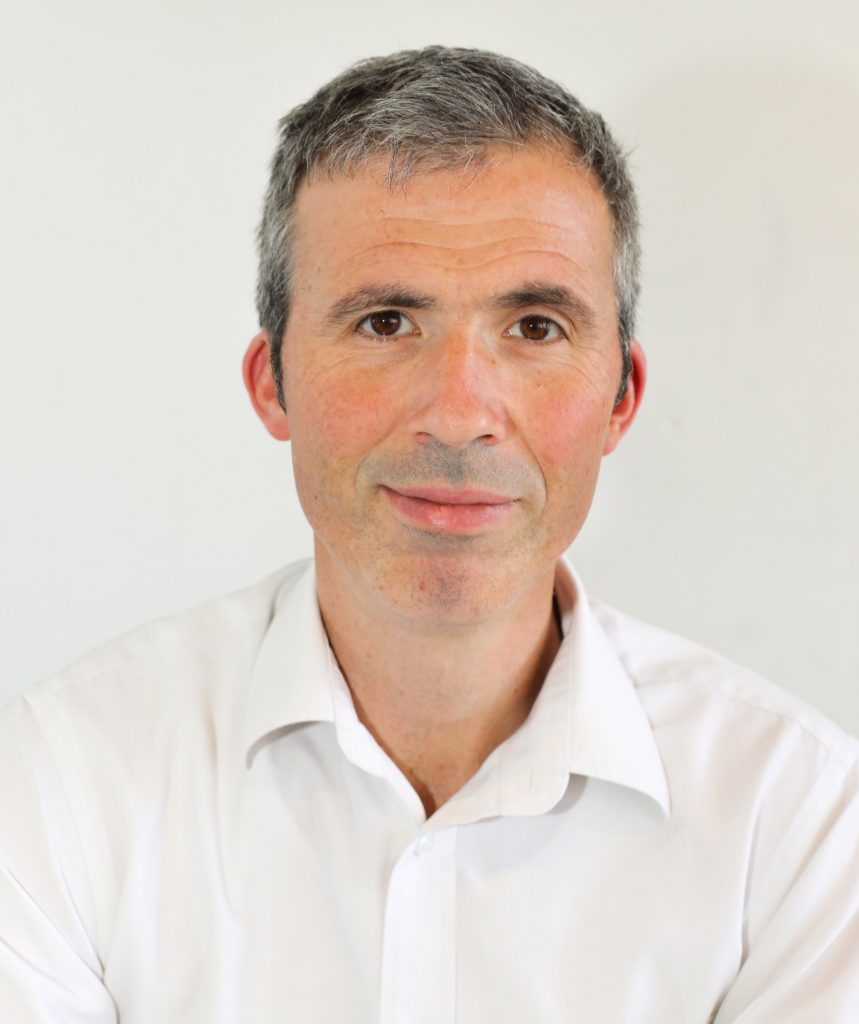 Another week, another inflated data point around the expanding content offerings on premium video services. Netflix CEO David Wells announced on Tuesday, 27th February, that not only will Netflix spend $8 billion on content in 2018, but it will be commissioning up to 700 original series this year. This means Netflix's content budget has increased by 15.9% in 12 months. The subscription video on demand (SVOD) insurgents are spurring this dramatic increase in content budgets, as they use exclusive video content to promote and drive engagement for their services. By commissioning or acquiring 'zeitgeisty' scripted drama, these companies are luring TV audiences away from broadcast TV and towards streaming. To understand why SVOD is inflating the content bubble so significantly, it is important to review the history of video content investment and where SVOD is impacting upon this ecosystem.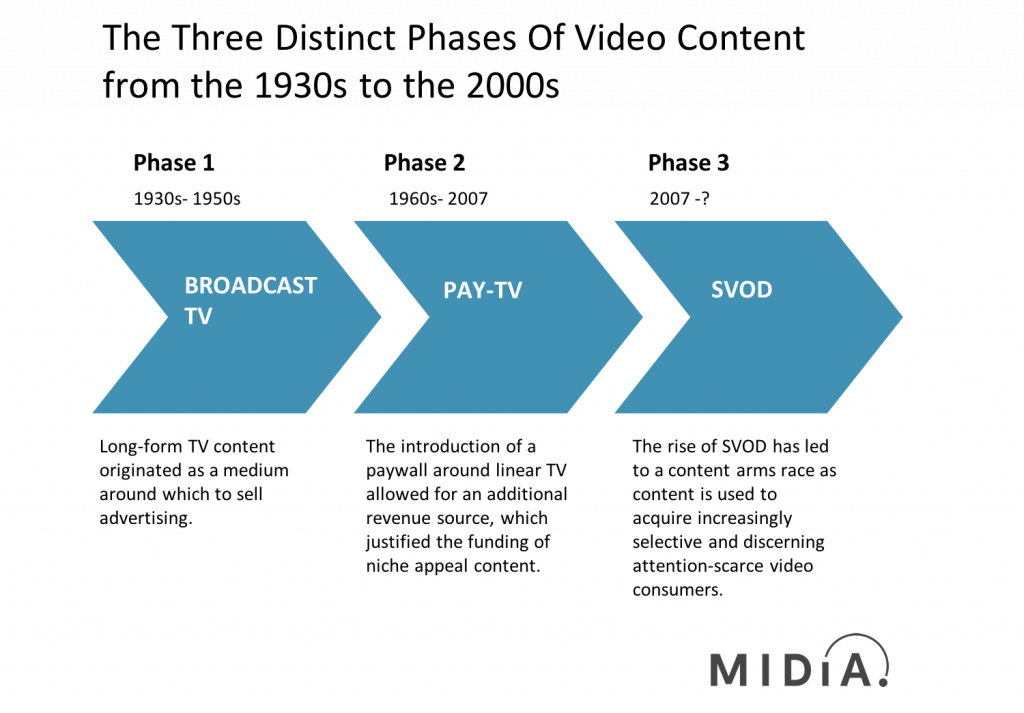 The evolution from pure TV to video content emerged in three distinct phases, reflecting the business fundamentals behind the use of video content. The very definition of the medium as video or TV reflects both the technology and the business revenue generation strategies behind its deployment. What we now define as video has gone through a three-stage evolutionary process:
Phase One – Free-to-air TV: The first stage in TV's evolution was the creation of an advertising model for the broadcast technology of a nascent TV industry. Advertising took the form of sponsorship of specific programmes (e.g. soap operas, which took the name from soap companies acting as show sponsors) and the creation of commercial breaks, where individual ad slots could be presold to companies wanting to advertise. TV created the unprecedented opportunity for brands to advertise directly into consumers' homes, selling via the new medium of TV commercials. This disruptive nature of advertising ensured that the premiums charged for TV adverts justified the cost of direct or indirect acquisition of TV content for the broadcasters and the TV networks, which rapidly sprang up to service the new medium. The TV content created for this business model was generic four-quadrant (i.e. male, female, young, old) programmes appealing to mainstream audiences.
Phase Two – Paywalls are introduced: The rise of cable and satellite technology heralded the arrival of the next major business model innovation. Technology specific operators sprung up, offering superior content distribution funded through subscription models. These revenues combined with on-going ad revenues, which were increasingly shared with the TV networks, and created the economic rationale to justify investment in content with niche appeal. For the first time, commercial TV content could also be commissioned primarily for its story-telling merits, rather than for its mass market, cross-segment appeal.
Phase Three – SVOD and the rise of binge-viewing: SVOD introduced the combination of two spectacularly disruptive innovations. Firstly, it brought binge-viewing to the mainstream consumer. Secondly, it facilitated the phenomenon of cord-cutting, whereby video consumers suddenly found themselves able to easily subscribe, and cancel subscriptions, to get specific content. Binge-viewing grew from audiences responding to SVOD showcasing its new video-on-demand (VOD) technology and related use cases. It resulted in marketing differentiation from traditional pay-TV competitors and emphasis on price, along with consumer advantages over ad dependent models. In turn, this opened up new content funding models. Content has become a key driver of service differentiation and an essential part of customer acquisition and retention strategy. Content commissioning has become a strand of user acquisition strategy.
SVOD is therefore both the catalyst and driver of content spend inflation. Effectively just 11 years old, SVOD is still focused on audience acquisition over profitability and is therefore willing to over bid for both content and content creators. We witnessed TV showrunner Ryan Murphy's exclusive five-year $300 million deal with Netflix announced three weeks ago. SVOD's decision to up the ante on the studios and TV networks shows no signs of abating as long as companies can demonstrate continued subscriber growth to the financial markets, which allows them to continue to debt finance content on a larger scale than their TV competitors.
For more about the content bubble, catch MIDiA Research's presentation where we will be sharing our latest research on the content bubble at TV Connect 2018.
---
Secure your pass to TV Connect
TV Connect is the place to be if you're looking for future proof technologies and tools to give you an edge over your competition.
As the only exhibition dedicated to video distribution, we connect you to the latest innovations and technologies that will switch-up the ways audiences consume content.
With even more features and networking areas added to the exhibition floor for 2018, and a host of exhibitors providing solutions in content discovery, network optimisation, AI, live streaming, mobile video distribution and much more, TV Connect is set for its most dynamic year yet!
---
The Media + Networks Digital Week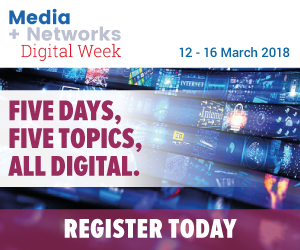 On 12 March to 16 March. 600+ attendees will log in from around the globe to join the Media + Networks Digital Week.
From webinars and live polls, to on-demand videos, the Media + Networks Digital Week is completely free to access through an exclusive digital portal.
Trending