Pandora's Loss Is Sirius XM's Gain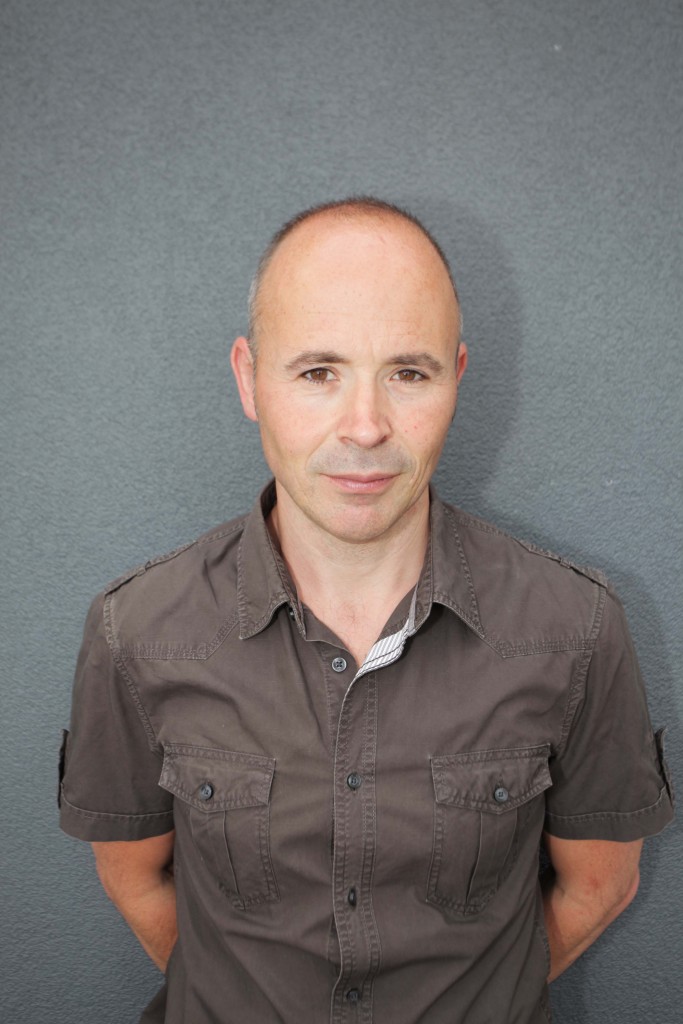 Pandora is in trouble, as explained by the consistently excellent Tim Ingham at Music Business Worldwide, after losing a billion dollars over the last four years and monthly active users (MAU) fell to 73.7 million – its lowest point since Q1 2014. Regular readers will know that I'm a long-time advocate of Pandora's model. Indeed, Pandora's model is the future of radio. However, it now appears that Pandora may not be the future of Pandora's model. In fact, with Liberty Media subsidiary Sirius XM waiting in the wings for Pandora's market cap to fall even lower than its current $1.4 billion (down from $8 billion in Q1 2014), Pandora might not even be the future of Pandora. In fact, Pandora's struggles could be Sirius XM's gain, exactly when it needs the help.
Pandora's three most important metrics have long been:
MAU

Revenue

The share of total radio listening it accounts for
All three metrics are intertwined, but Pandora has managed to sustain strong growth in numbers two and three because it got better at increasing engagement and driving ad revenue from a largely flat MAU base. However, Pandora could only ever squeeze so much revenue out of a flat user base. So, it is no surprise that ad revenue for the nine months to September 2017 was up a paltry 2.4% at $777.3m, compared to the same period in 2016. Pandora's problem is not monetisation. Indeed, it is better at monetising ad supported streaming than any other player on the planet, having invested heavily in ad sales infrastructure and continuing to innovate ad formats. But, even the shiniest car will eventually grind to halt if it has a gaping hole in its fuel tank. And make no mistake, Pandora has a gaping hole.
Spotify Stole Pandora's Clothes
Long before Spotify was changing the music business, Pandora was virtually, single-handedly creating the US streaming market—though subscription service Napster (then Rhapsody) was also making a small contribution. For the best part of a decade Pandora had almost all of the market to itself, but it is now buckling under the impact of on-demand streaming. Pandora was meant to be different to Spotify, and it was, until Spotify started stealing Pandora's clothes. Pandora grew its user base by delivering a lean back, but personalised listening experience—radio on its users' terms. Spotify soon recognised the value of lean back listening, bringing in a vast selection of curated playlists, directly and via partners. Beats Music followed suit, and soon became the foundation for Apple Music's curated streaming proposition.
Pandora's Reach Metrics Obscure The Real Story
Pandora's own key metrics have been part of the problem. It fell into the same trap that traditional radio broadcasters did, of convincing itself that its reach metrics were a genuine indicator of its success. But reach means nothing in the digital era; engagement is everything. MAU is a meaningless metric in today's always on world. If you have an app on your phone that you only use once a month, you'd hardly consider that active usage. Active usage is measured at the very least in weekly active user (WAU) terms. That's why at MIDiA we track all digital media apps using this measure to reveal just how active user bases really are.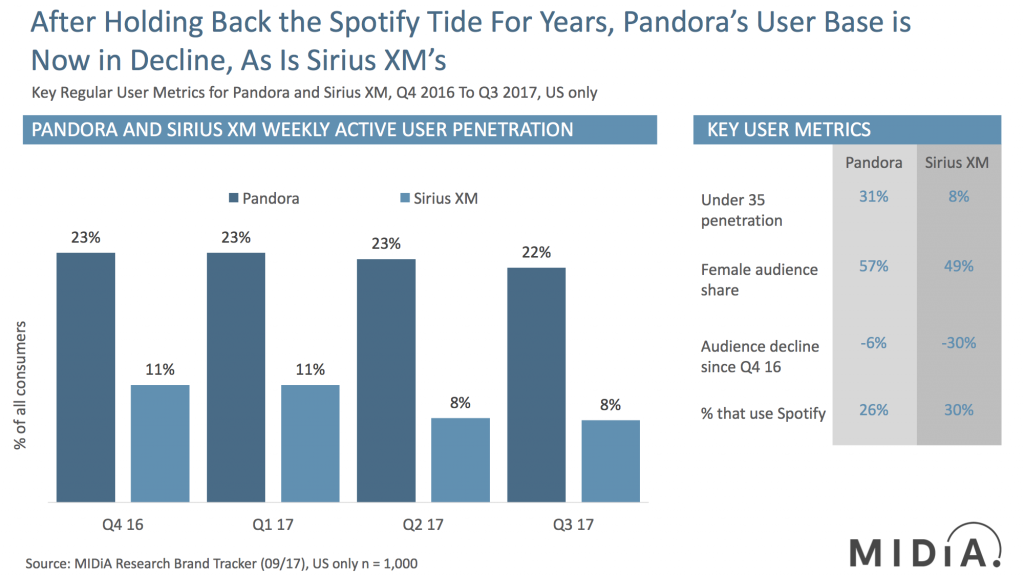 On this basis, Pandora had just 22% WAU penetration in Q3 2017, representing around 57 million users, or 77% of its MAU base. That 'missing' 17 million users will be the ones that Pandora will lose next over the coming 12 months. Yet, its WAU base is at risk too. 26% of Pandora's WAUs – its most engaged users – also use Spotify. Although Pandora has done an admirable job of building its own subscription business – reaching 5.1 million subscribers in Q3 put it at a credible sixth position in the global subscriber rankings, it is looking like it's too little too late. Furthermore, dumping its founder, Tim Westergren, robbed Pandora of a genuine visionary just when the company needed him most.
Pandora Will Enhance Sirius XM's User Base
Pandora's loss will be Sirius XM's gain. Sirius XM has been feeling the pressure from Spotify and co, just like Pandora, but it has also experienced competitive pressure from Pandora. Sirius XM is another of radio's potential futures, but it has faced growing pressure from Pandora and also other streaming services. The growing adoption of interactive dashboards in cars has been key (5% of US consumers now have one). Sirius XM's WAU base fell from 11% of consumers in Q4 2016 to 8% in Q3 2017. That 30 decline is far more dramatic than Pandora's 6% WAU decline over the same period. The 8% WAU penetration represents around 21 million users which means that its active user rate is even lower than Pandora's at just 69%. Added to that, more of Sirius XM's WAUs (30%) use Spotify. It also has a demographic time bomb ticking: just 8% of WAUs are aged under 35 while just 49% are female. This compares to 31% and 57% respectively for Pandora. Sirius XM's aging user base is old and male. While Pandora's is young(er) and female. This is Sirius XM's opportunity.
In 2016, Sirius XM made an informal offer of $3.4 billion for Pandora. Today, it looks like an amazing deal for Pandora, but Pandora turned it down. Sirius though was not deterred and was able to get close to its goal by investing $480 million in a struggling Pandora in June 2017 and securing three board positions. Now all Sirius has to do is wait for Pandora's stock to fall further and make its move – perhaps when the market cap gets closer to $750 million. When this happens, Sirius will get a major boost to its user base. More than that though, Sirius will significantly enhance its audience profile. Sirius and Pandora's user bases are so different in composition that they will slot together like jigsaw pieces. The challenge for Sirius will be how to integrate Pandora in terms of feature sets, user experience, business model and, of course, company organisations. That challenge could prove even bigger than Pandora's attempted turn around.
The data in this blog post is taken from MIDiA's forthcoming report: Radio – Streaming's Next Frontier: How Streaming Will Disrupt Radio Like It Did Retail 
If you are not yet a MIDiA client and would like to find out how to get access to this report email stephen@midiaresearch.com
Trending