Hayu's arrival in India means a reality check for the reality genre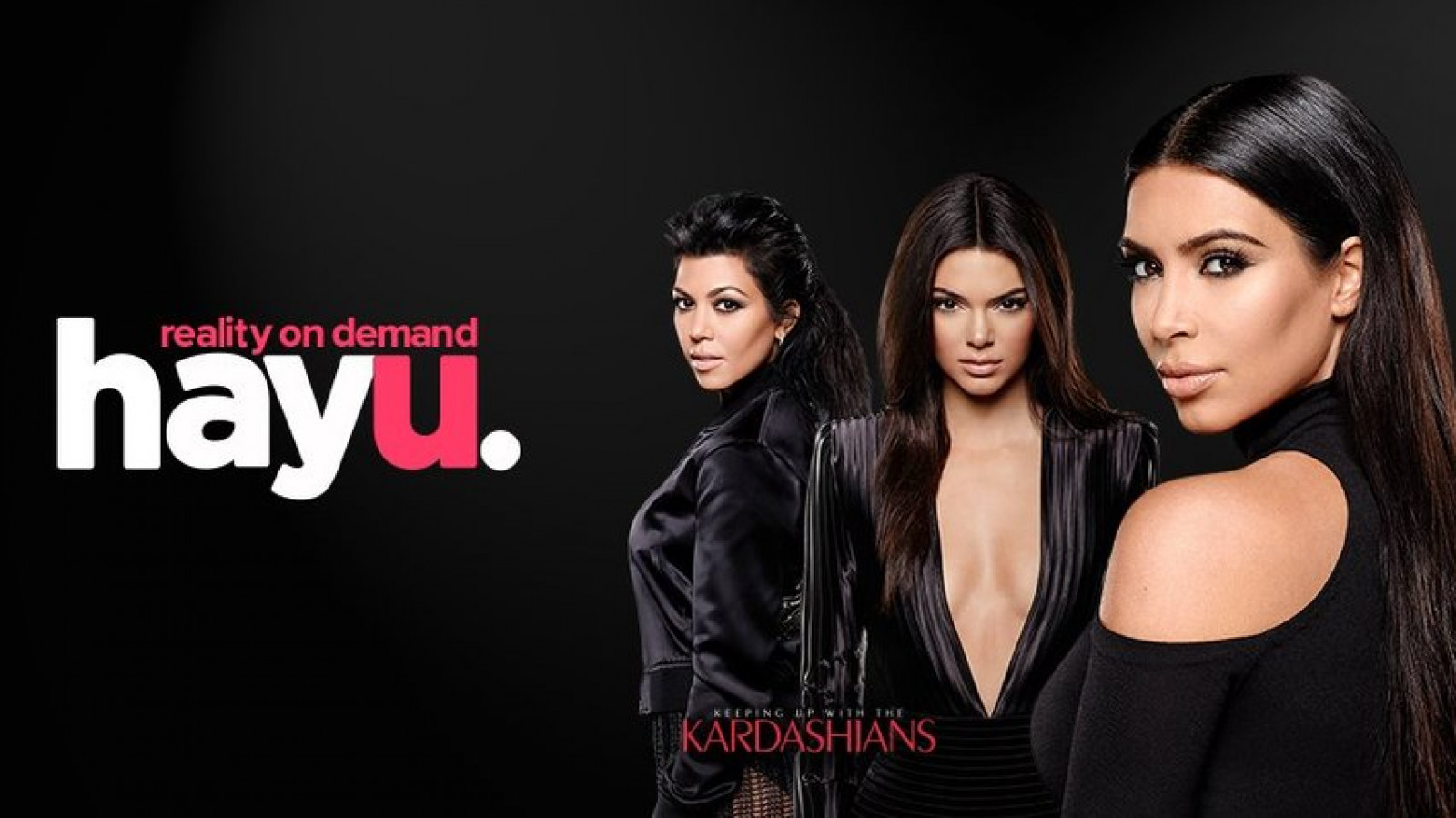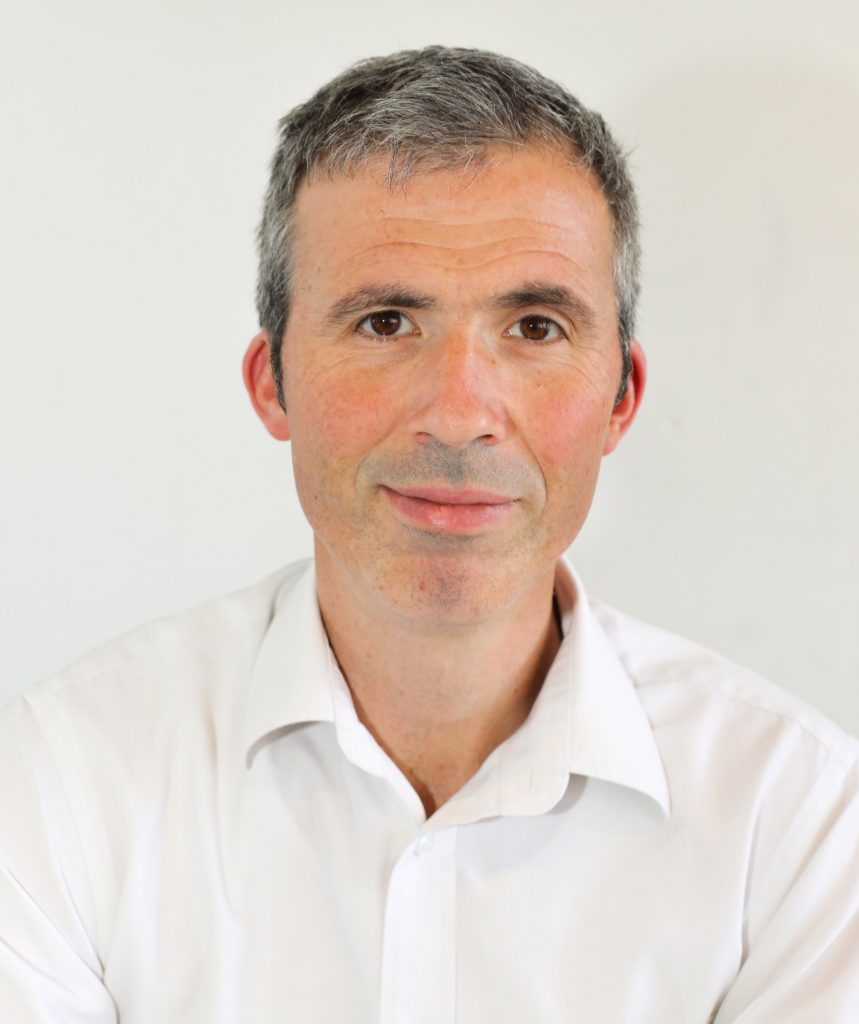 Hayu, the reality TV niche SVOD service, launches in India on Thursday. Its parent company, NBCUniversal, has decided to make the 1.3 billion strong market the 28th territory in which Hayu is now available. 
The niche SVOD service includes 8,000+ episodes of reality TV, featuring staples of the reality genre, such as Keeping Up With the Kardashians, The Real Housewives, and Below Deck franchises. While reality dominates its service offering, Hayu also covers a variety of other show genres, including home and design, dating, cooking, fashion and true crime. The English content-only SVOD service will distribute new titles to their Indian subscribers on the same day as their U.S. broadcast. Interestingly, subscription plans will be offered either on a three-monthly basis at 349 rupees ($4.64) per three months, or 999 rupees ($13.29) for a one-year plan.
It is now five years since Hayu launched in the UK, Ireland and Australia, and in that span of time the TV world has pivoted decisively from linear-scheduled broadcast TV towards on-demand distribution, with SVOD monthly memberships eclipsing household pay-TV subscriptions for the first time back in Q4 2019. The reality genre marked either the high or the low point of broadcast TV pre-streaming due its low cost, human-interest focus storytelling. Since then, the streaming evolution has mainstreamed high production-driven scripted drama, led by Netflix's $100 million 2013 commissioning of the remake of House of Cards. Reality has gone the way of prime-time sports broadcast; relegation to the screens of fans, rather than passive lean-back household consumers.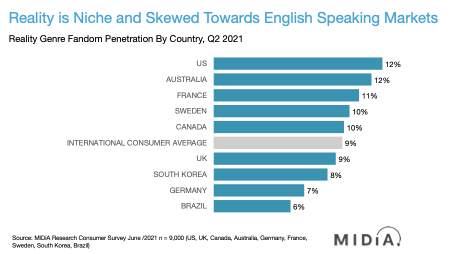 As the above fandom data sourced from MIDiA's Q2 2021 survey shows, reality is a niche genre proposition in all markets surveyed, with 9% average international penetration. Contrast this with action at 54% fandom penetration, and the niche appeal of reality becomes starkly clear. The closest equivalent to the utilitarian entertainment nature of reality is news with 10% fandom, and sports, which is slightly higher, at 12% fandom. These are all audio-visual wallpaper genres: content that is passively consumed by mainstream audiences, without exciting genuine fandom. When push comes to shove, mainstream fandom is driven by big budget storytelling across action, thrillers and comedy.
The other fascinating aspect of reality's appeal across territories is the skew towards markets with English fluency. This reflects the US-centric nature of much of reality content, and the focus on English-speaking celebrities to drive engagement with the genre.
So, is Hayu's move into India a sound strategic decision? Hayu works best as a channel add on to media streamers, where the economic ROI of marketing and distribution are offset through leveraging third party established streaming platforms, such as branded connected TVs (ie Roku, for example). In India, Hayu has an English-speaking market at a scale sufficient to offset its hosting costs and established distribution patterns, such as the recently launched Amazon Prime Channels. Combining these assets gives the service a fighting chance to become cost neutral while building brand awareness for the wider NBCUniversal family of content ahead of a possible future arrival of NBCU's flagship, Peacock D2C service.
NBCUniversal is thus facing the reality of now competing with its D2C competitors, such as Disney+ Hotstar, in the demographically fastest growing digital-entertainment market on the planet. The odds will be inevitably long, but the pay-off could be a season-finale to remember for NBCUniversal.
Trending