2018 Global Label Market Share: Stream Engine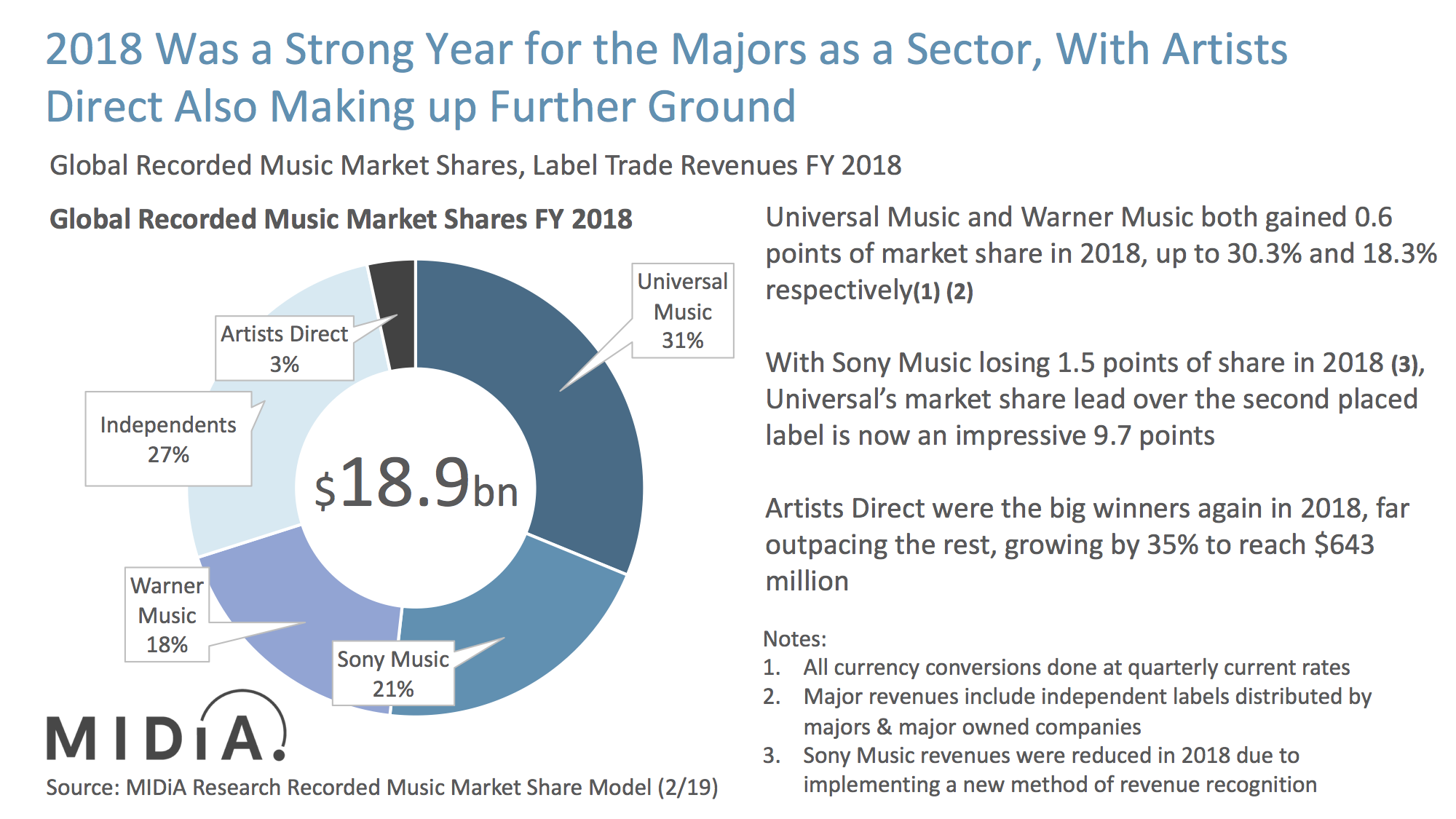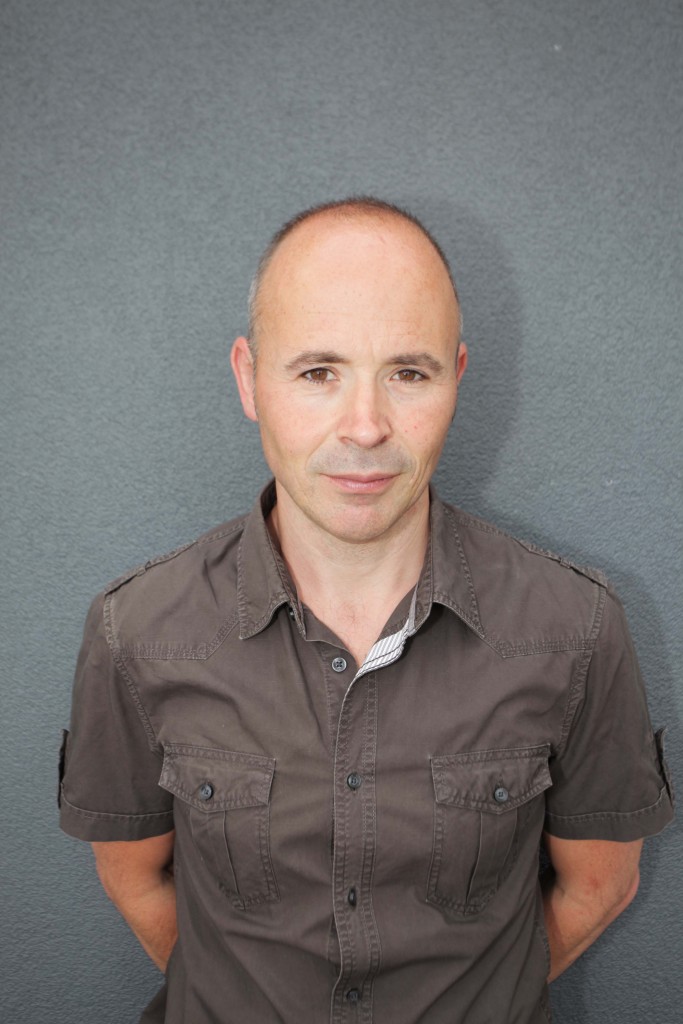 Recorded music revenues grew in 2018 for the fourth consecutive year, reaching $18.8 billion, up $2.2 billion from 2017. Streaming was the engine room of growth, up 30% year on year to reach $9.6 billion. For the first time streaming became the majority of label revenue (51%), and its growth continues to outpace the decline of legacy formats. Major label rankings remained unchanged in 2018, but the majors enjoyed varying fortunes and the continued meteoric rise of Artists Direct points to market transforming changes that are reshaping the entire business of record labels.
2018 was shaped by three key factors:
Continued growth: Global recorded music revenues grew 7.9%. Though 2017 revenues grew by a higher 9.0%, the market grew the same in absolute terms in 2018, adding $1.4 billion of net new revenues as in 2017. Since 2015 the total market has increased by 26%, adding $3.9 billion of net new revenue.
Stream powered: Though relative growth is slowing, streaming added the same amount of net new revenue – $2.2 billion – in 2018 as it did in 2017. Though 2019 will see mature streaming markets such as the US and UK slow, mid-tier markets such as Mexico and Brazil, coupled with Japan and Germany, will ensure that streaming revenues grow by another $2 billion in 2019.
Artists Direct:The major record labels retained the lion's share of revenues in 2018, accounting for 69.2% of the total. Changes in global market shares typically move at a relatively slow pace, particularly at a major vs independent level. However, Artists Direct – i.e. artists without record labels – are changing the shape of the market, growing nearly four times as fast as the total market to end 2018 with $0.6 billion of revenue.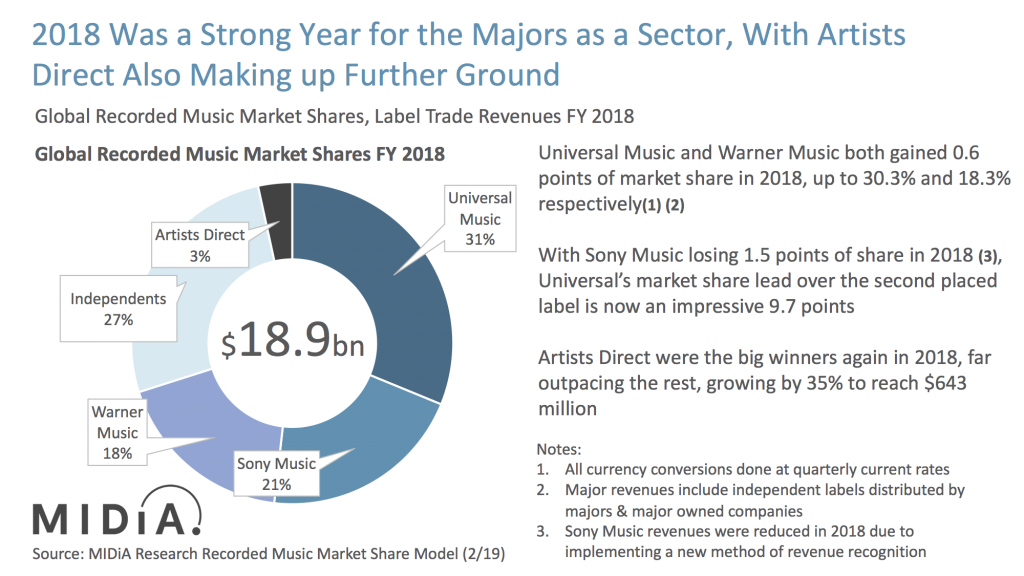 There were mixed fortunes in terms of market shares. Universal Music and Warner Music both gained 0.6 points of market share in 2018, up to 30.3% and 18.3% respectively, with Sony Music losing 1.5 points of share in 2018. Though Sony's 2018 revenues were constrained in part by the company implementing new revenue recognition practices in 2018, Universal's market share lead over the second placed label is now an impressive 9.7 points.Artists Direct and Independents together accounted for 30.8%, though this figure is measured on a distribution basis (i.e. Major revenues include independent labels distributed by majors and major owned companies). The independent share based on an ownership share will therefore be higher.
More of the same, but change too
In many respects 2018 was a re-run of 2017: total revenues grew in high single digit percentage terms; streaming was the engine room of growth and added more revenue than the prior year; Warner Music gained most major market share; Universal Music added more revenue than any other label; Artists Direct gained most market share. But it is this latter point that may say most about where the overall market is heading. The range of tools now available to an artist are more comprehensive than ever before, while deal types that labels are offering (e.g. label services, joint ventures) are changing too. Artists are effectively able to custom-build the right model for them. The market will always need labels, but what constitutes a label is becoming a fluid concept. And in so becoming, it may put us on the verge of the biggest shift in record label business models since, well, ever.
These findings are highlights of the MIDiA Research report: Recorded Music Market 2018: Stream Engine. If you are a MIDiA client you can access the full report, slides and datasets here. You can also purchase the report and all its assets here.
Trending