What's Next For Playlist Innovation?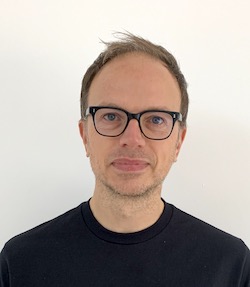 In this era of access to all music and everything about it, I do enjoy reading artist interviews, and pay attention to artists' views on the modern music industry. What caught me recently were Mark Ronson's remarks on songwriting in the age of the playlist in The Guardian:
"Everything has to be produced so it sounds competitively as loud as possible coming out of an iPhone or as loud as possible when it comes out of a Spotify hits playlist; you have to make sure the kick drum and the guitar have the same loudness and presence all the way through the whole fucking song or you don't stand a chance. It's kind of crazy how you have to think about music now."
I have heard similar views from artists in recent years and they do have grounds, though you'll be hard pressed to prove that streaming and playlists have truly altered music per se. After all how would that equate with the huge success of 'slow music' playlists, from Peaceful Piano to Esquenta Sertanejo to Your Favourite Coffeehouse?
There has certainly been an industry skew towards 'streaming hits' though. More artists are making "Spotify-core" (i.e. music that will do anything to avoid being skipped) and that's a genre perhaps lacking in subtlety, But can it be accused of crowding out other, subtler types of music?
I would argue that playlists have changed the way we listen more than they have changed music itself. If the first port-of-call for music consumers is to hear songs on playlists, a lot of context around the music is lost. Already, research has shown that listeners are hard pushed to recall song titles, let alone the albums those songs are taken from. Speaking of albums, it strikes me as high time the industry now evaluate just what a 'post-album' world will look and sound like. So perhaps somewhere to start is to think about more innovation with the format that in essence, has replaced the album - playlists.  Are playlists now set in stone as 30-50 tracks that are forever subject to optimisation tools and analytics? I very much doubt it. Despite playlists becoming valuable commercial music real estate in their current form (at least on Spotify) it seems to me that there is plenty of scope for further creative development of the format. We are far from 'peak playlist'. A glance at the latest MIDiA global consumer data for Q4 2018 would back this up, with just 17% of music streamers claiming to listen to playlists regularly. though that number nearly doubles for Spotify subscribers to 31%. Critical mass for Spotify but hardly mass behaviour for the market overall.
That said, playlists do greatly reflect the way consumers interact with music: compiling or selecting, listening and sharing, sometimes adding context along the way. The opportunities these behaviours offer as a vehicle for promoting and monetizing artists are immense and perhaps still largely untapped, especially with regard to contextualization of new talent, as well as the creative resurfacing of songs from within music catalogues too.
A slowdown in playlist innovation
Spotify came to be the platform that really owns the playlist format, and it achieved this through a breakneck period of innovation between July 2015 and September 2016, with curated playlists brands like Rap Caviar and Today's Top Hits augmented with the personalised "made for you" power triangle of Discovery Weekly, Release Radar and Daily Mix.
But since then, in over two years there has been little of that same calibre, other than somewhat lighter initiatives such as "Your Time Capsule". More recently, Spotify has begun to fuse some curated playlists together with algorithmic suggestions ('algotorial'). The strategy to personalise more playlists not only makes it harder for its competitors to copy, but introduces many more song slots for direct or independent artists to fill. The strategy is smart but perhaps lacks imagination.
Playlist Innovation Timeline: There has been a slowdown following 18 months of blistering innovation led by Spotify between July '15 and September '16.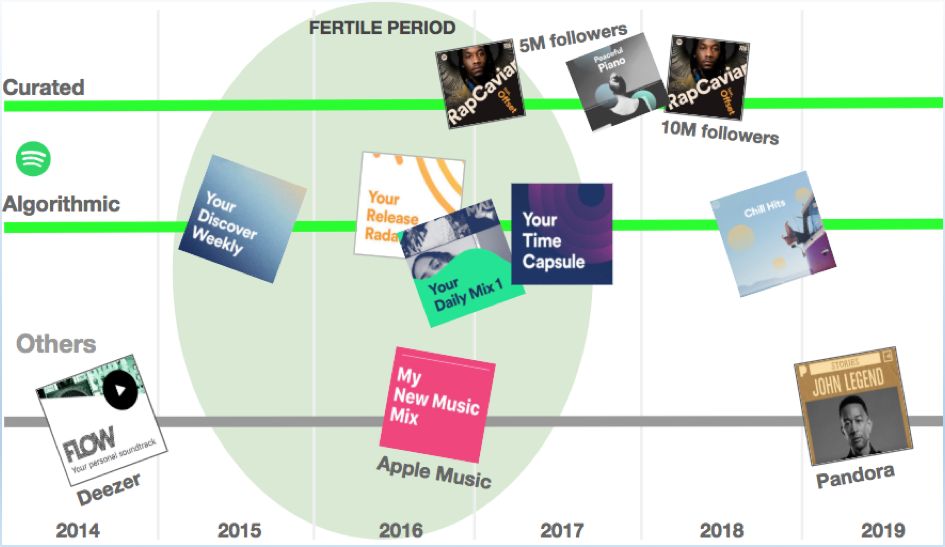 Despite this, remarkably none of the major streaming competitors have made moves to innovate in the playlist space either, which seems a shame when streaming services are desperate for differentiation strategies. Instead, Amazon, Apple and Deezer seem to have largely played a game of follow the leader, with similar playlists themes, visual presentation and even ever blander names. In recent days Pandora has launched something called Stories, a mesh of podcast + playlist, which seems not only to lack imagination but to be muddled. Isn't that just a tweak on radio?
Many artists and labels are concerned about the power that services have with regard to playlisting. While getting tracks on to the current raft of major playlist properties represents a challenge for A&R and marketers the music industry, the more accessible platform-hosted independent curated playlist have been around since Napster.
There are few, if any, limits to the potential reach of these playlists, and their value is determined in part by how creative they are, and in part how shareable they are. The recording industry's earlier efforts to build playlists or influence playlists have fallen short though lack of imagination, global thinking, context and shareability, but that just means that the industry is free to work more creatively with the wider playlist community. It surprises me that Spotify, which plays host to independent curators still (and hopefully will continue to) doesn't do more to tend to the community. But this perhaps creates room for others to do so.
Personally, I can see new exciting playlist platform tools like Soundsgood helping global playlist curators reach audiences more easily, providing many more opportunities for artists, labels and creators in the process. Other platforms like Stationhead and Lost are doing interesting things too with curators and tracks, but perhaps could get more traction if they switched focus to playlists?
Bringing back context
I like playlists as much as the next music fan, but like Mark Ronson and many other artists and music fans, I also feel they have commodified music somewhat. One thing I would like to see much more of for playlists is context. Why can't we have sleeve notes for playlists about how they were put together (let alone by whom and why?). It looks to me like there is an opportunity to bring some context and personality back into playlisting. Mixtapes from the cassette age were lovingly compiled, often with handwritten notes and homemade cover art.
I've played with some of these ideas with my own playlist site the Song Sommelier. The Song Sommelier was created as a passion project to bring mixtape and vinyl values back to playlisting. Each playlist is accompanied by bespoke artwork by 'resident' artist Mick Clarke, and a reader or 'digital sleeve notes' by the playlist curator. For this project we chose to use the Soundsgood player to allow users of any streaming service access the playlists, doing away with those widgets that direct the music fan to either Spotify or Apple. It's still more than a two horse race after all.
My hope is that with the artwork, sleeve notes and more original themes for the playlists, will make fans and listeners listen to playlists more like they used to with albums - paying more attention and hopefully connecting with the song collection on a deeper level. At least that might make Mark Ronson cheer up a bit.
Perhaps a key question is how important is context to the music itself? It depends on your point of view, but context may be the thing that divides the passionate music fan from the casual one. Really, who wants to listen to a collection called "Get Home Happy" or "Prime Chill", whether it's curated or personalised? Except I guess some people do. Mostly, I would welcome some more creative thinking and innovation that can take playlists to another level.
Keith Jopling is Consulting Lead for MIDiA and long-time music & media strategist
Trending