2021 TV show demand starts with a very familiar look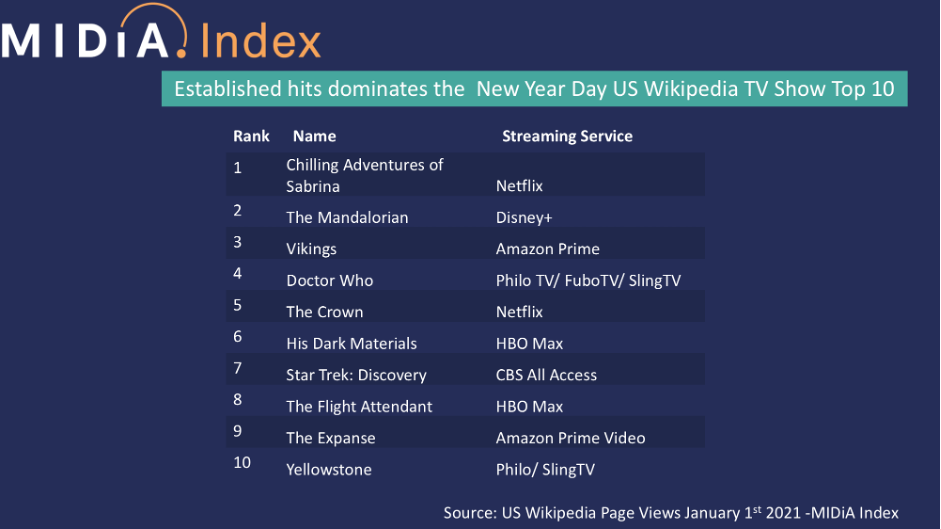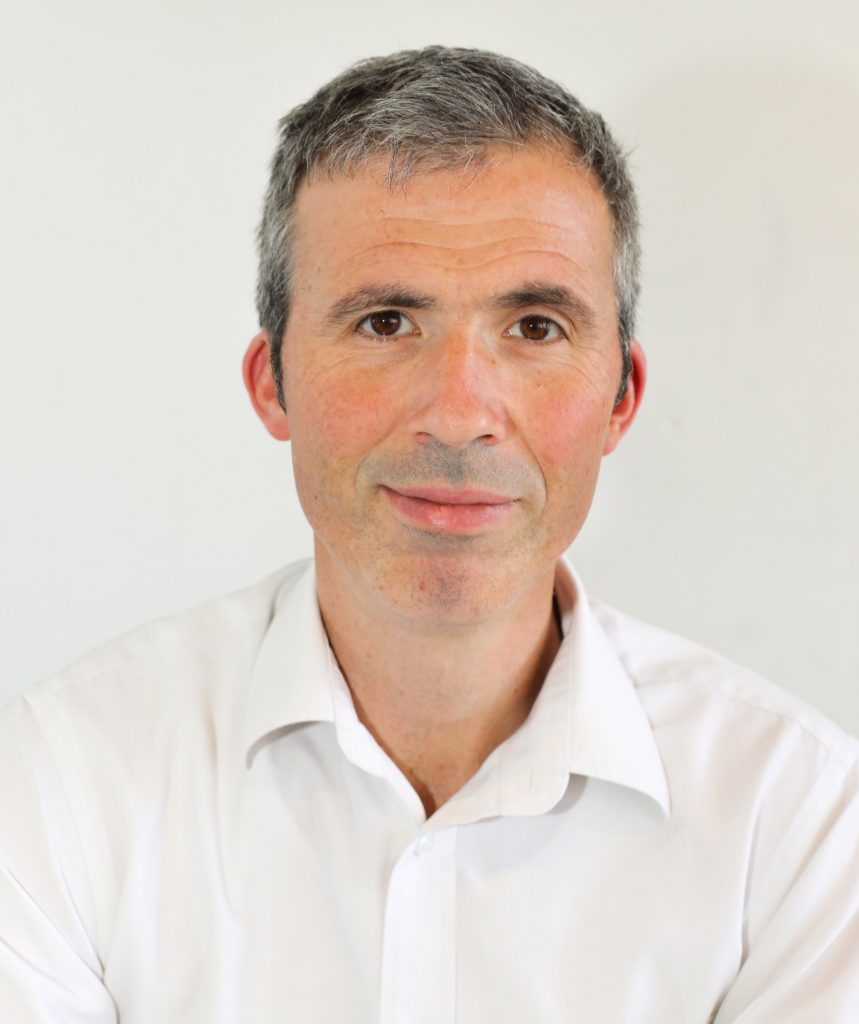 As 2020 drew to a close the top in-demand shows by Wikipedia page views in the US were dominated by direct-to-consumer (D2C) disruptors Disney+ and HBO Max, with streaming video hegemon Netflix displaced to third position. A week later and on the first day of a new year, Netflix has returned to the top slot – although with the latest instalment of a show which was cancelled in July 2020, prior to its second half of season two release on December 31st 2020.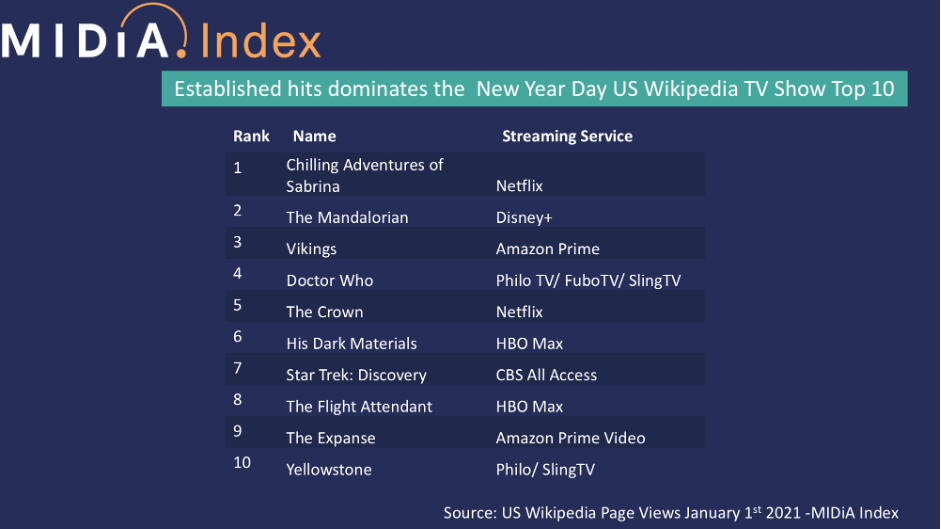 As the above chart taken from MIDIA Index highlights, established show brands dominate the top 10. While Netflix can take some reassurance that it has leveraged existing content intellectual property (IP) to return to the top with Chilling Adventures of Sabrina, it has now declined from having three top-ten shows in the last month, to only two shows at the start of 2021. Meanwhile D2C disruptor rivals led by Disney+ and HBO Max continue to perform strongly. The other big reveal of the new top ten is the role of established content to drive show interest.
Leveraging existing fandom is now key to D2C success as streaming goes mainstream
One of the many pronounced changes which occurred in 2020 was the supplanting of traditional forms of TV and film distribution by streaming. The result has been the normalisation of streaming video consumption for mainstream consumers. With the switch to streaming as the default way to view scripted drama, fandom is increasingly pivoting towards established show IP as the new D2C entrants look to disrupt the Netflix/Amazon Prime dominance (initially in the US) through weaponizing existing content libraries. Disney had been the prime exponent of this with the streaming-exclusive release of The Mandalorian on Disney+ creating a point of market differentiation. Here was a new streaming service which was able to build upon five decades of story universe investment via the Star Wars universe in a way beyond the remit of a subscription video on demand (SVOD)-native service such as Netflix, which only began its commissioning of originals in 2013 with the release of House of Cards.
Both AT&T's HBO Max and Comcast's Peacock are following the Disney+ original model closely, with Game of Thrones universe prequel House of the Dragon commissioned for HBO Max, and a re-imagining of Battlestar Galactica planned for Peacock. Supporting this, they will increasingly be able to deploy their story libraires of back-series and films to draw streaming audiences in to engaging with older content once they have consumed the new releases. As such the D2C disruptors will gain another strategic edge over Netflix. Disney, AT&T and Comcast can all reduce their need to compete at Netflix's prolific originals release strategy weaponizing inventory in a way which is largely beyond Netflix's Wall Street-financed mass production release strategy.
However, in order to achieve this the new D2C disruptors will have to accelerate the demise of their pre-existing and still lucrative pay-TV first release exclusive output license deals which still span the world on a territory-by-territory basis. Get this right, and Netflix will consider itself fortunate to get a show in the top ten – let alone the top five. 
Trending