Take Five (the big five stories and data you need to know) September 22nd 2019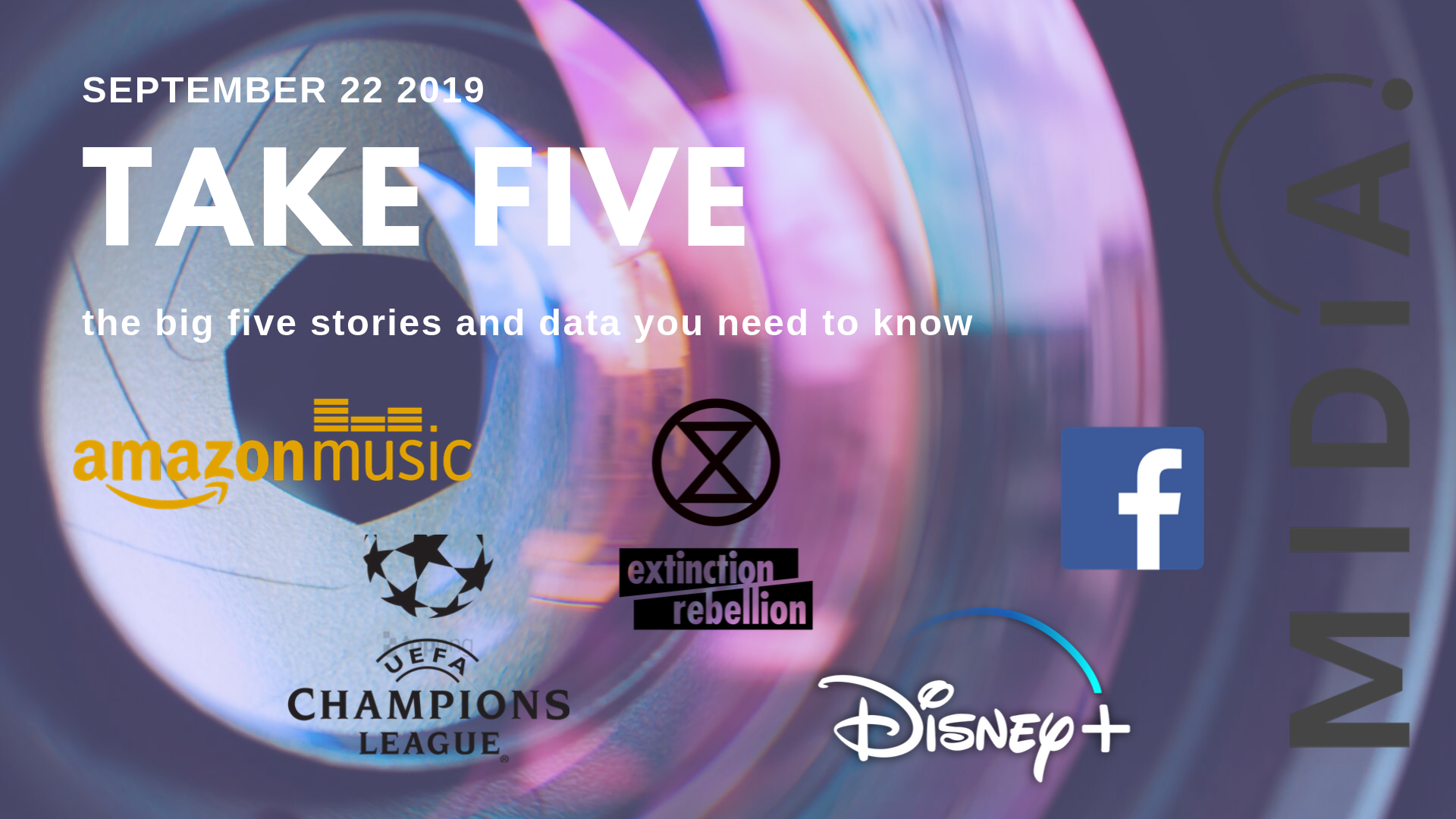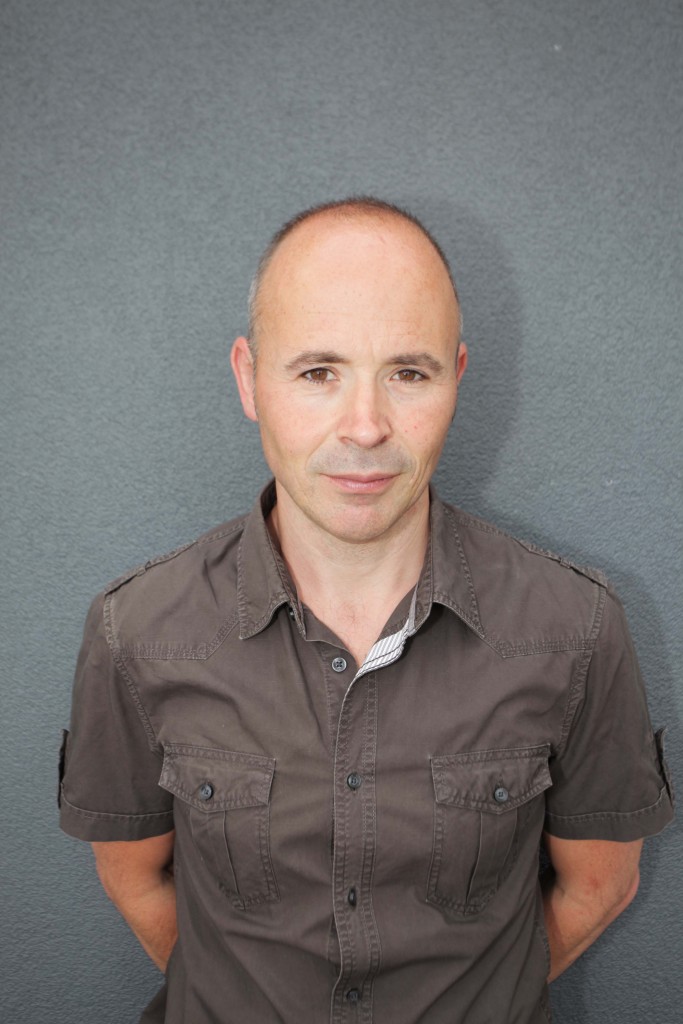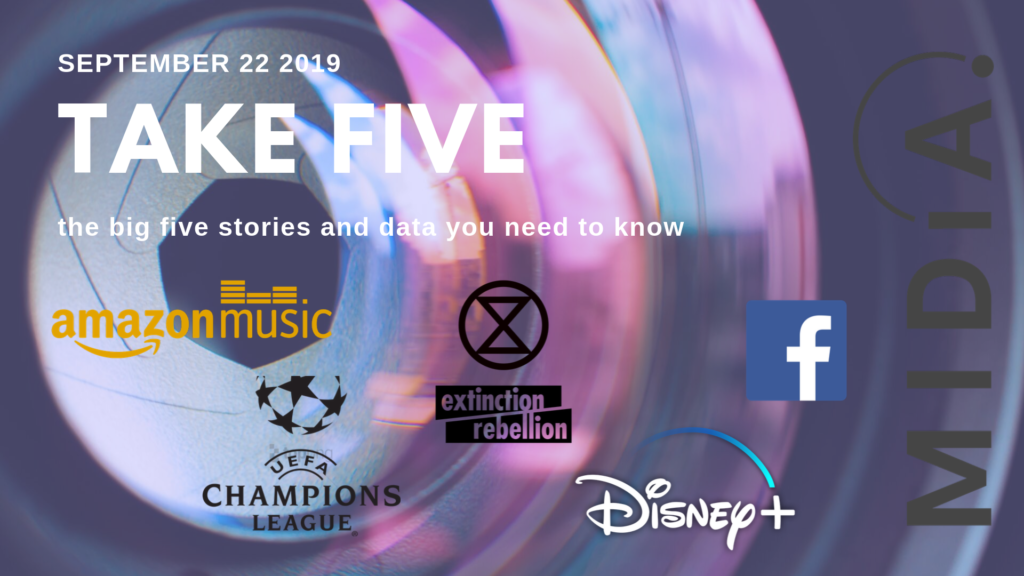 Amazon, hi-def bet: Amazon has launched its long-slated Amazon Music HD service,delivering lossless FLAC files to a new HD streaming tier. Amazon is betting on its older, higher-income user base to care more about quality than Spotify users. Amazon Prime subscribers are starting to look like digital's premier target segment. Across its digital music offering, Amazon is now getting to the tipping point between smart segmentation and choice overkill. With HD added into the mix, in markets like the UK Amazon has 10 different digital music products and prices.
Disney+; beat that, Netflix: With its launch edging closer, Disney+ has announced its opening roster.Featuring every Pixar, Marvel and Lucasfilm release in existence, Disney has a movie roster that no other video subscription service can compete with. Given that so much streaming TV consumption is becoming movie-like due to binge watching, Disney has an opportunity to massively eat into Netflix and Amazon time. Netflix's Reed Hastings isn't just competing with Fortnite or sleep anymore.
Facebook camera in your living room, anyone? Facebook just announced its range of Portal devices with cameras for video consumption, video calling, AR gaming and more. Facebook is late to the home video game, with Amazon and Apple having made major headway. Nevertheless, Facebook's biggest challenge remains Facebook. In the post-Cambridge Analytica world, a lot of consumers are going to be cautious at best about having a Facebook spycam in their living rooms. With a company that trades on user data, the question is: 'Is this your portal to the world, or Facebook's portal to your world?'
Champions league, social giant: Football body UEFA has just announced some new news for an old event.The summer UEFA Champions League final broke a record of over one billion social media interactions, "cementing its place as the world's biggest annual sporting event". The massive and growing global scale of football is clear. Why UEFA took so long to get the stats out, however, is not…
Extinction Rebellion:Friday marked what looks set to be the biggest day of Extinction Rebellion protests yet. This is a global movement that combines technology and grassroots activism to build a movement that transcends generations but speaks for the people of tomorrow. Having already started to shift the conversation from 'climate change' to 'climate crisis', the decentralised Extinction Rebellion movement is beginning to achieve an irresistible momentum with a message that we all need to hear.
Trending