Spotify AND Apple Lead Podcasts – It's All Down to How You Measure It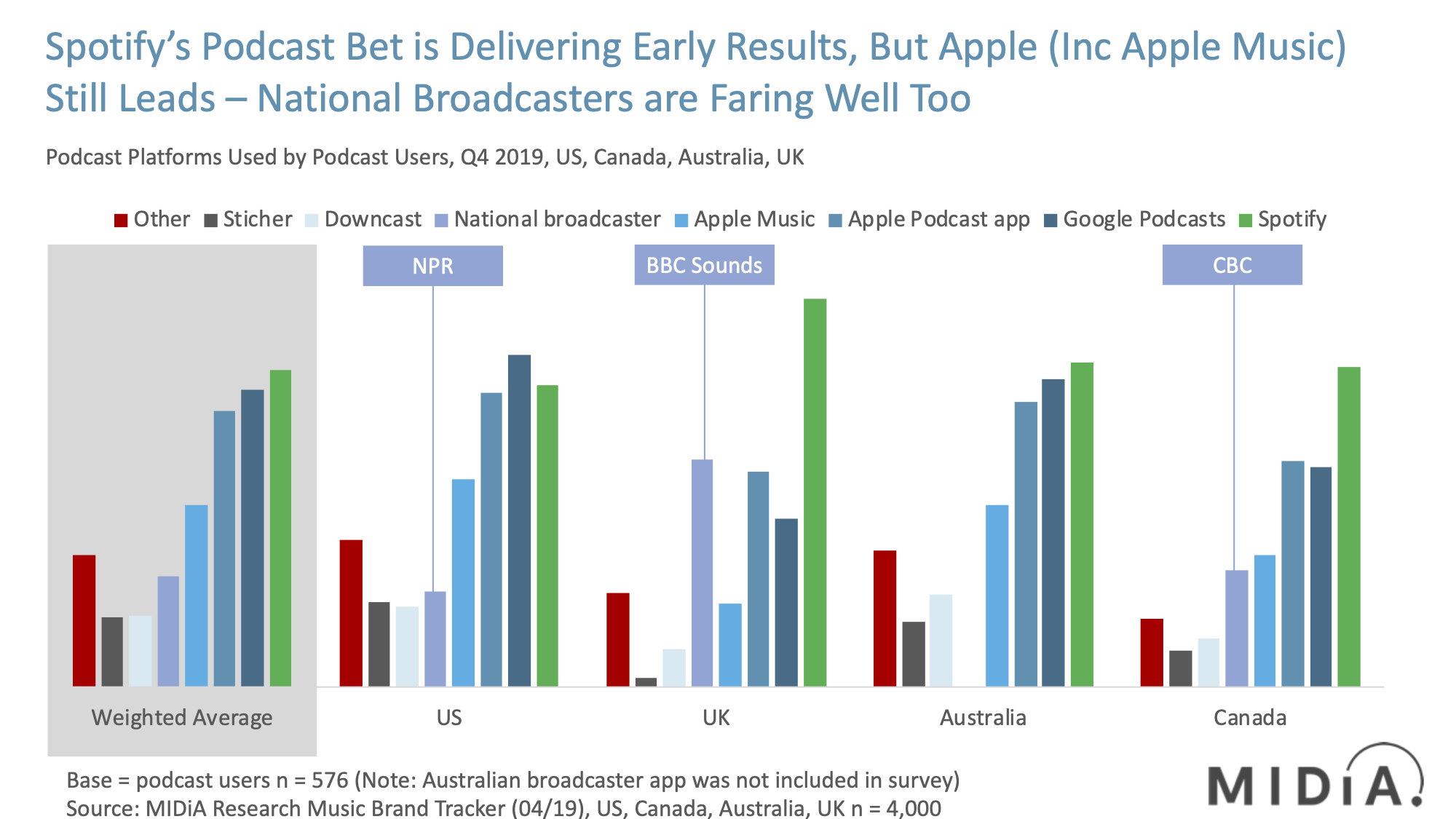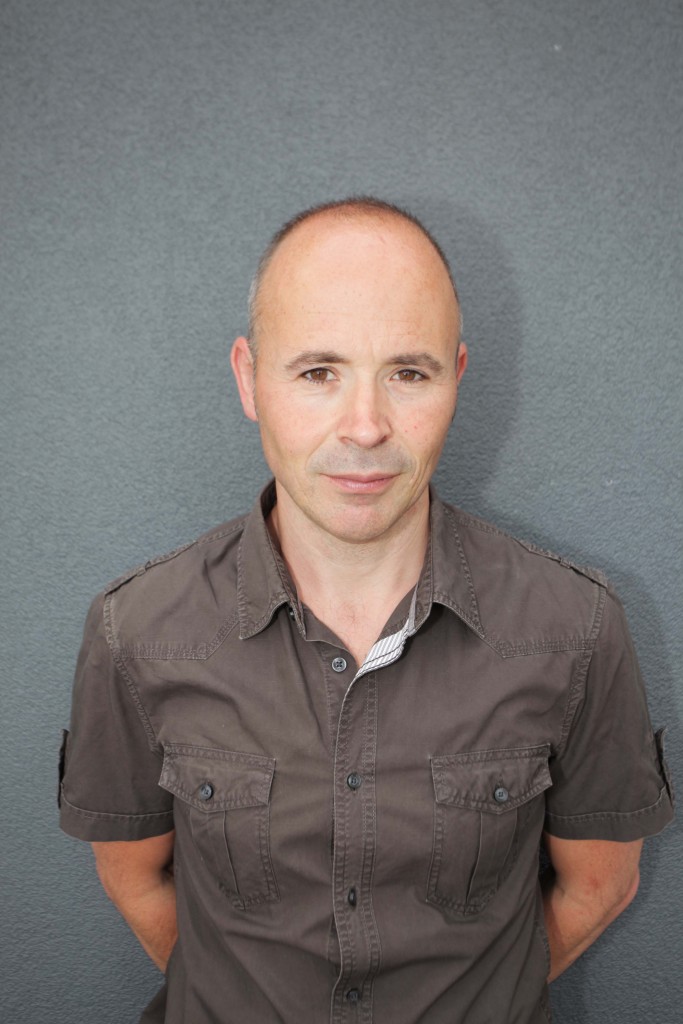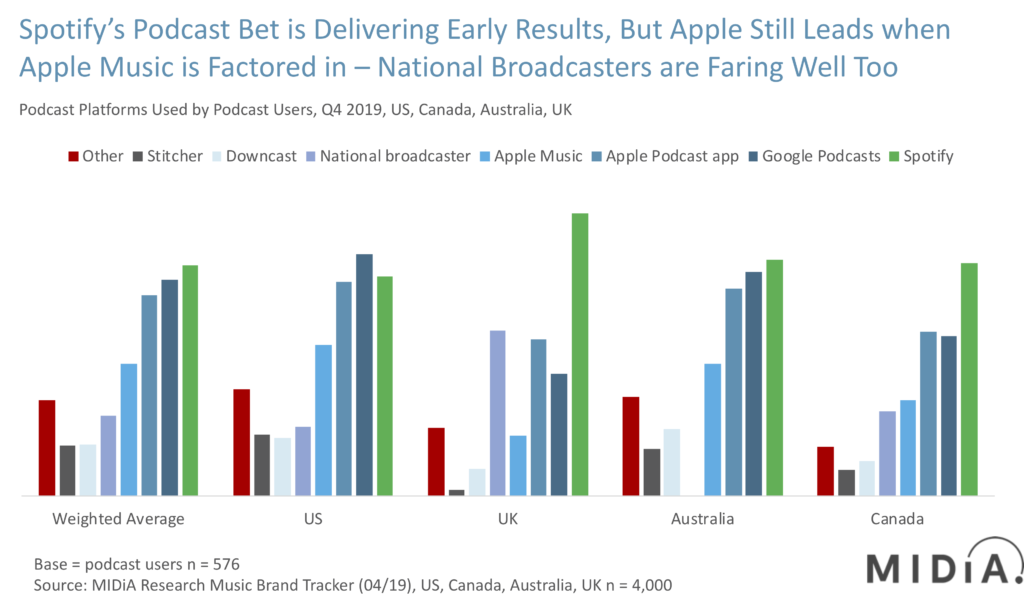 The podcast platform data from MIDiA's Q4 tracker is in. These are the high-level findings (you can read more about our methodology here):
Apple still leads overall: A recent report showed that Spotify has become the leading podcast platform in the US. MIDiA's Q4 Tracker data shows that among regular podcast users, Spotify is very nearly but not quite the leading platform in the US, just trailing Apple's podcast app – though the difference is so small that it could be within margin of survey error. However, when Apple Music is factored into the equation, Apple remains the leading platform.


Spotify the leading single platform: In terms of single platforms – i.e. considering Apple Music and Apple's podcast apps separately – Spotify has quickly established a leading position across all markets surveyed except the US. Spotify is betting big on podcasts, but this bet is as defensive as it is offensive. Spotify knows that its users over index for podcasts – 28% use them weekly, compared to 15% of overall consumers. If it did not go big with podcasts it was always at risk of losing share of ear as podcasts grew, in the same way Amazon lost CD buyers to Apple's iTunes. It has taken Amazon years to start winning back the spend of its music consumers, but it could tolerate that inconvenience as it makes most of its money elsewhere. Spotify has no such luxury.


National broadcasters faring well: Radio broadcasters lost their younger music audiences to streaming. They were not going to sit back and let streaming services then go and steal their older, spoken word audiences without a fight. In many respects, radio broadcasters have a greater chance of being power players in podcasts because their decades of programming expertise will take time for streaming services to learn. With music, they were sitting on the shoulders of a decade of experience learned by Apple's iTunes. The three national broadcaster apps we tracked (BBC Sounds, NPR One, CBC Listen) had mixed fortunes, but all have solid adoption. None more so than BBC Sounds, which is the second-most widely used single platform in the UK – a testament to the BBC's sometimes controversial Sounds strategy. However, one major factor is that broadcaster podcast app users are much older than streaming service podcast users, and indeed of dedicated apps like Acast and Stitcher. This shows that broadcasters are doing a good job of bringing their older audiences over to podcasts but are not yet making podcasts an entry point for younger users lost to streaming.
These findings come from MIDiA's quarterly tracker survey and will be presented in much more detail in MIDiA's forthcoming 'Podcast Platforms' report.
If you are not already a MIDiA client and would like to learn more about how to get access to MIDiA's research, data and analysis, then email stephen@midiaresearch.com
Trending