Chart Of The Week: Over Half Of App Users Enable Push Notifications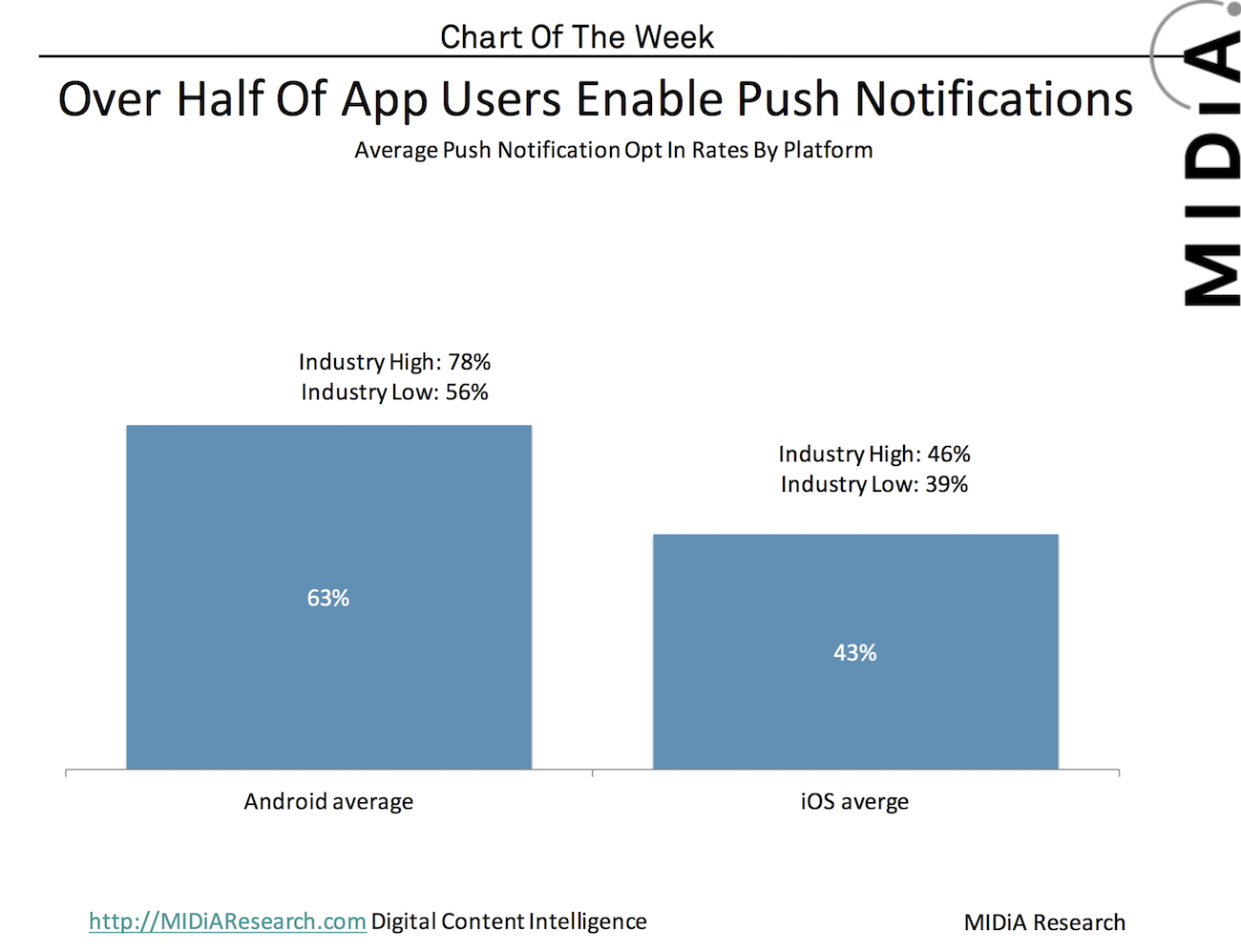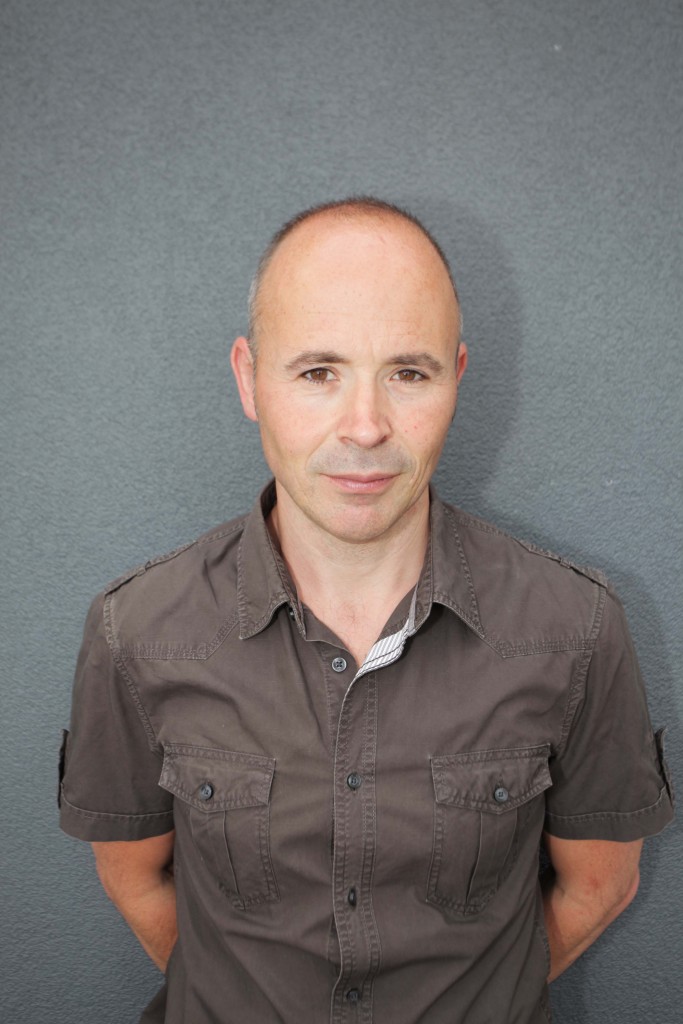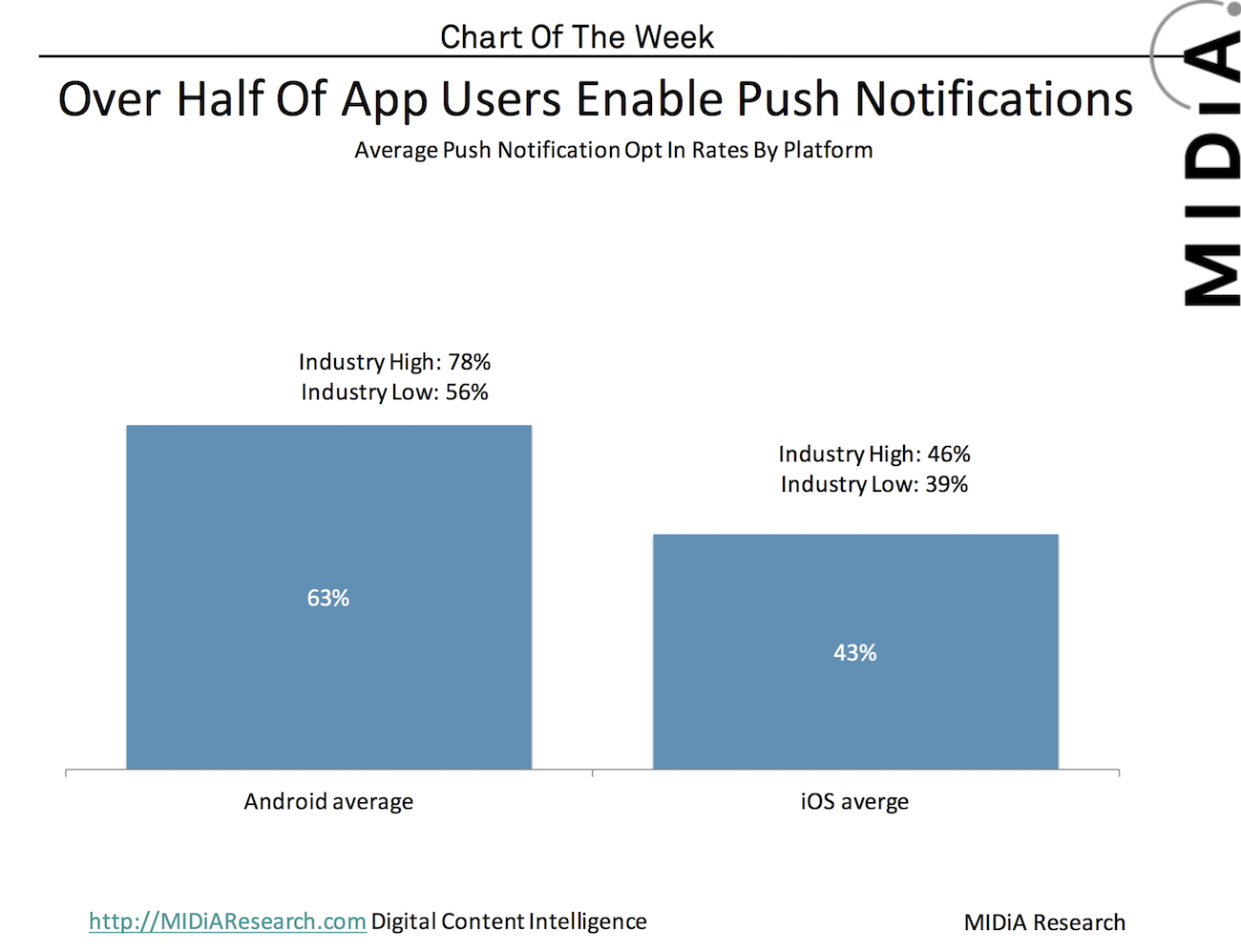 In the increasingly competitive app economy, push notifications and in-app messages are becoming crucial means of driving retention rates and other KPIs. The question is no longer whether to use notifications, but rather how to maximize their benefits while mitigating the risk of alienating users. A slew of companies is pouring into meet the demand of this growing marketplace, each with their own specific competencies, strengths and weaknesses. To provide a quantitative evidence base of push notification performance and best MIDiA Research acquired and aggregated data from 5 leading app notification vendors, that represent over 65,000 apps globally: 
Android, iOS, and the power of opt-out data: iOS users have to manually opt-in to notifications while Android automatically opts-in on behalf of users, with the possibility of manually opting out later. This is a key driver behind the differences between rates across the two platforms. This is often disingenuously represented as 100% opt in rates for Android, however, Android users do frequently and swiftly opt out of notifications. Current vendors' average opt in rate on Android is 63% with a vendors' high of 78% and a low of 58%. Although opt outs are associated with more sophisticated users the fact that 37% of apps are opted out points to this group of users being a sizeable minority and probably growing.
Opt-in rates vary across and within verticals: Some app categories lend themselves better to push notifications than others. This is largely based on how integral a part notifications can play in an app's value proposition. For example travel and transportation categories often achieve some of the highest opt-in rates because timely, location-specific travel information has clear value. In comparison, Food and drink apps achieve lower opt-in rates due the content lacking the same time and location specific content. Creating additional value through notifications is arguably more difficult with on demand content apps (e.g. video, music, recipes) rather than utility apps (e.g. navigation, stock trackers).
Convincing to opt in is getting more difficult: One vendor's data showed opt-in rates declining from 45% to 43%, with retail in particular – a core push vertical – in particular dragging down the rate. Although the average number of apps per device remains stable, more apps are deploying notification campaigns. The greater the frequency of push campaigns the higher that opt out rates will go. 
This chart and analysis are taken from the MIDiA Research report 'Push Notifications: Vendor Landscape And Best Practices'. MIDiA clients can access the report here. For more details on how to access this report email info AT midiaresearch DOT COM or visit our subscriptions page.
Trending