Social media marketing is becoming its own cultural moment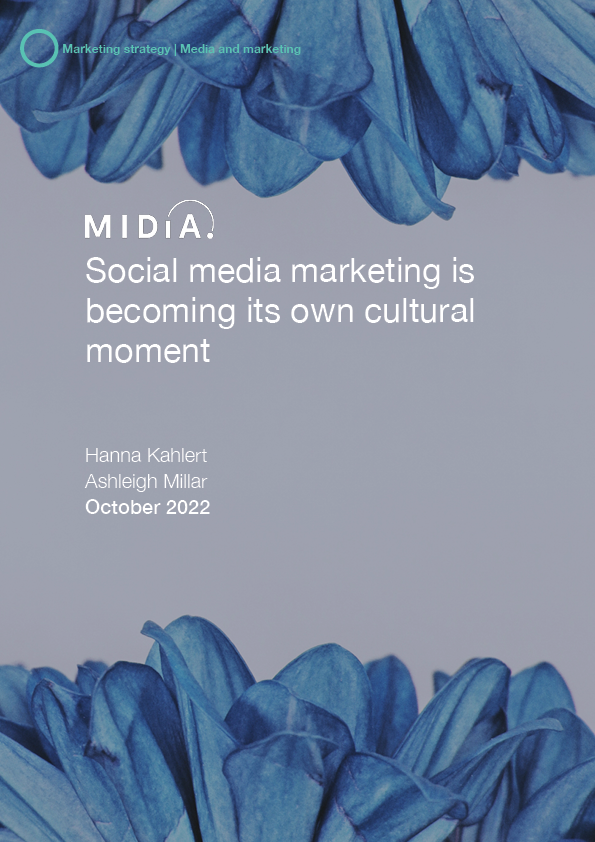 Our clients have full access to all of our reports. Clients can log in to read this report. Click here to become a client or, you can purchase this individual report.
20,000 foot view:  Audiences are changing the ways they interact with entertainment, as well as how they respond to advertising and marketing designed to promote it. Audiences are increasingly creative and engage in lean-through behaviours, are less tolerant of ads, and want more authenticity in their digital social lives. Traditional marketing methods are struggling in this environment, however, campaigns that tap into creative behaviours and encourage audiences to participate can create cultural movements around the entertainment they are promoting. This turns an audience member into a cultural participant and part of the campaign itself. It also powerfully taps into the 'fear of missing out' of those who have not yet engaged with the entertainment being promoted.
Key insights 
of consumers discover new TV content through social media adverts, far behind word-of-mouth at

Social platforms are morphing from functional platforms for casual posting and passive viewing to content platforms in their own right
This competition has forced companies that are active on these platforms to adapt their advertising and marketing practices to stay on top of new behavioural trends
Moreover, awareness-raising content on social platforms is beginning to run the risk of directly competing for time and attention with the same entertainment that it is trying to raise awareness of
Around half of the users aged

said they usually skip ads online, ranging from

for Snapchat weekly active users (WAUs), to

for Instagram and

for TikTok
The younger generation is discovery-fuelled, wanting to participate in and contribute to their fandom communities, as well as being motivated by the 'fear of missing out' on viral trends
As a result, audiences are becoming the marketing tool themselves without even realising it – mostly through participating in viral trends and challenges
This new take on subliminal marketing avoids issues surrounding the misrepresentation of paid sponsorship, minimises the impact of ad resistance, and resonates with the audience more due to the authenticity implied in the content
Companies and brands mentioned in this report: Advertising Standards Authority, Aldi, Billboard, Don't Worry Darling, Facebook, Facebook Video, Instagram, Kim Petras, Love Island, M&S, Minions: The Rise of Gru, Rotten Tomatoes, Sam Smith, Snapchat, Spotify, Stranger Things, Taylor Swift, Ticket to Paradise, TikTok, Twitter, Yeat, YouTube, Zebr