Video Streaming Subscription Services Market Metrics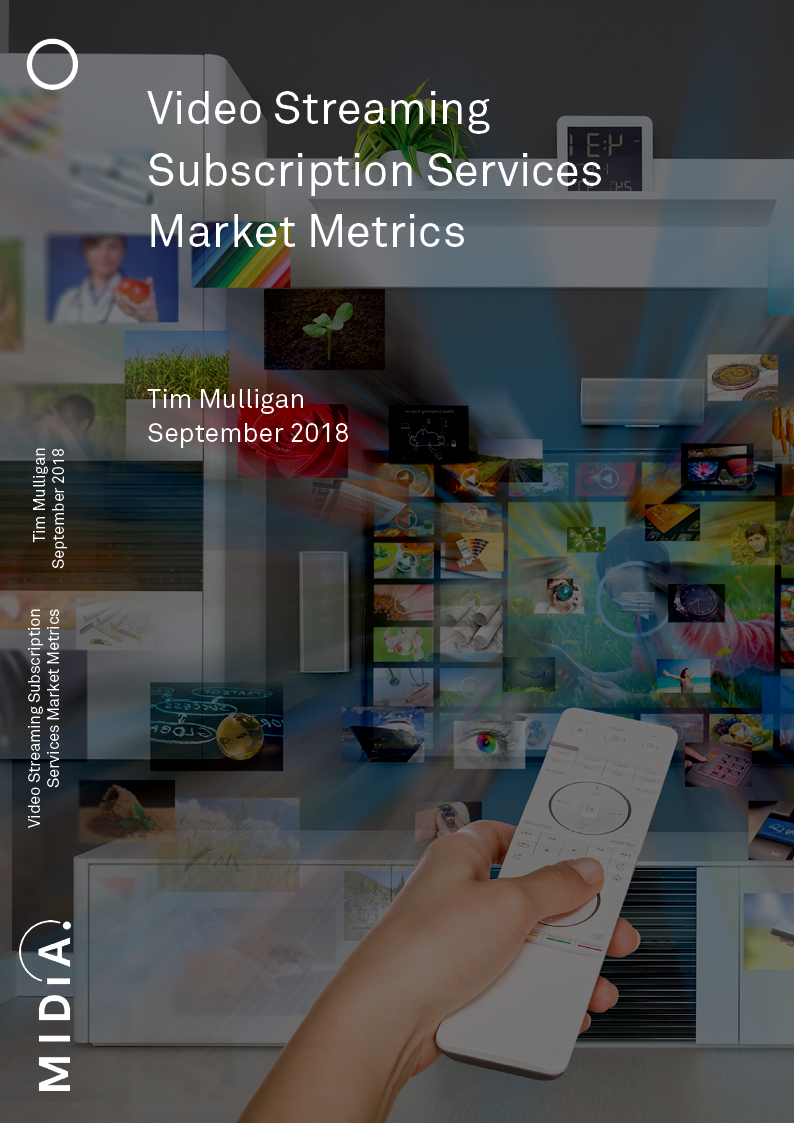 Already a client? Log in to read this report. Become a client or purchase this report.
The 20,000 Foot View:  This report includes the key findings of MIDiA's Global Streaming Video Subscriber Market Share Model, in which we present the subscribers, revenues and market shares of video streaming services in different countries. This report contains charts and analysis for countries, including consumer survey data, while the complete excel model is posted alongside this report.
Key Findings
At the end of 2017 there were

million streaming video subscribers, up from

million one year earlier and

million in 2015
Netflix comfortably retained its market leading position with

million paid subscribers representing

of all global subscribers
Amazon Prime Video is the second-placed service globally with its

million 2017 subscribers representing a

market share
Amazon Prime Video added

million net paid new subscribers in 2017, compared to

million for Netflix
2017 year-on-year (YoY) market share for Amazon Prime Video increased from

to

2017 YoY market share for Netflix decreased from

to

The US represents

of global subscription revenue and

of subscribers 
Netflix was the leading US subscription service at the end of 2017 with

subscriber market share and

of revenues
Amazon Prime Video added

million subscribers in the US in 2017 compared with

million in 2016
Netflix added

million subscribers in the US in 2017 compared with

million added in 2016
Amazon Prime Video held a

subscriber market share in Germany with

million subscribers and

million in revenue
Netflix's UK 2017 subscriber market share of

million subscribers) is up

on 2016 when it had

million subscribers
Tencent Video had

million subscribers in China in 2017, up from

million in 2016 and

million in 2015
India subscription services generated

million in revenues in 2017 with

million subscribers
India is the fastest growing video streaming subscription market with a

increase in revenues and a

increase in subscriber numbers in 2017
Companies and brands mentioned in this report: Amazon Prime Video, CBS All Access, Claro Video, CraveTV, Club Illico, Crunchyroll, CuriosityStream, DAZN, DirecTV Now, Ditto TV, Esporte Interativo Plus, Eros Now, Eurosport Player, Foxtel Play, Flimmit, Hayu, Hopster, HBO Go, HBO Now, Hulu, iQiYi, ITV Essentials, Kymba, Looke, Maxdome, MUBI, MLB.TV, Netflix, Net TV Plus, NHL.TV, Premier Player HD, Now TV, Rabbit TV Plus, Stan, Starz, Showtime Anytime, Sky Ticket, Sling TV, Sohu Video, Spuul, Tencent Video, Trace Play, UFC Fight Pass, WWE Network, YouKu Tudou, YouTube Red