The four key cultural trends transforming digital entertainment in 2021 and beyond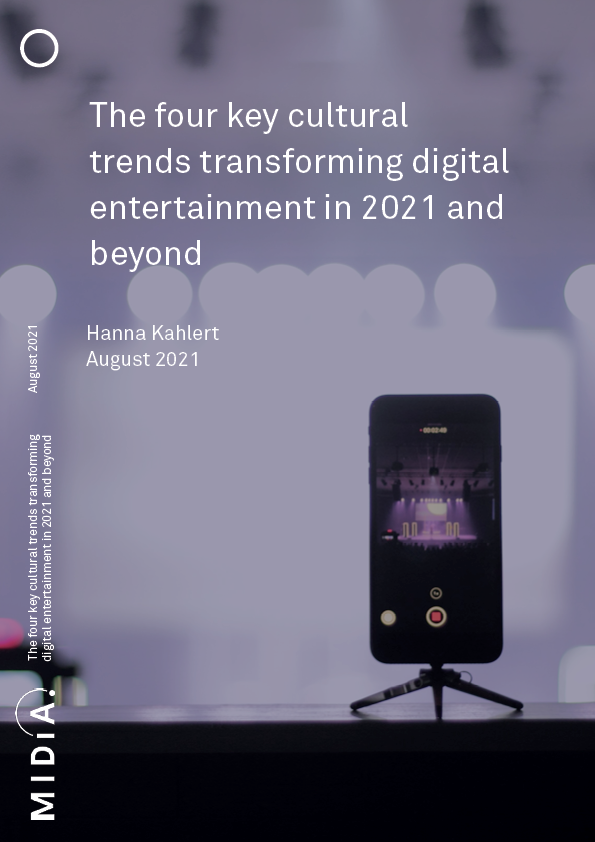 Our clients have full access to all of our reports. Clients can log in to read this report. Click here to become a client or, you can purchase this individual report.
The 20,000 Foot View:  The effect of streaming on entertainment is not new, but as we move into the era of mainstream vaccinations, the shifts in streaming-driven consumer behaviour over the last year and a half will drive fundamental changes. From the rise of virtual events to the fall of the box office opening weekend, underpinned by the swift commodification of content pushing consumers towards lean-in behaviours, this is the post-pandemic new normal. 
Key insights
Virtual concerts and adapted sports features were a forced innovation to respond to lockdowns, but have come into their own and will play a new role as we move into a post-pandemic new normal

of all consumers went to gigs and concerts monthly in

2021, which is the same percentage who watched live streamed concerts and performances, watched more than one virtual concert, and watched a live music event within a game
Sports has accelerated its digital transition, adapting game footage to create a worthy spectacle without the full crowd appeal, continued outreach to younger consumers through esports, and streaming-first video features

of pay-per-view sports viewers used to attend live games every weekend, but will not do so after lockdown, along with

of fantasy sports players,

of sports merch buyers, and

of sports betters
Concurrent streaming debuts of new studio releases has set films on a trajectory towards reduced cultural impact
With the loss of the cultural significance of the box office, the distinction between film and TV will disappear
As the distinctions among entertainment blur, they compete increasingly against each other – and ultimately lead to the commodification of content

of consumers mainly focus on video when streaming, while

engage with it as a background activity. This rises to

for music streaming background activity engagement 
Lean-back consumption in the form of streaming is inherently fading further and further into the background of consumers' lives, but lean-in content formats are taking up the slack
Companies and brands mentioned in this report: Amazon, Amazon Prime Video, Disney+, HBOMax, The Hobbit, Lord of the Rings, MGM Studios, Netflix, Peacock, Warner Bros., Warner Media