Rovio's Pre-IPO Health Check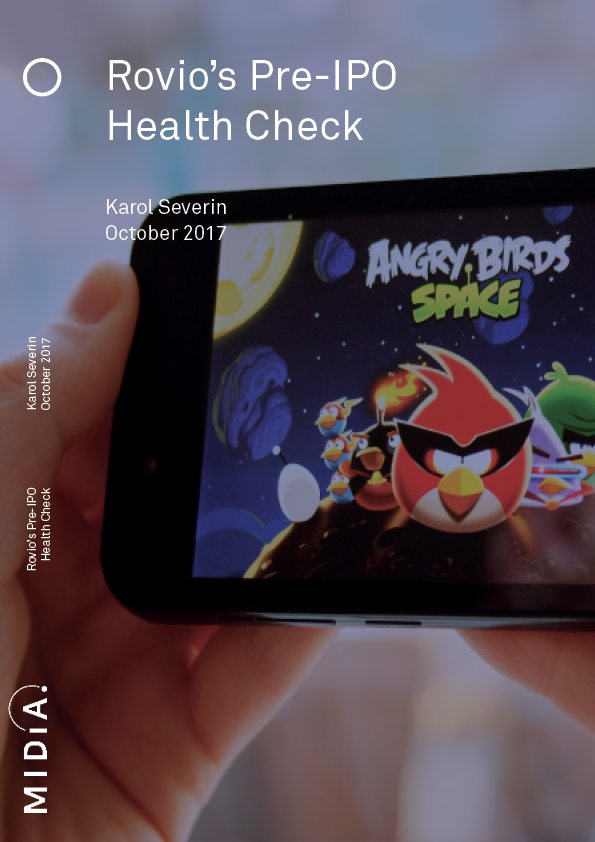 Our clients have full access to all of our reports. Clients can log in to read this report. Click here to become a client or, you can purchase this individual report.
The 20,000 Foot View: Rovio, the publisher of Angry Birds, announced it would go public in October 2017 via NASDAQ Helsinki. The company is beyond its user growth peak, but is midway through a company turn around in terms of revenues and profitability. The company has IPOed as a profitable and revenue (rather than user growth) – oriented enterprise, willing to pay dividends from the get go. However, Rovio's success still depends largely on the Angry Birds brand and the ability of its adjacent entertainment propositions to promote sales of old and new Angry Birds games titles. Beyond Angry Birds, Rovio faces a race against time to create another runaway success that can sustain its revenue aspirations once the Angry Birds machine inevitably begins to lose steam once again.
Key Findings
Rovio swung back to profit in the year of The Angry Birds Movie release, following a three-year downward EBIT trend
Declines in Rovio's revenue and EBIT were caused mainly by falling merchandise sales, which accounted for

of Rovio's total revenue in 2013
Despite volatile EBIT, Rovio's games revenue never stopped growing, tripling in value between 2011 and 2016
Rovio's monthly active users declined from

million in 2012 to

million in 2017
Rovio's games ARPU grew from

in 2011 to

in 2016, while non-games ARPU had a flatter trajectory from

to
Only six out of Rovio's

games do not have Angry Birds in the title
USA and China are Rovio's key markets to watch in terms of how movies commercially boost games revenue
Beside monetization of Angry Birds games, the performance of Battle Bay and The Angry Birds movie sequel will be the two most important things to monitor for Rovio's long-term potential
Companies mentioned: Angry Birds, Angry Birds Battle Bay, Nasdaq, Rovio