Recorded Music Market 2018
Stream Engine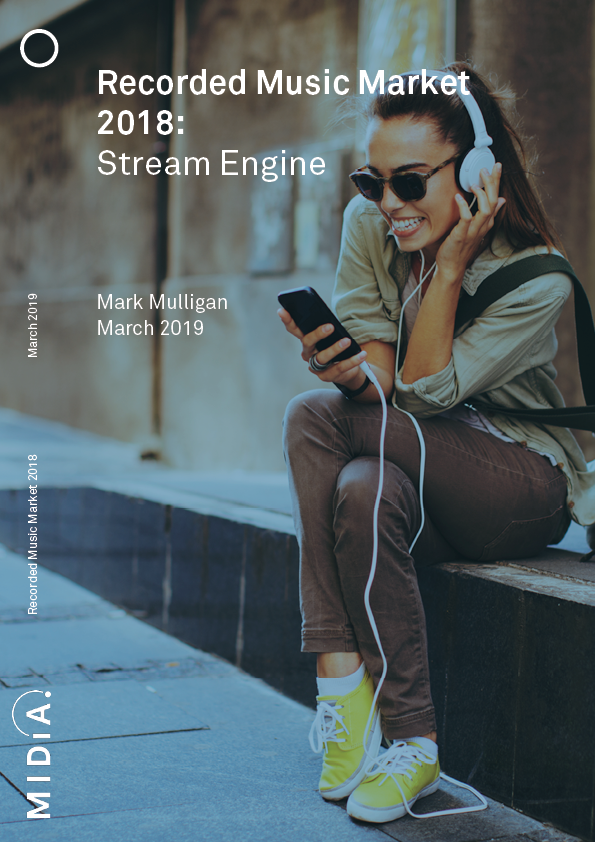 The 20,000 Foot View:  For the fourth consecutive year, recorded music revenues grew again in 2018 with streaming revenue the engine room of growth. For the first time, streaming became the majority of label revenue and its growth continues to outpace the decline of legacy formats. Major label rankings remained unchanged in 2018 but the majors enjoyed varying fortunes and the continued meteoric rise of artists direct, i.e. artists without record labels, points to market transforming changes that are reshaping the entire business of record labels.
Key Findings
Global recorded

revenues reached

billion, up

billion

2017
Streaming was

key driver of growth, up

to reach

billion, representing

of

label revenues
Legacy formats

and downloads) were down

billion,

was more than the

billion

in 2017
Universal Music

the largest label group in

with annual revenues of

billion,

by Sony Music

billion) and

Music

billion)
Universal added

revenue than any other label

billion, an increase of

well

the market average of

Artists direct

the fastest growing segment again,

by

to reach

billion
Independent labels

million, in part reflecting independent

distributed by major labels
Universal and

Music both gained

points of

share, up to

and

respectively
As in

artists direct was the biggest

share gainer, up

points to

Independent labels

accounted for

in 2018, down

on 2017
Companies and brands mentioned in this report: Apple, CD Baby, Sony Music, Tencent Music Entertainment, Tunecore, Universal Music Group, Warner Music Group
Methodological notes: 
All revenue values referenced in this report are in USD with all conversions from local currencies calculated taking the average quarterly exchange rate for each quarter of the year. No constant currency values are used in this report.
Independent revenue is measured on a distribution basis, not an ownership basis. Therefore, independent revenue that is distributed via a major record label or a wholly owned major label distributor will appear in the revenue of the respective major record label.