MIDiA Research 2023-2030 global music forecasts
Speed bump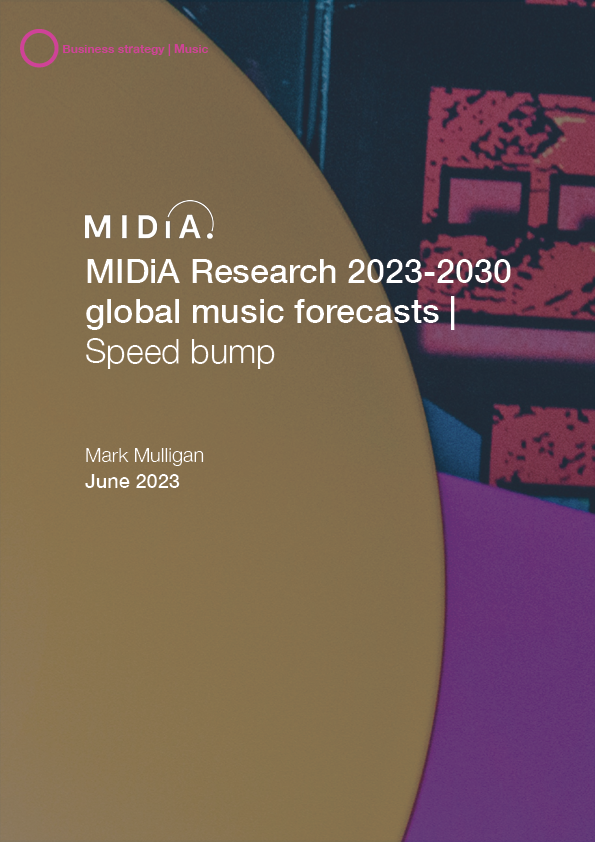 A note on the 2023 edition
2022 was a tumultuous year for the global economy, with factors such as high rates of inflation, rising interest rates, a growing cost-of-living crisis, post-Covid supply chain issues, and the Russo-Ukrainian war causing economic dislocation.While the recorded music business was far less affected than many other industries, it was impacted, especially in ad-supported formats, due to the softening of the digital ad market. However, one of the most significant second-order consequences was the impact of currency volatility. Because MIDiA always builds its revenue models with US dollar values, a number of markets that reported strong growth in local currency terms saw much weaker, sometimes even negative, growth in US dollar terms.
Despite this methodological anomaly, MIDiA considers it important to continue to measure the global market a) in US dollar terms, and b) in current currency terms. The alternative approach of using constant currency values results in a distorted view of the market, particularly in the context of long-term growth patterns.
Although the specific conditions of 2022 impacted growth, our assessment is that the underlying economic factors will not have meaningful impact on underlying adoption and growth dynamics. Consequently, the broad trend in our forecasts is of relatively short-lived dislocation, followed by return to longer-term, organic growth patterns. Additionally, MIDiA is not a financial analysis organisation, and so we have not attempted to forecast forward currency conversion rates. Thus, our forecasts reflect our expectations of underlying market performance rather than potential future currency conversion trends.
Additionally, MIDiA expanded its company financials tracking for the 2023 edition. As a consequence, the company-level financial data collected represented more than of all 2022 global recorded music revenues.
We considered an exhaustive approach to financial data collection particularly important for the 2022 market figures. This is because we anticipated some label trade associations would present a very different view of growth, due to them reporting their figures in constant currency terms (i.e., retrospectively changing the historical figures and having the effect of amplifying growth).