Music Publishing Acquisitions
Bubble Business or Sustainable Market?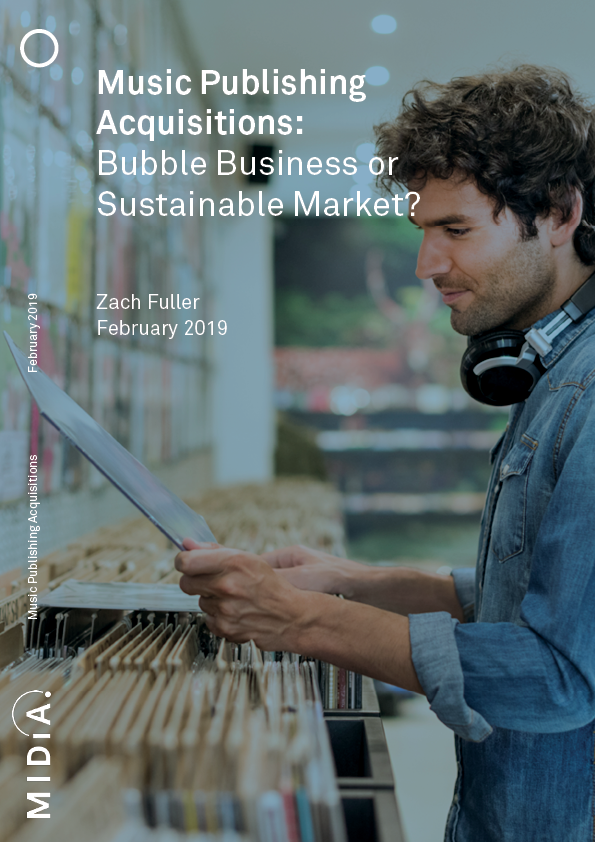 The 20,000 Foot View: Music publishing mergers and acquisitions have boomed in recent years, invigorated by streaming's user growth and the multitude of revenue options becoming available outside of music sales, such as micro syncs afford by user generated content (UGC) on YouTube and the steep growth of podcasts. The logic is sound: through the emergence of the digital economy, music publishing provided a more stable respite from the volatility of declining frontline releases. Yet as the business shifts to streaming and an engagement based model, are the assumptions on publishing's future growth misaligned with the macro trends shaping the recorded music industry? With streaming's emphasis on the new set to create a world of mega hits and audiences with less inclination towards looking back, the swelled valuations of publishing catalogue may begin to look ill judged. Conversely, the short-term euphoria may be used to drive its value even higher, if recorded music revenues remain strong in the coming years. This report therefore considers whether the music publishing market is in a state of inflation, or has transitioned towards an organic sustainable market with assets that were previously undervalued against music demand and/or underexploited in the piracy era.
Key Findings
There were

music catalogue acquisitions in 2018

to the

registered in 2017
Multiples of

Publishing Share (NPS) have swelled

2010 and 2018
Despite the

only the independent sector has

to increase its market share

from

to

In 2010,

purchased Chrysalis's catalogue for a

By 2018, an

stake in

Marley's catalogue acquired by Primary

was purchased at a

multiple

NPS
The average

spend of

million in 2016-

represented a six-fold increase on

average of

million across the

six years
A total

was spent catalogue acquisitions in

(although this mostly came via

Sony ATV deal for the

of EMI)
Sony Corp's

stake in Sony/ATV had an

price of

per copyright (from

catalogue of

million songs)
When Sony

this acquisition two years later

2018, the average price had

up to

The global

music industry revenue in 2018

billion in revenues, which represented

growth
Artists direct

million, up

Streaming contributed

and

to recorded music revenue 
Companies and brands mentioned in this report: Apple, Believe, Blue Mountain Group, BMG, Bug Music, Carlin, Conchord Bicycle Music, Downtown Music, EMI, Hipgnosis Songs Fund, Kobalt, Parlophone, Peer Music, Primary Wave, Round Hill, Royalty Exchange, Universal Music Group, Universal Music Publishing, Warner Chappel, Warner Music Group, Sony/ATV, Songs Publishing, Spotify