Independent Artists
Pathfinding Through a Pandemic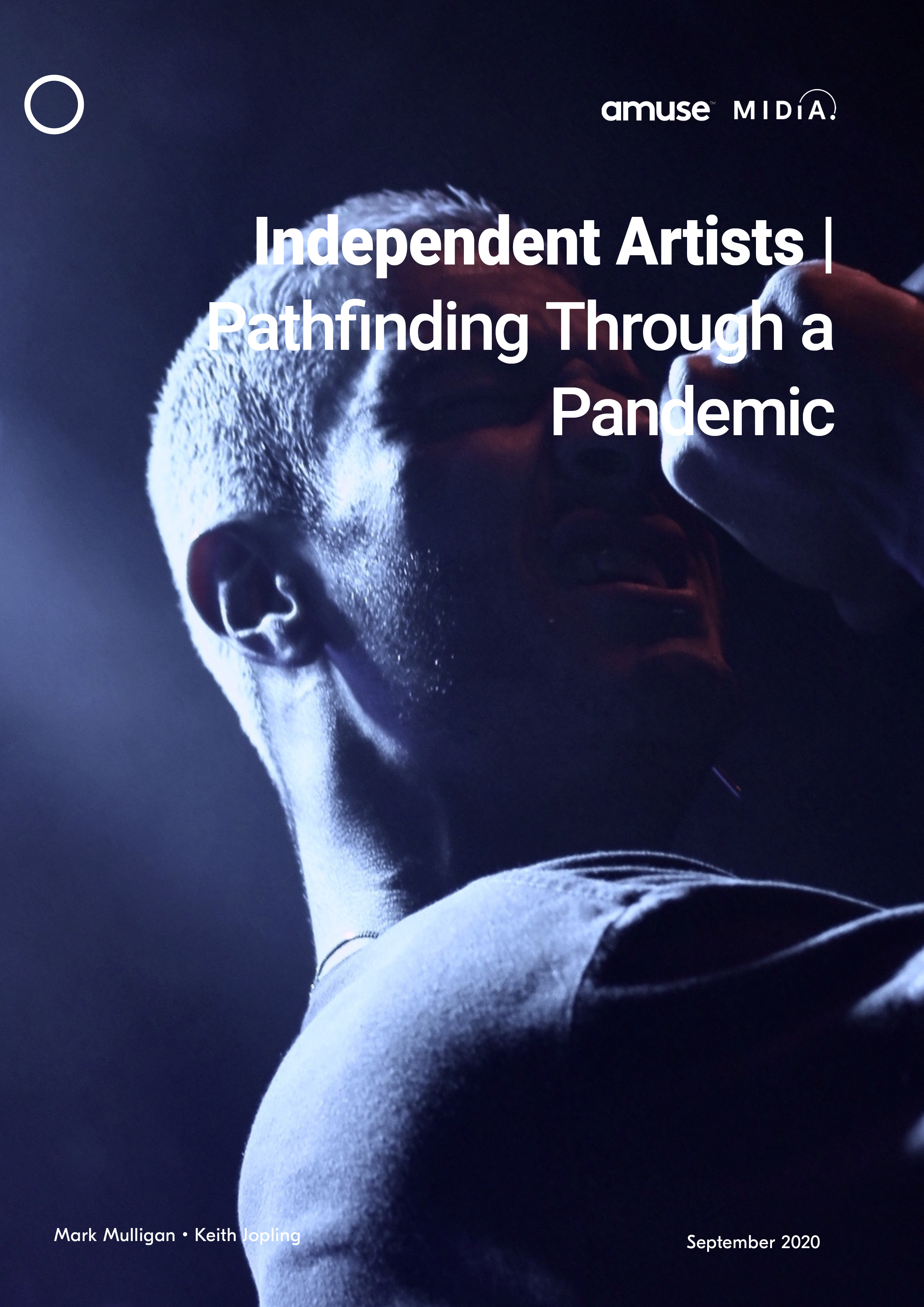 2019 was yet another stand-out year for independent artists, with revenues, streams and market shares all growing strongly. Then, along came and the world turned upside down. However, in lockdown many independent artists found new opportunities and the ability to innovate and create. Leveraging new, not-seen-before data, this report presents a unique view of the state of the independent artist sector in 2020 and how it has navigated the challenges posed by
KEY INSIGHTS
A sector with real scale. Artists direct (i.e. those without record labels) generated

million in 2019, up

from 2018. These independent artists represent the fastest-growing segment of the global recorded music business, a segment of global scale with real impact and influence. They are also more streaming native than label artists.
Success on artists' own terms. Some

of artists want to build online and streaming success 'on their own terms', with less than one in five artists considering it important to be signed to a record label. So, how much do labels matter? For just under one in five, getting signed remains the goal while a further quarter of artists want to get signed. However,

of artists feel they can do fine without a label and

have no interest in signing. 
Lockdown was seen as a unique creative window by artists. Nearly

of artists took the opportunity in lockdown to spend more time writing or making music, and a further

created more content for social media.  
Artists have reacted to lockdown differently. In terms of releasing music, artists were split – with

releasing more music, but

putting projects on hold. While nearly

of artists are now more worried about finances than before, a similar proportion are not too concerned and feel that life will be back to normal soon. 
Lockdown placed the spotlight on streaming economics. Half of artists are becoming concerned that streaming services are not paying enough for artists to make a living. One in five artists got involved with doing live-streamed performances. 
Money, money, money still elusive. The majority of independent artists earn less than

a year from music, yet income can grow to over

This is in part due to the sheer scale of artists making (and distributing) music, but also illustrates how tough it is to make a living from being an artist in today's industry. The use of crowdfunding platforms remains low and artists still have too few funding options for the direct sector to truly blossom.
Artists need to work multiple revenue streams to build career momentum. For independent artists, streaming is their primary source of income at

Live revenue is second at

(which means they are less exposed to lockdown's impact than established label artists). The key for today's artists is to make revenues from multiple sources such as publishing, teaching, session work, sponsorship and merchandise. Artists are small entrepreneur businesses. They need four or five income streams to get off the ground. 
Marketing is a DIY affair. Half of all direct artists do their own marketing, with one third managing their own marketing budget, but

of direct artists spending nothing on marketing. Less than one in five direct marketers are working with a distributor or label on marketing activities.
Artists are self-reliant but still inexperienced with marketing. At least when it comes to getting their careers started, artists are doing their own DIY marketing, but they are not making the most of the tools available. While almost two-thirds of artists are using Spotify For Artists, few of them are using any other marketing-related tools.