Attention recession impacts on D2C growth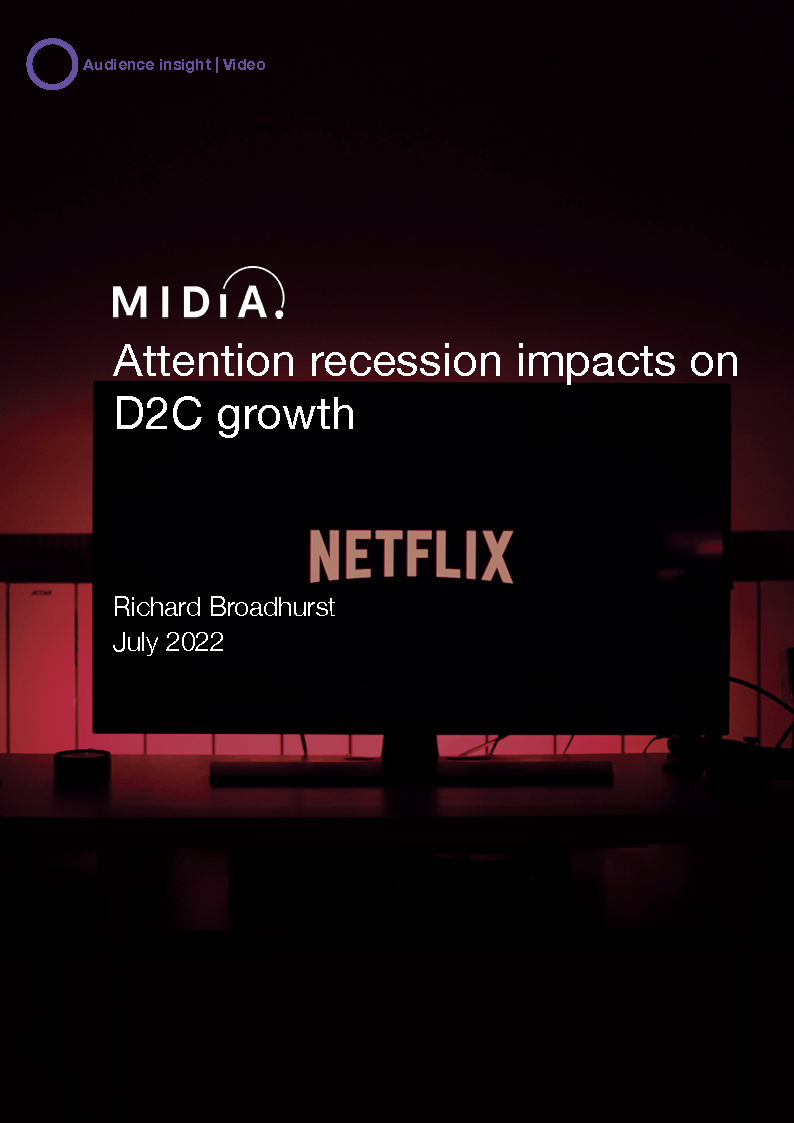 Our clients have full access to all of our reports. Clients can log in to read this report. Click here to become a client or, you can purchase this individual report.
20,000 foot view:  Weekly active user (WAU) penetration for the top streaming services is now slowing with quarter-on-quarter growth effectively flat for the leading subscription video on demand (SVOD) services. Peak attention is now clearly here for video. The looming attention recession, which is already impacting the wider digital entertainment landscape, will exacerbate the greater underlying disengagement trends such as cancelling subscriptions that are starting to impact on video. Average weekly hours for SVOD are marginally down from hours in 2021 to hours in 2022. Nonetheless, the increasing moves to add an entry-level ad tier to SVOD services are likely to also increase cancellations from the of consumers who skip ads. WAUs can thus be expected to decline in 2022 as subscribers disengage with both their attention and their wallets.
Key insights 
As the attention recession plays out, multiple video subscriptions continue to climb.

of consumers now have one or more SVOD subscriptions, compared to

as of

2021
Consumers are now approaching saturation with WAU penetration for the leading SVOD services slowing
Netflix

Amazon Prime Video

and Disney+

are all up marginally between

2021 and

2022 while Apple TV+ remains flat at

WAU penetration

strategy is evolving to offset cost-of-living impacts with Disney announcing in

2022 that they will be introducing an ad-supported tier to Disney+, and Netflix is rumoured to be considering doing the same
Ad-supported tiers will face significant resistance as

of consumers usually skip video ads online in

2022, up by

from

2021
YouTube remains the most used video platform by video subscribers – of those who have more than one video subscription,

also use YouTube on a weekly basis
Netflix is still the most popular SVOD service across SVOD WAUs, with

of all video subscribers being a Netflix WAU, despite experiencing two consecutive quarters of subscriber decline in

2022
Companies and brands mentioned in this report: Amazon Prime Video, Apple TV+, Disney+, ESPN+, Facebook Video, Formula HBO Max, Hulu, Meta, Netflix, Paramount+, Spotify, Snap, Pluto Tv, Tubi, and YouTube