Recorded music market 2021
Red letter year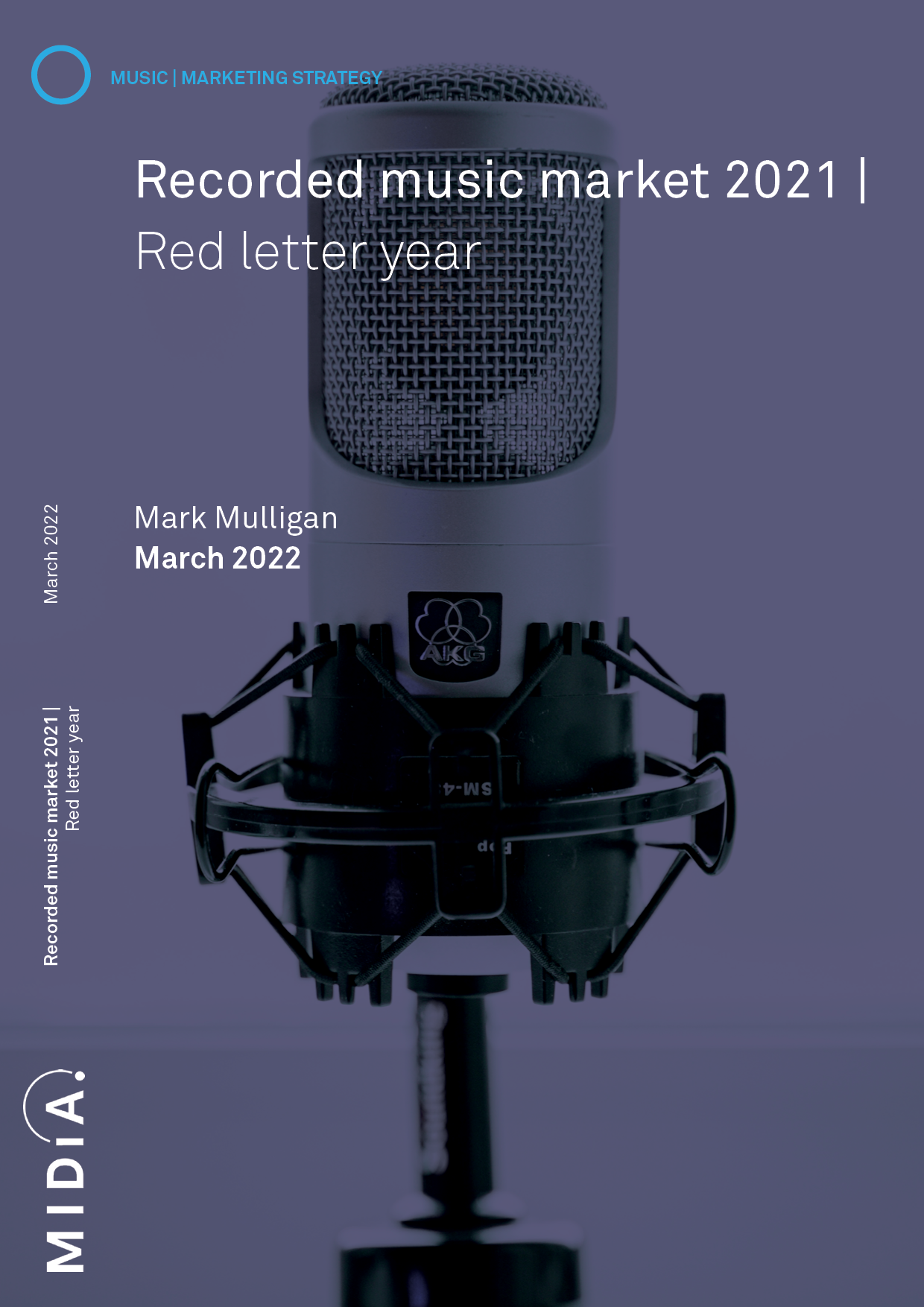 Our clients have full access to all of our reports. Clients can log in to read this report. Click here to become a client or, you can purchase this individual report.
The 20,000 foot view
MIDiA suggested in 2020 that 2021 was going to be a strong year for the recorded music market. Indeed, 2021 turned out to be the fastest-growing year in living memory, with growth across most formats – compared to in 2020, when streaming was the only growth segment. Streaming was the growth engine once more, also registering record growth in 2021.
Key Insights
Global recorded music revenues were

billion in 2021, up

compared to

growth in 2020
Most formats grew (physical

performance and sync

but it was streaming that saw the most growth, up

adding a record

billion in 2021 to reach

billion
Streaming represented

of all recorded music revenues in 2021, up from

in 2020
The big change in 2021 was the growth of non-digital service provider (DSP) streaming, which accounted for

billion, up

from 2020
DSP revenues were

billion, up

from 2020, reflecting the success of label efforts to diversify streaming revenues away from a dependency on DSPs
For the second year, Sony Music Group (SMG) had the fastest growing streaming revenues of any major, up

on 2020 and ahead even of artists direct which grew by

Unlike previous years, market shares were relatively stable with only Sony Music (up

points to

and artists direct (up

points to

gaining, while all others went down slightly
For the first time since 2017, the major labels did not see collective market share decrease, holding stable at
Methodological notes: 
All revenue values referenced in this report are in USD with all conversions from local currencies calculated taking the average quarterly exchange rate for each quarter of the year. No constant currency values are used in this report.
Independent revenue is measured on a distribution basis, not an ownership basis. Therefore, independent revenue that is distributed via a major record label or a wholly owned major label distributor will appear in the revenue of the respective major record label.
Companies and brands mentioned in this report : Amazon Music, Apple Music, AWAL, Believe, CD Baby, DistroKid, Epidemic Sound, Kobalt, Meta, Peloton, Snap, Sony Music Group (SMG), Splice, Spotify, The Orchard, TikTok, TuneCore, Twitch, Universal Music Group, Warner Music Group, and YouTube Music.