Recorded music market 2020
Pandemic-era growth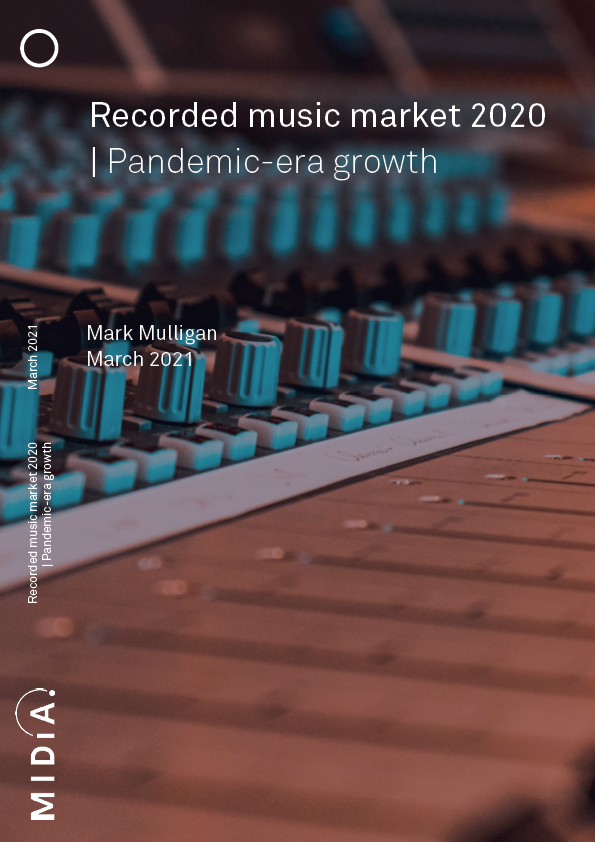 The 20,000 Foot View:  The global pandemic turned the music industry upside down. While live was decimated throughout 2020, after an initial downturn, the recorded music market returned to growth and finished the year with an acceleration that suggests a strong 2021 lies ahead.
Key Insights
Recorded music

grew to

billion in 2020

a pandemic slowdown. Revenues were

and

billion compared to growth

billion and

in 2019
In

2020,

revenues were down

year-on-year (YoY)

by

were up

suggesting a

2021 if that momentum is

Streaming was

the key source of growth,

to reach

billion, representing

of

label revenues, although the majors

a group grew slightly slower

the market
For the

successive year, the major labels

streaming revenue increase by less

the prior year, up

billion

2020 compared to

billion in

Sony Music

the fastest major label streaming

up

while artists direct increased

revenue by

Streaming was

only revenue source to grow

2020 with other revenue (predominately

and sync) down by

in

hit hard by the pandemic
The major

saw collective market share fall

in 2019 to

in 2020

artists direct the main beneficiary,

market share to

Sony Music

the fastest growing major, increasing

by

to reach

billion
Companies and brands mentioned in this report: ADA, AWAL, Sony Music, The Orchard, Universal Music Group, Virgin Music Label & Artists Services, Warner Music Group
Methodological notes:
All revenue values referenced in this report are in USD with all conversions from local currencies calculated taking the average quarterly exchange rate for each quarter of the year. No constant currency values are used in this report.
Independent revenue is measured on a distribution basis, not an ownership basis. Therefore, independent revenue that is distributed via a major record label or a wholly owned major label distributor will appear in the revenue of the respective major record label.