Q1 2020 UK Sports Betting Consumer Engagement Snapshot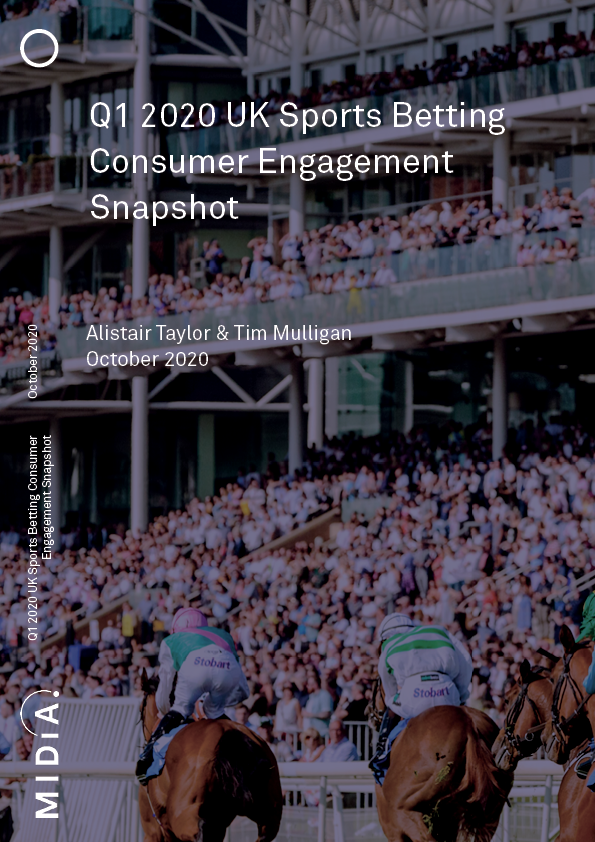 Already a client? Log in to read this report. Become a client or purchase this report.
Methodology: This mini report is a review of trends and data on sports betting from 2019 to 2020 in the leading English-speaking markets of the US, UK, Canada, and Australia, with a focus on UK sports betters. MIDiA Research conducts quarterly surveys in key markets to gain insight into self-reported consumer trends in sports engagement through content, merchandise and fandom.
Key Insights
The UK has the highest penetration for sports betting, rising from

in

2019 to

in

2020
UK sports betting engagement peaks among the

year old age group at

The

demographic also accounts for the largest number of sports betters at

of the total segment
UK sports betters over index compared to the consumer average for income among the

plus range
UK sports betters over index for both streaming behaviours and linear TV consumption; they're more over twice as likely as the consumer average to have multiple digital subscriptions
UK sports betters over index for Android usage but under index for iOS usage
UK sports betters are twice as likely as the consumer average to view the English Premier League and the UEFAS Champions League
Sports betting is an area of increased focus for leagues looking to offset the

collapse in broadcast rights revenues