COVID-19
Impact on Entertainment Demand and Behaviours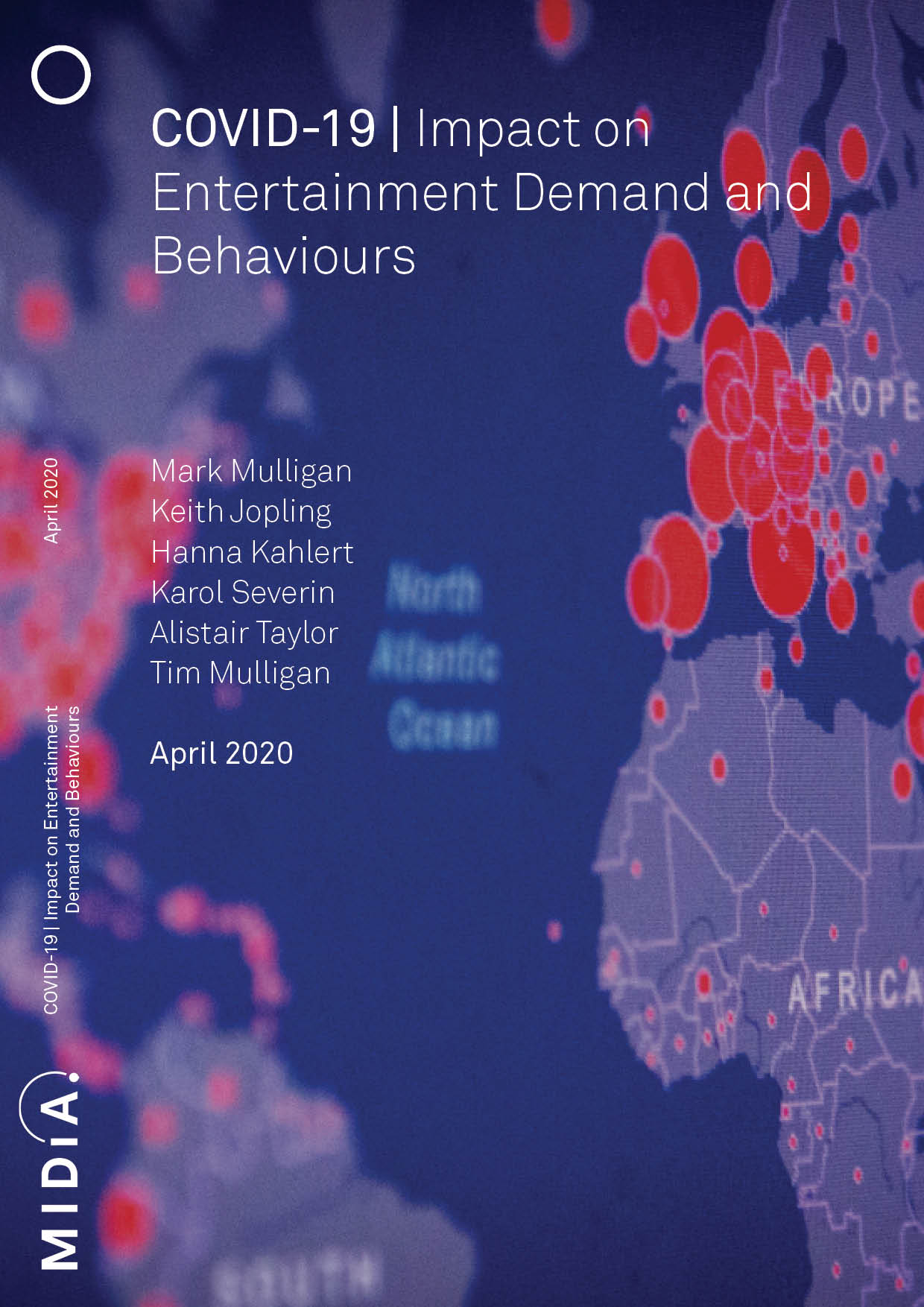 The 20,000 Foot View: is having a clear and direct impact on the entertainment and media industries, driven by investor uncertainty – resulting in plummeting share prices – and restrictions on movement of people leading to quickly-transforming consumer behaviour patterns. Now the key questions entertainment-focused companies must ask themselves are: does your business have the right strategies to weather current market conditions? Should you prioritise particular territories? What content is relevant to your consumers at this challenging time? What are the available opportunities now, and after the pandemic? This report summarises the key insights delivered in MIDiA's April 2020 Impact on Entertainment Demand and Behaviours webinar. 
Key Insights
An additional

additional attention time has been

up amongst consumers working from

during

lockdowns
In mid-

late March, music streams fell

in the US and

in

UK
The UK

US have seen an increase

radio listening – up by

Radio programming

benefited from the 'three Cs':

connection and companionship

of US consumers and

of UK consumers are now watching more TV during lockdown
Video streaming

a

rise in the US

rise in the UK
Cost-conscious pandemic

will become standard to absorb

constraints

of US consumers have increased their time spent playing online games during lockdown
Compared to

music and sports, gaming is

better positioned to weather the

and emerge stronger at the

end
The entire

rights landscape is likely to

a reevaluation the longer lockdown

Sports streaming

need to reduce consumers' justification

churning out of their ecosystems

the future through broadening their

offerings
Companies and brands mentioned in this report: Amazon, BBC, Comcast, DAZN, Disney, Disney+, Epic Games, Fortnite, English Premier League, ESPN+, Hulu, Houseparty, La Liga, NBCUniversal, Netflix, NBA ,NFL, NHL, MLB, Peacock, Pokémon Go, Spotify, Tencent, Twitter, UCL 
Note: A recording of the webinar is available .