Music Sync Market Assessment
A Market Ripe for Change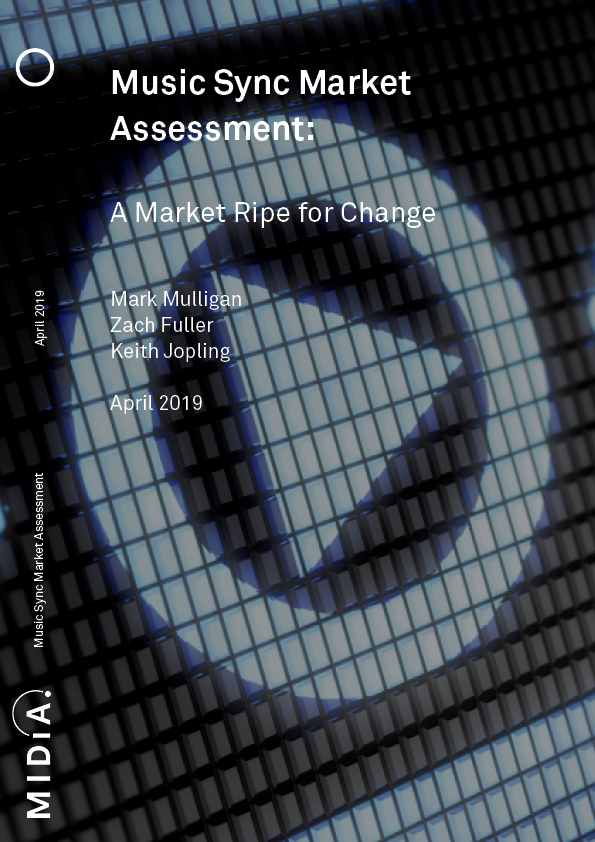 Already a client? Log in to read this report. Become a client or purchase this report.
The 20,000 Foot View:  The music sync market has long been a source of high margin income for rightsholders as well as a means for helping break artists, with a well-placed, successful sync having the ability to transform the career of an emerging artist. The growth of channels such as games, social video, online video services like Netflix, and the corresponding renaissance in TV drama production, have combined to create an unprecedented volume of demand for the sync marketplace. A wave of tech startups have followed, each trying to fix parts of an otherwise very ad hoc and relationships-based industry.
Key Findings
The sync market is characterised by its network of closely guarded personal relationships and trade connections
For many incumbents, ceding control to automated platforms means they risk losing negotiating leverage
Sync volumes are increasing faster than revenues, resulting in price reductions for many syncs
Top-tier artists are commanding higher fees, which infers even stronger downward price pressure on smaller artists
The global sync music market was worth

billion in 2018, up

on 2017
Publisher revenues account for

of all sync revenues 
Sync represents a larger share of total music publisher revenues

compared to the

of label revenues it represents
Streaming analytics are enabling rightsholders to get a clearer sense of the immediate A&R effect of well-placed syncs
Newer sync buyers – such as Netflix and Amazon – are helping drive an acceleration of demand, but these companies have contrasting approaches and attitudes
There is a large number of sync tech vendors aiming to bring efficiencies and scale benefits to the entire music sync workflow
While some of these sync tech vendors are getting real traction, others are victims of their own ambition, trying to do more than many rightsholders are comfortable with 
Social video, YouTube especially, is a large opportunity for music sync, but will require a tech led solution as the current manual workflow cannot scale sufficiently
Companies and brands mentioned in this report: A+G Sync, Amazon, Beggars Group, Cue Songs, DISCO, Electronic Arts, Epidemic Sound, HBO, Jingle Punks, Jukedeck, Lickd, Musicbed, Music Gateway, MXX, Netflix, OCL, Proctor and Gamble, Qwire, Reverbnation, Songtradr, Sony/ATV, Soundvault, SyncFloor, Synchtank, Tunefind, Universal Music, Warner Chappell, YouTube
Note: Music sync refers to when a third-party media producer (e.g. film, adverts, games, TV) secures a music synchronisation license from a rightsholder to have music included on their production.